DELSU Post UTME Form 2022/2023: When Is Delta State University (DELSU) Post UTME Starting?, Is DELSU Post UTME form Out?, Where can I buy DELSU Post UTME form 2022?, How to get DELSU Post UTME screening form?, Will DELSU Post UTME be CBT (computer based)?.
Hey SAVANT! welcome to today's episode of my "Admission Guide Series" here, I will answer all relevant questions relating to Delta State University POST UTME for 2022/2023, I will also cover the application procedures and requirements for this. Good stuff right? STAY TUNED👌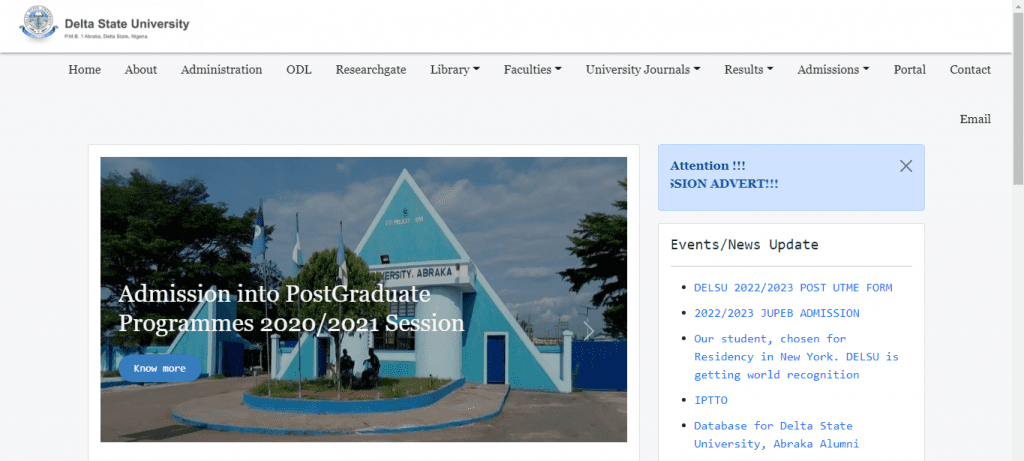 After successfully sitting for Jamb, the next line of action is to enroll for the Post UTME of the school you choose in Jamb (you can check out my guide on how to apply for Jamb change of course here), this application can only be done when the Post UTME Portal is open for application.
Once this portal is opened, registration can be a little difficult, because unlike Jamb, there are no accredited/registration centers where you can just stroll into and get your registration done…
Read Also: How Post UTME Is Conducted 2022/2023 (What You Need To Know)
ARE YOU ON TELEGRAM? Why Not Subscribe To My Telegram "JAMB Doctor Channel" For Frequent Updates by clicking the "SUBSCRIBE NOW" button below.
…and that is the essence of this guide, at the end of this post you will be able to register for DELSU Post UTME yourself (if you meet up with the necessary requirements and follow this guide to the latter) or at the very least, know where and when to carry out this registration.
Enough with the chit chat, let's get down to business… ENJOY!🥂
Is DELSU Post UTME For 2022 Out?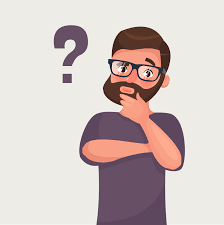 YES, The DELTA STATE UNIVERSITY (DELSU) Post UTME form for 2022/2023 is officially out and as such students who wish to study in DELSU can begin application.
What this means is that, if you applied to the Delta State University through Jamb as your first choice, you can begin Post UTME enrolment and start preparing for the Post UTME screening.
Does this mean students who did not apply to DELSU as first choice cannot participate in DELSU Post UTME?🤷‍♀️
Yes, if you did not pick DELSU as first choice, you are not eligible for this Post UTME, but if you insist on participating, you can always apply for Jamb change of Institution.
When Will DELSU Post UTME Form be Out?
The Management of Delta State University has announced Monday, August 15, 2022 as the commencement date for the sales of her Post UTME form.
As such, from Monday, August 15th, all interested student who chose DELSU as their first choose in Jamb can begin registration.
JAMB Cut Off Mark For DELSU To Be Eligible For Post UTME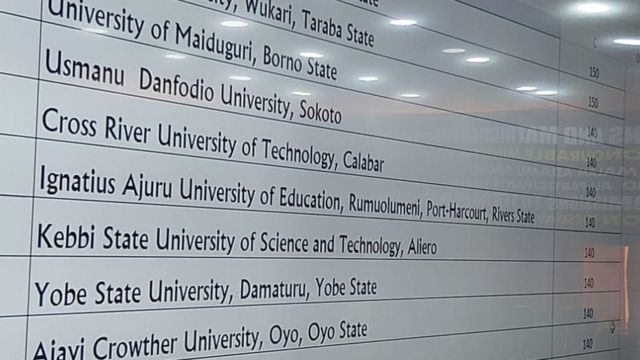 150 is the minimum Jamb cut off mark any student who wants to study in the Delta State University (DELSU) must score.
Students with 149 as Jamb score are not eligible to participate in the Post UTME exam, to be eligible, it must be with a Jamb score of 150 and above, the higher your Jamb score the better your chances of been admitted.
DISCLAIMER: DELSU Cut off mark being 150 do not mean with a Jamb score of 150 you are assured admission, No, it only gives you a fighting chance (allows you to participate in the Post UTME) of which with better performance in the Post UTME can boost your chances.
Requirements To Participate In DELSU Post UTME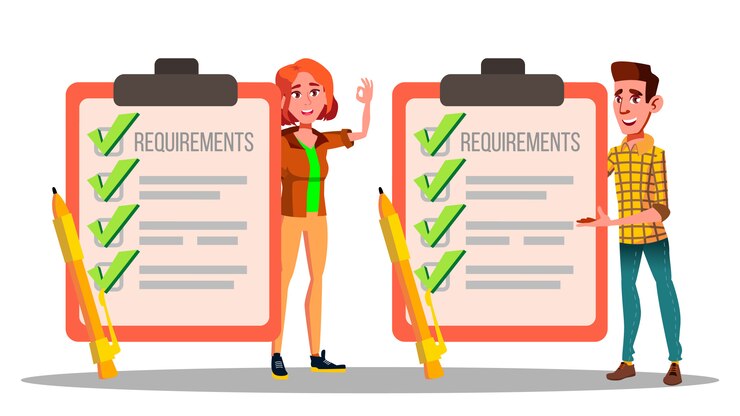 If you wish to get DELSU Post UTME form, then you must meet up with the following requirements…
| S/N | REQUIREMENTS |
| --- | --- |
| 1. | Candidate must have a Jamb score of 150 and above, any score less than that would not be accepted. |
| 2. | You must have chosen DELSU as First choice, if you chose the University as second choice and wish to be considered for admission, you can apply for the Screening Exercise ONLY when you have made a change to DELSU as your First Choice. |
| 3. | Candidates must possess WASSC/SSCE/NECO/NABTEB Ordinary Level with credit passes in at least 5 relevant subjects in not more than two sittings (JAMB and WAEC Subject Combination for all courses) |
| 4. | POST UTME Registration fee (2000) |
| 5. | Jamb Registration Number (your information will be pulled from Jamb with this Reg. number), Email address, Phone number. |
Requirements to apply for DELSU Post UTME Form
How Much Is DELSU Post UTME Form
Delta State University (DELSU) has pegged Two thousand Naira (N2000) as the registration fee for her Post UME, this payment can be done at any of the following banks: Unity Bank, UBA, Zenith Bank, Fidelity Bank, Ecobank Plc
Although the official fee is N2000, you may want to go with a little extra to accommodate unforeseen circumstances.
How To Apply For DELSU Post UTME

Below are the steps to take to register for DELSU 2022/2023 Post UTME…
Estimated Time for this 8 minutes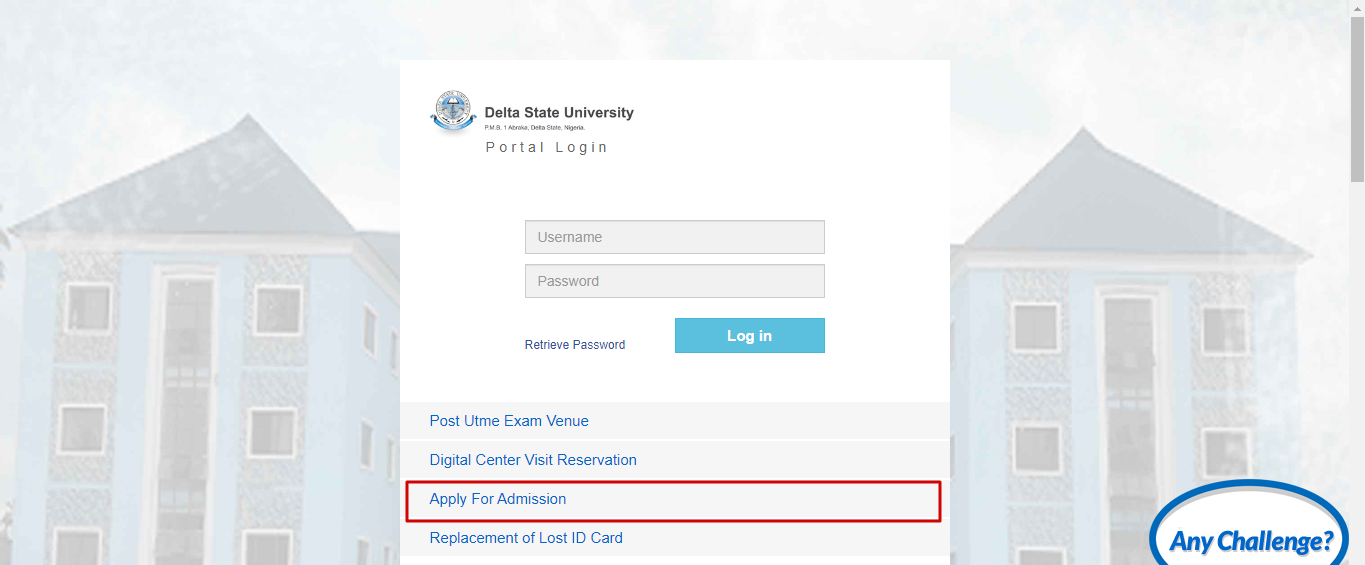 On your mobile phone or personal computer (PC) open your mobile browser (preferably chrome) and enter the url 👉 "delsuonline.com" on the hope page, click on "apply for admission" as shown in the image above.
Step 2: Click 'Start'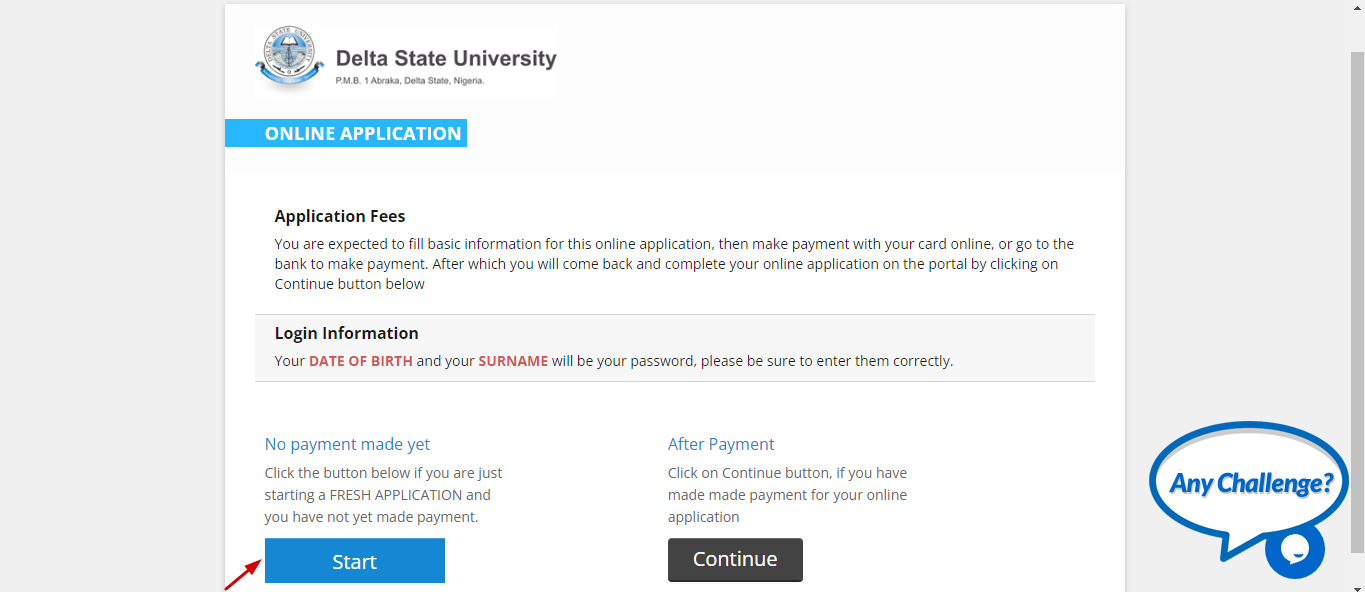 Upon clicking on "apply for admission" you will be taken to the page shown above, on it, CLICK START
Step 3: Select screening exercise

On the next page, tick the box just beside DELSU SCREENING as shown in the image above (except you are registering for JUPEB or other program.
After that, scroll down the page and click on "APPLY"
Step 4: Choose Your Application Mode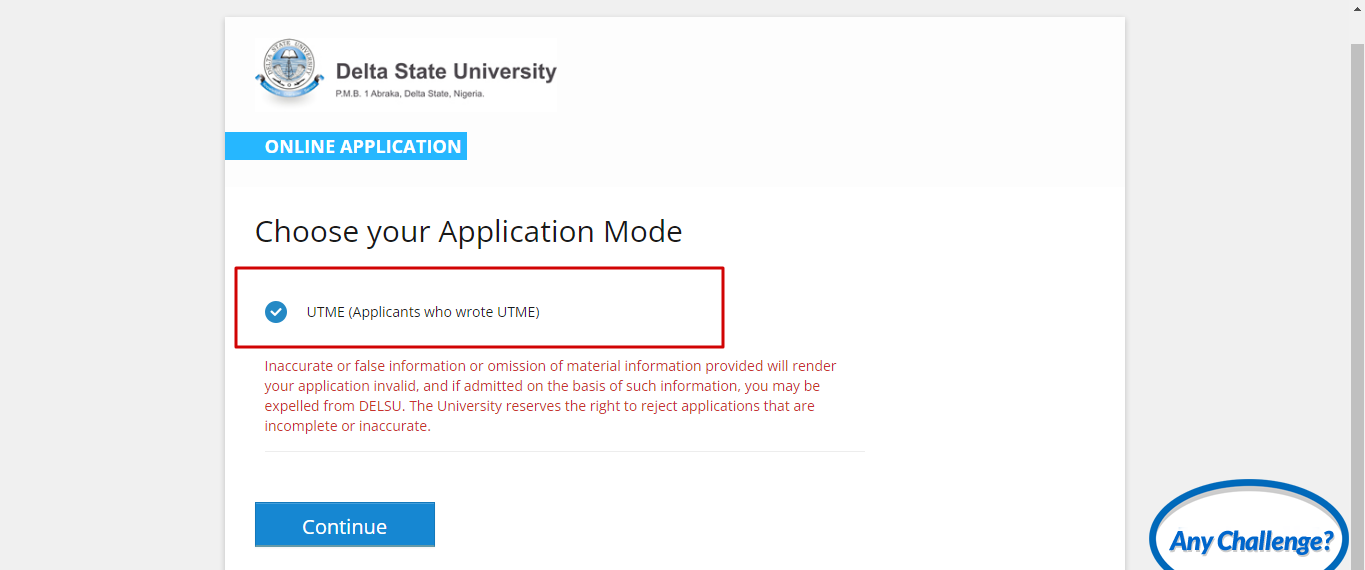 Select UTME as your application mode as shown in the Image above and click on continue.
NOTE: Inaccurate or false information or omission of material information provided will render your application invalid, and if admitted on the basis of such information, you may be expelled from DELSU.
Step 5: Enter Your JAMB Registration Number

On the next page, Complete the form with your valid JAMB Registration Number.
Step 6: Enter a valid phone number and e-mail address
These will be used to communicate your examination date and venue to you.
Mind You: This Phone Number and Email must not be the same with what you used in JAMB, but to avoid ambiguity, you can use same email and phone number.
Step 7: Submit the form and click 'pay online or generate PIN'
After entering your Valid Phone number and Email address, submit the form and Click on "pay online or generate PIN".
Print out the PIN generated
It is this pin generated you will use to process your payment in Bank.
Step 8: Visit Any of The Specified Bank for Online Payment
Once your pin is successfully generated, visit Unity Bank, UBA, Zenith Bank, Fidelity Bank or Ecobank Plc for your online payment.
You are advised to use the virtual PIN immediately for payment, as this pin is only valid for six (6) hours after generation.
Step 9: After Payment Return delsuonline.com To Complete The Form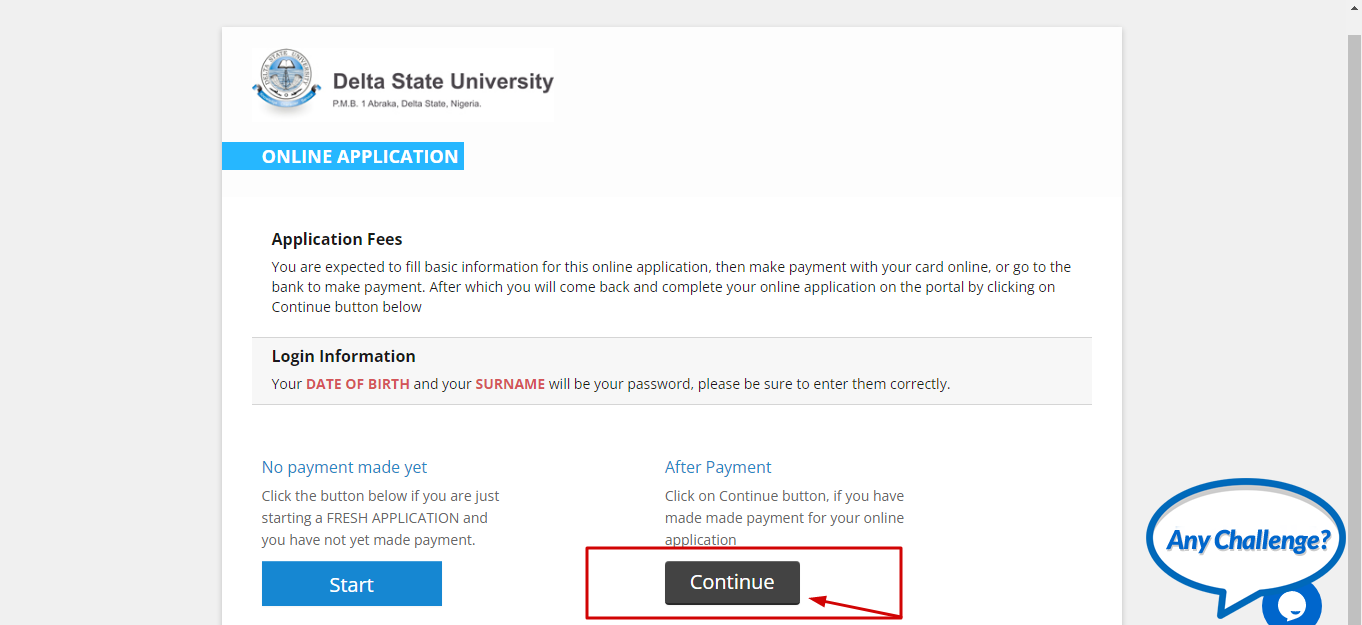 Once your payment at the bank is successful, click on https://delsuonline.com/Universal/WebForms/Applicant/VPinApplicant.aspx to complete your registration.
Easy Right?😎
You are advised to use the virtual PIN immediately for payment, as this pin is only valid for six (6) hours after generation.
Where Can I apply For DELSU Post UTME?
You can apply for DELSU Post UTME at any CBT center or Cyber café, there are no special centers where this can be carried out.
You can carry out the process yourself, but if you are still not sure, then a cyber café where students are regularly registered for Post UTME would be your best bet
The registration can be done from any location.
Closing Date For DELSU Post UTME Registration?
Delta State University (DELSU) has announced Friday, September 16, 2022 as the deadline for her Post UTME registration. Therefore, all students interested in applying should do so before this date.
Can the deadline be extended?
Yes, it can, but there is no guarantee that this would be happening, so the best thing to do is to register as soon as you an.
When Is DELSU Post UTME Exam Date?
Each student will be communicated through Mail and Text message their Examination Date and Venue through the details they provided while registering.
Frequently Asked Questions
Can I Register DELSU Post UTME with my Phone?
YES, with your phone in the comfort of your home, you can register for DELSU post UTME.
To avoid avoidable error, follow the guide specified on this post or visit any cyber cafe close to you where registrations like these are frequently carried out.
Will DELSU Write Post UTME?
Delta State University (DELSU) will conduct Post UTME/aptitude test for students in 2022/2023
How many questions are asked in DELSU post UTME?
A total of 50 questions are asked in DELSU Post UTME, with each question carrying 2marks.
In Conclusion
DELSU Post UTME form is out, and you can start applying online by visiting delsuonline.com
This is the lot I can take on this write-up, if you have any question or help, feel free to drop them using the comment box below.
Ensure to share this with friends on Facebook, Whatsapp, or any other social media network you can connect them with…
Related Searches...  

a. when is delsu post utme starting

b. when is delsu post utme exam date

c. delsu post utme slip

d. delsu post utme portal login

e. when is delsu post utme date