How To Check Jamb Center & Exam Date: How do I check my JAMB center date?, How do I check my JAMB print?, Is JAMB reprint out?, How will I be able to know my 2022/2023 Jamb UTME exam venue and time?, Have reprinting of Jamb slip for this year started? if not, when is it going to Start?.
Welcome SAVANT! to another exciting episode of my "Jamb Doctor Series" in today's episode I will show you how you can know your 2022/2023 examination date and center, here you will also learn the exact date for Jamb reprinting. Cool right?, STAY TUNED!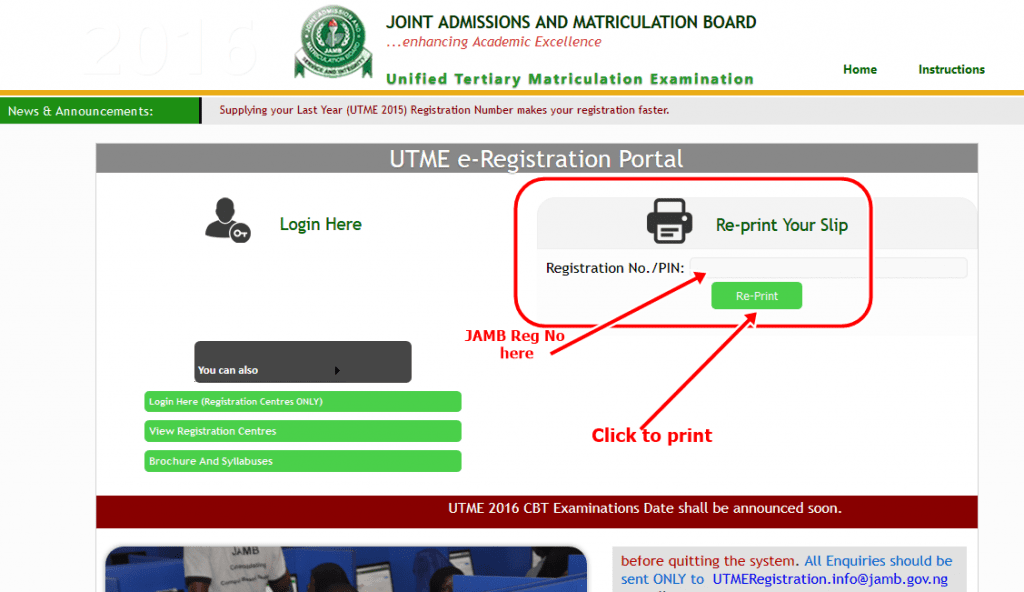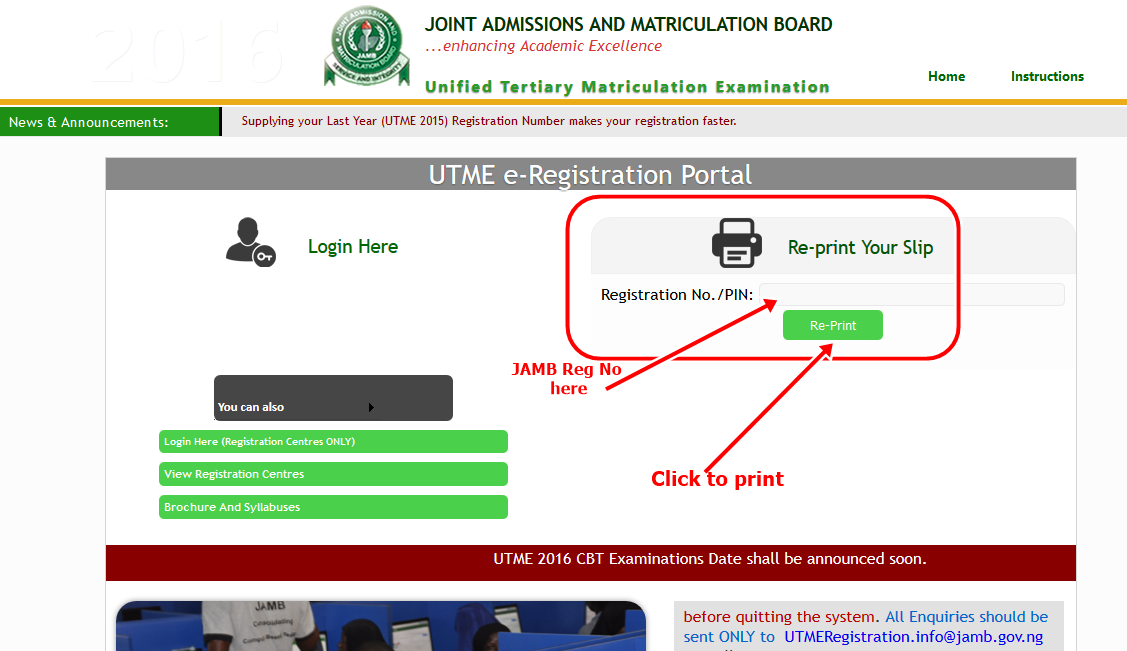 After successful completion of your Jamb Registration, my guess is, you were surprised your Exam date, Center/venue and time was not given to you, and then you were like, how will I know the exact date for my exam and the Jamb center I will sit for the exam as well🤔
To know your Jamb Examination center and Exam schedule you will have to reprint your Jamb slip, on the reprinted Jamb slip, you will find your exam date, center and time.
Read Also: Deadline For Uploading O' level Result To Jamb Portal 2022/2023
ARE YOU ON TELEGRAM?

 Why Not Subscribe To My Telegram "Jamb Doctor Channel" For Frequent Updates by clicking the 

"SUBSCRIBE NOW"

 button below.
How To Check Jamb Center & Exam Date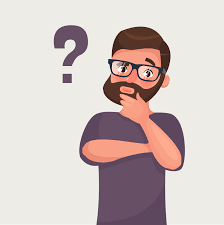 The steps on how to check your Jamb center and date of examination is shown below…
Disclaimer: The portal to Check Jamb center and Examination date is not live yet, so following the steps below will not yield any result. I will update this post once the Jamb reprinting for 2022 starts.
P.S: Allow Pop-up from Jamb reprinting site from your browser.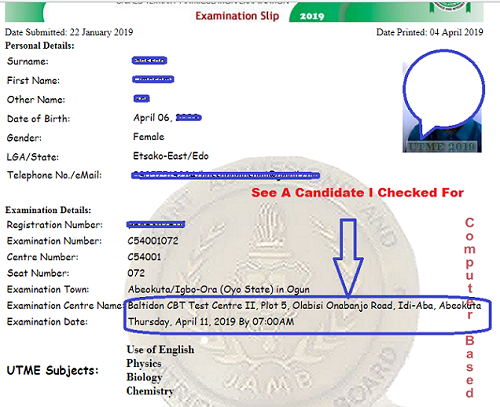 By following this step by step guide, you will be able to check your Jamb center and exam date for 2022/2023 UTME exam
Estimated time 3 minutes
Step 1: Visit Jamb Reprinting Portal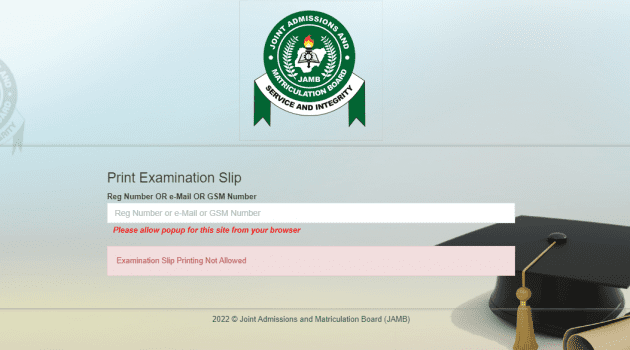 Go to Jamb reprint checker page @https://portal.jamb.gov.ng/eFacility_/PrintExaminationSlip using a suitable browser like google chrome or Safari
Step 2: Enter Your Reg Number or Email address or GSM Number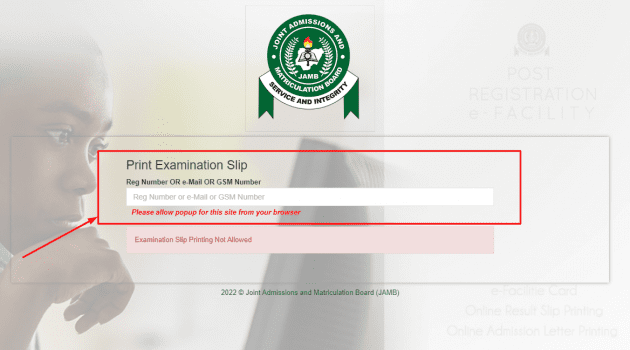 On the Jamb reprint page, enter your Jamb registration number, email address or Phone number (this phone number or email address must be what you used to register for Jamb)
Step 3: Click on Print Examination Slip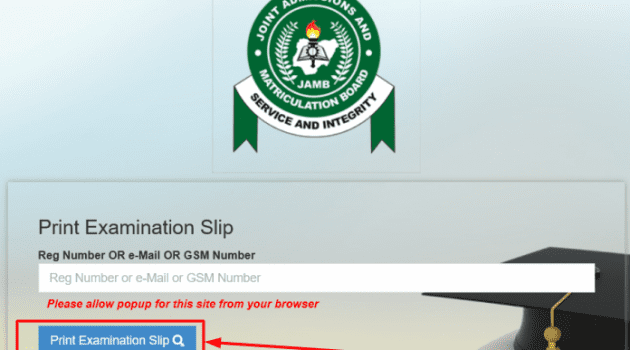 After filling the required box with either your Jamb registration number, Email address or phone number you can then click on the "Print Examination slip"
And voila, your Jamb examination date, center and time will be shown to you on the next page.
Frequently Asked Questions
When Will Jamb Reprinting Start?
The Joint Admission and Matriculation Board (Jamb) has announced 28th of April 2022 as the official date for Jamb Reprinting to Start. This means you can follow the steps I have shown to you here as from April 28th 2022 to check your Exam center and Date.
When Is the Deadline To Reprint Jamb slip?
There is no fixed deadline for Jamb reprinting.
But since Jamb 2022 exam date is 6th of may, all reprinting should be done before this date so you don't miss out on your Exam date.
How Much To Reprint Jamb Slip?
If you are to do this yourself it is free, but if you go to a CBT center to do this, then you should pay about N300 naira for the services rendered.
Where Can i reprint Jamb Slip?
You can do the reprinting anywhere, form the comfort of your home to any cyber-cafe or Jamb registration center you want.
I tried Reprinting With My Phone but It did not Work, why?
The major cause of Jamb reprinting not working with your mobile phone or Laptop is if the Pop-up option for your browser is deactivated.
To resolve this, go to through your browser options and reactivate the Pop-up.
In Conclusion
You can know or check your Jamb Center and Examination date by reprinting your Jamb slip.
Read Also: How Many Questions Will Jamb Set This Year 2022/2023
This will be all for now, I understand you may have a question or two to ask, feel free to drop them using the comment box below!
Ensure to share this with friends on Facebook, Whatsapp, or any other social media network you can connect them with…
Related Searches

a. jamb portal

b. how to check jamb center 2022

c. to check your jamb center 2021

d. how to check your jamb center 2022
GUESS WHAT, I HAVE COMPILED SOME TURORIALS TO HELP YOU WITH JAMB USE OF ENGLISH...

A. How To Answer Questions On Emphatic Stress In Exams

B. Tenses | Jamb Use Of English Tutorial 2023/2024

C. How To Pass Jamb 2023/2024 With High Score (300+)

YOU MAY ALSO BE INTERESTED IN: 

A. Universities That Offers Pharmacy In Nigeria 2022

B. How To Gain Admission Without Using Jamb

C. How To Recover Lost Jamb Profile Code, Email & Pin

D. How Many Subjects Are Written In WAEC 2022

E. How To Upload O' level (WAEC, NECO & NABTEB) To Jamb

F. How To Link Email Address To Jamb Profile 2022/2023

G. How Many Questions Will Jamb Set This Year 2022/2023

H. Jamb Mock Exam 2022/2023: All To Know About Jamb Mock 

I. How To Check Jamb Result 2022/2023 Using Phone (SMS & Online)

J. How To Print Jamb Admission Letter 2022/2023 Yourself (All Years)

K. NECO Timetable 2022/2023 June/July & Exam Date [Download Pdf]