How To Register For JAMB 2023 UTME/DE: Is JAMB form Out?, When will JAMB form for 2023/2024 UTME/DE starts?, Is JAMB UTME registration procedure the same with Direct Entry (DE) Registration?, What are the requirements for JAMB registration 2023/2024?, JAMB registration slip.
Hey SAVANT! welcome to today's episode of "JAMB Doctor Series", in this episode I will guide you through the necessary steps to take in other to successfully register for JAMB 2023 UTME/DE exams. cool right?, STAY TUNED! ?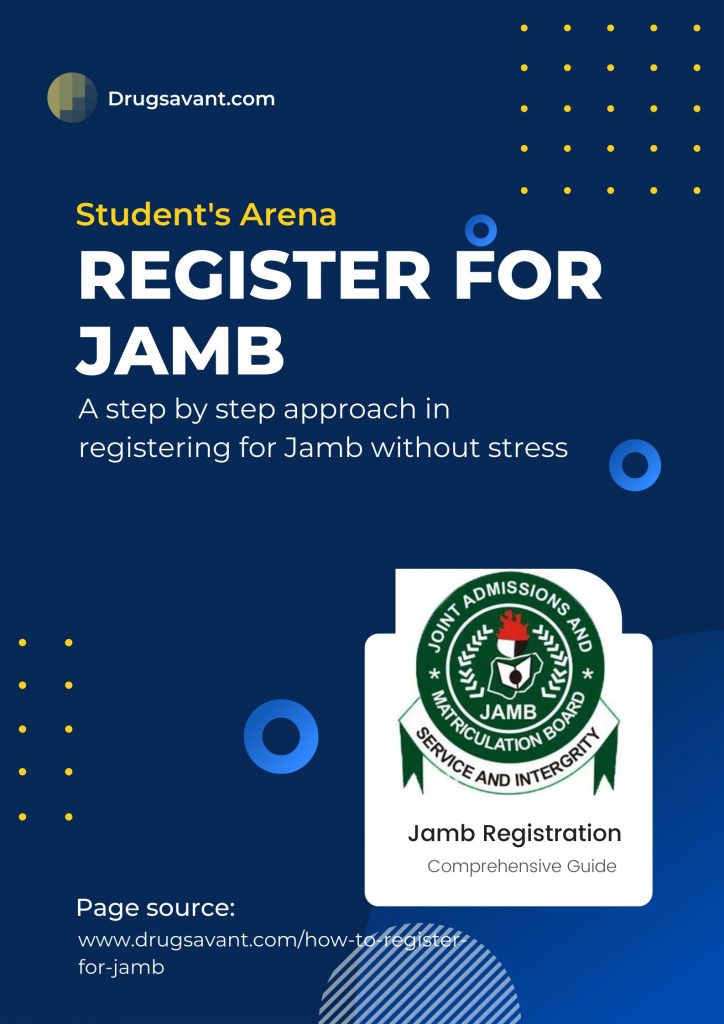 | | |
| --- | --- |
| JAMB Registration Start Date | Saturday, January 14th, 2023 |
| JAMB Registration Deadline | Tuesday, February 22nd, 2023 |
| Direct Entry Registration Date | Monday, 20th February to Thursday, 20th April 2023 |
| Total Expenses for Registration | N6700 (Mock Fee included) |
| English Compulsory Novel | Life Changer by Khadija A. Jalli |
| JAMB Examination Date | Saturday, 29th April 2023, to Monday, 12th May 2023 |
| Result Release Date | Not specified (MORE INFRMATION HERE) |
JAMB is one of the most popular exams among Nigerian students, in fact, there is hardly any student in Nigeria who has not heard about JAMB or do not plan to sit for the Exam or have already sat for it.
But the process involved in the registration of JAMB is a bit complex, I'm pretty sure in your search for how to register JAMB, you must have been hearing a lot of unusual terms like JAMB profile code, E-pins, of recent now, NIN and many other plenty talks?
Read Also: JAMB Registration Requirements 2023/2024 (All You Need To Know)
ARE YOU ON TELEGRAM? Why Not Subscribe To My Telegram "JAMB Doctor Channel" For Frequent Updates by clicking the "SUBSCRIBE NOW" button below.
At the end of this guide (How To Register for JAMB), these plenty talks and gibberish will make a lot of sense to you, and not just that, you will also be able to know what stage of the registration you are in, the next step to take and all that.
Because, this write-up will help you demystify this mystery (JAMB registration). nah, there is no need to thank me, what are friends for??
All you have to do is take a glass of water and relax as you peruse through this blog post diligently, don't worry, I will make it as fun as possible… ENJOY!
Before you can register for JAMB officially, there are some things you must have prepared down, such as an active email address, Phone number, and must have also registered with NIMC for your national identification number (NIN).
A lot have been explained on JAMB Registration Requirements HERE already, so I will keep the registration requirement light and focus more on the registration process.
JAMB RECOMMENDED TEXTBOOKS...

A. JAMB Recommended Physics Textbooks

B. JAMB Recommended Chemistry Textbooks

C. JAMB Recommended Biology Textbooks

D. JAMB Recommended Economics Textbooks

E. JAMB Recommended Government Textbooks

F. JAMB Recommended Use Of English Textbooks

G. JAMB Recommended Mathematics Textbooks

H. JAMB Recommended Literature In English Textbooks

I. JAMB Recommended Commerce Textbooks

J. JAMB Recommended Christian Religious Study (CRS) Textbooks

K. JAMB Recommended Textbooks For All Subjects

L. How JAMB Is Marked And Scored (All You Need To Know)
Is JAMB Form Out?
YES, JAMB Form for 2023 is now officially out, the sales of this year JAMB form began Saturday, 24th of January, 2023.
What this means is that, students who wish to participate in this Year's JAMB (2023/2024) and have been waiting for the sales of form can begin registration following the guide I will be showing you shortly.
Read Also: JAMB IBASS Eligibility Checker: Brochure & Syllabus 2023/2024
When Is Sales Of JAMB Form Ending?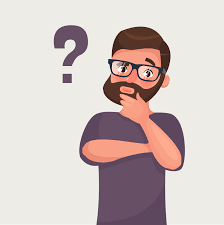 The deadline for sales of JAMB form 2023 is Tuesday, February 14th, 2023.
If you have any intention of participating in this year JAMB, then you must get your form on or before this date.
Where Can I Register for JAMB?
You can register for JAMB at any Approved CBT center closest to you. Mind you, JAMB registration cannot be done at any random CBT center.
Also, there will be no offline registration as all the accredited CBT center have been empowered for Online real-time registration. Students who register outside any of JAMB approved CBT registration center will be considered disqualified.
SEE JAMB ACCREDITED CBT REGISTRATION CENTERS IN ALL STATES...

1. Abia State

2. Adamawa State

3. Akwa Ibom State

4. Anambra State

5. Bauchi State

6. Bayelsa State

7. Benue State

8. Borno State

9. Cross River State

10. Delta State

11. Ebonyi State

12. Edo State

13. Ekiti State

14. Enugu State

15. FCT Abuja

16. Gombe State

17. Imo State

18. Jigawa State

19. Kaduna State

20. Kanu State

21. Katsina State

22. Kebbi State

23. Kogi State

24. Kwara State

25. Lagos State

26. Nasarawa State

27. Niger State

28. Ogun State

29. Ondo State

30. Osun State

31. Oyo State

32. Plateau State

33. Rivers State

34. Sokoto State

35. Taraba State

36. Yobe State

37. Zamfara State
How To Register for JAMB Online
To register for JAMB you must take the following steps as shown below…
Create your Personal email address (one you have not used before for JAMB registration)
Get an active Phone number from any of the network service providers (MTN, Airtel, GLO or 9mobile). Make sure the number you use belongs to you
Register with NIMC to get your National Identification number (NIN)
Create Your JAMB Profile
Buy your E-pin from any of JAMB designated e-pin sales point (Banks, NIPOST e.t.c)
Visit any JAMB Registration center to complete your Registration
These are the six (6) compulsory steps you must take to successfully register for JAMB 2023, I will now explain each of the steps so you will get an understanding of the entire registration process.
1. Create your Personal email Address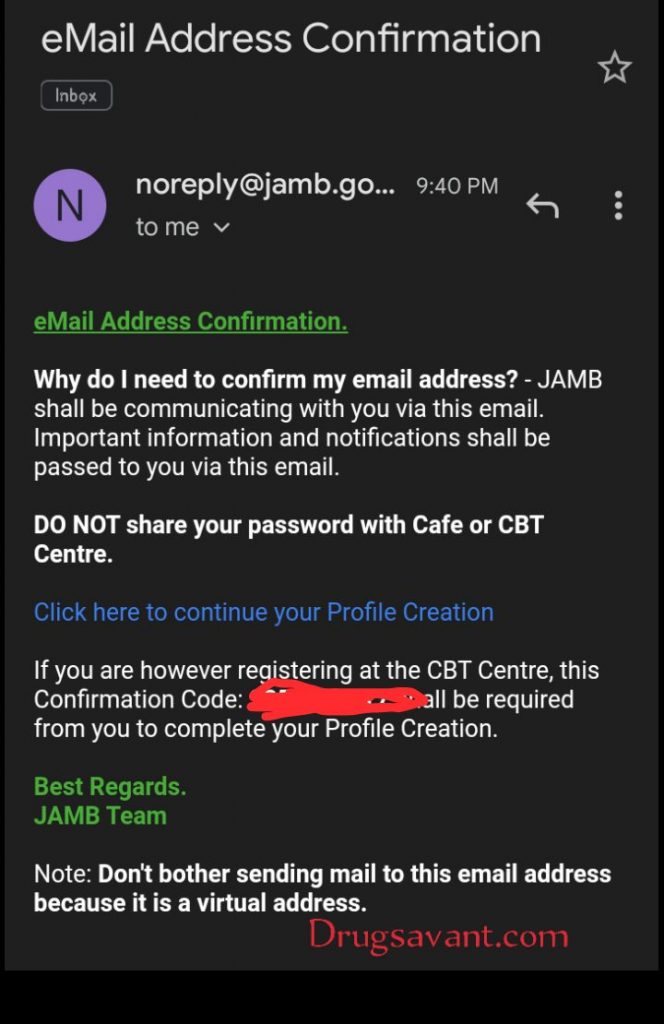 To be able to register for JAMB, you must have an active Email address, it is with this email address you will be able to create your JAMB profile online and later on access your JAMB CAPS when the time for admission comes.
So you see why having your email address is important?, if you don't have one, you can easily create one for free @gmail.com, following the procedures I showed you in my How to link your email address to JAMB Profile
But I already have an email address before, can't I use it for my JAMB Profile creation?
Well, if you already have an email address, there will be no need for you to create a new one, provided you have not used the email address to register JAMB before, because you cannot use one email address to register for JAMB twice.
If you have your email ready now, then the next important thing to get would be an active phone number
2. Get an Active Phone number from any of the network service providers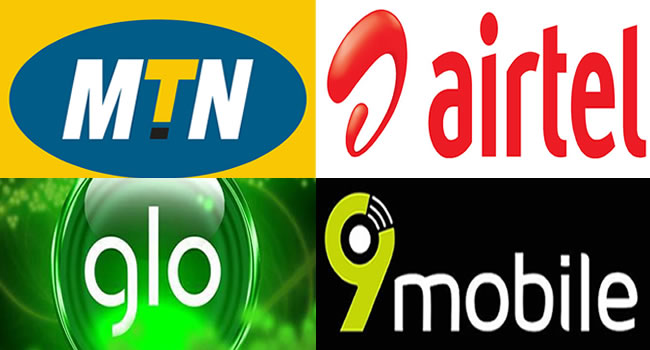 Before you can create your JAMB profile, this time not online (for the online profile you will need an email address), you will need an active phone number which will be used to request for your JAMB profile code, it is this JAMB profile code you will then use to purchase your E-pin for the registration.
The Phone number can be used by one student only (note: this number remains your unique identification for all transaction with JAMB). Do not use any random number for your JAMB registration because…
…the phone number you use will be tied to you, and cannot be used by anyone else again and will be used for all communication from JAMB to you, like sending of your JAMB result.
But I have used my phone number for JAMB before, can I used it again? ?
If you registered for the previous JAMB, and used your phone number to request for JAMB profile code that year, you can still use the same phone number for this year JAMB
The only data you cannot use again this year is your email address, you should not use the same email address you used for JAMB before.
3. Register with NIMC to get your National Identification number (NIN)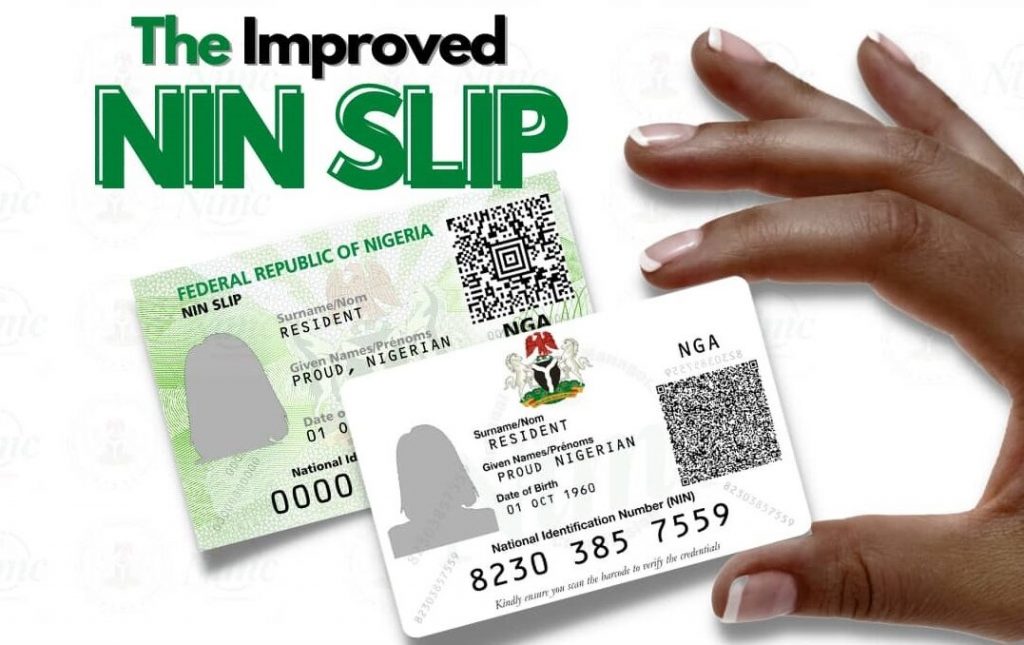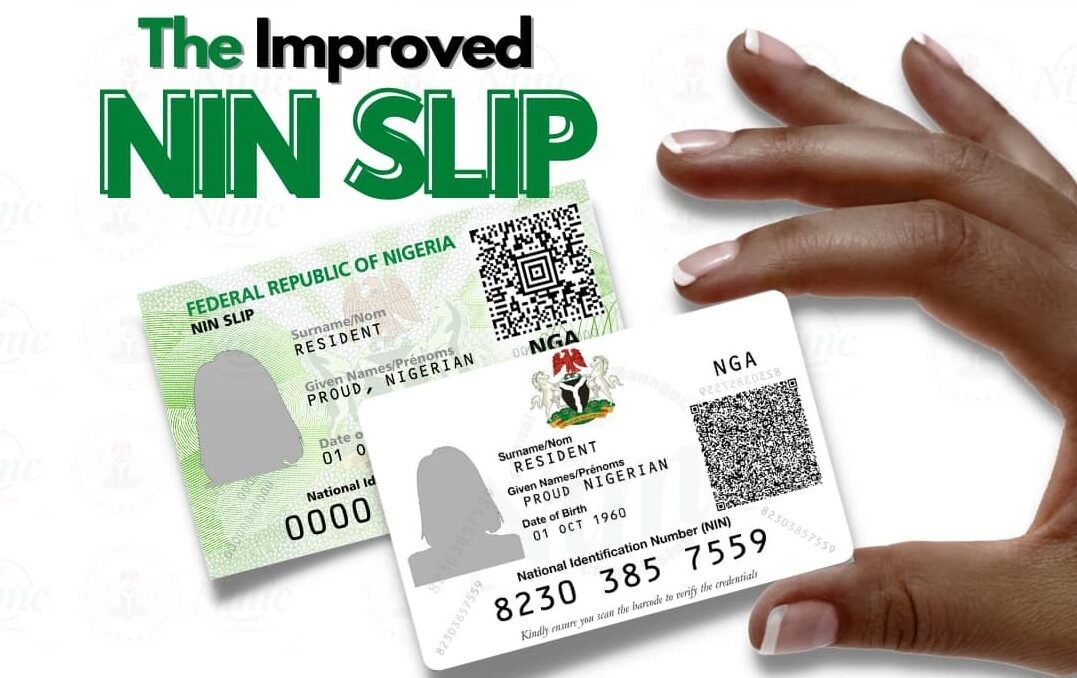 The Board has made the use of National identification Number (NIN) compulsory for 2023/2024 JAMB, so if you have not registered with NIMC before then I will urge you to stroll to the nearest NIMC office closest to you for your registration.
Once you complete your registration, you will be given your NIN which you will then use to also create your JAMB profile, please make sure the information you fill when registering for NIN are correct…
…because that is where all your DATA such as name, date of birth, local government area, gender will be collected from, so if you submitted wrong DATA you are indirectly submitting wrong information to JAMB.
What of those who already have their NIN but has forgotten it?
If you have already registered for NIN, then dial *346# from the options displayed, select "NIN Retrieval", by typing in '1'
If you are using the same phone number you enrolled with for your NIN. follow the steps displayed on your screen and provide the required inputs.
Or you can simply check the brown slip you were given upon registration for NIMC.
Now that you have your email address, Phone number and NIN you can now begin the official process of JAMB registration by creating your JAMB profile.
4. Create Your JAMB Profile
To initiate this process, you are to go to your messaging App on your Android or Apple device click on create new message and fill the message box with the following information; NIN "YOUR NIN" to 55019 or 66019
The content of this message should be similar to the image below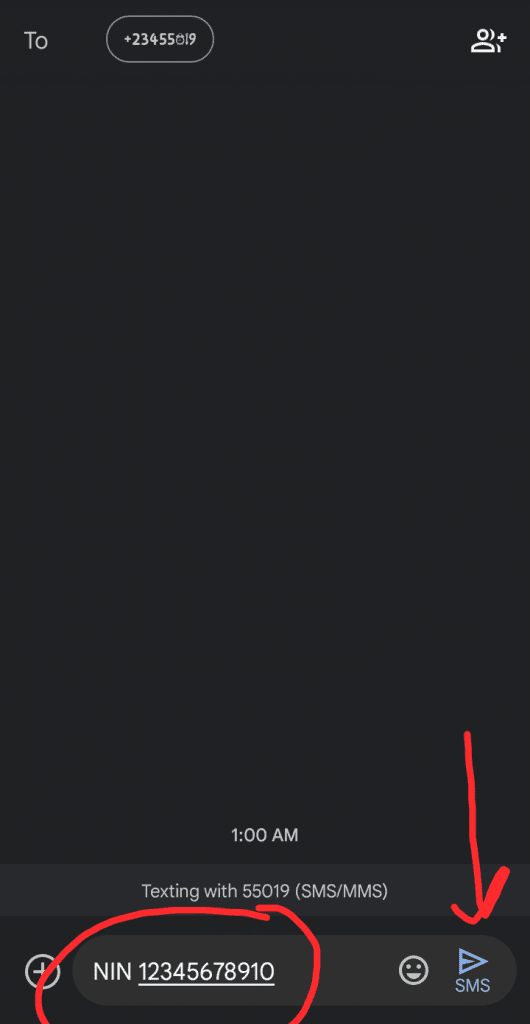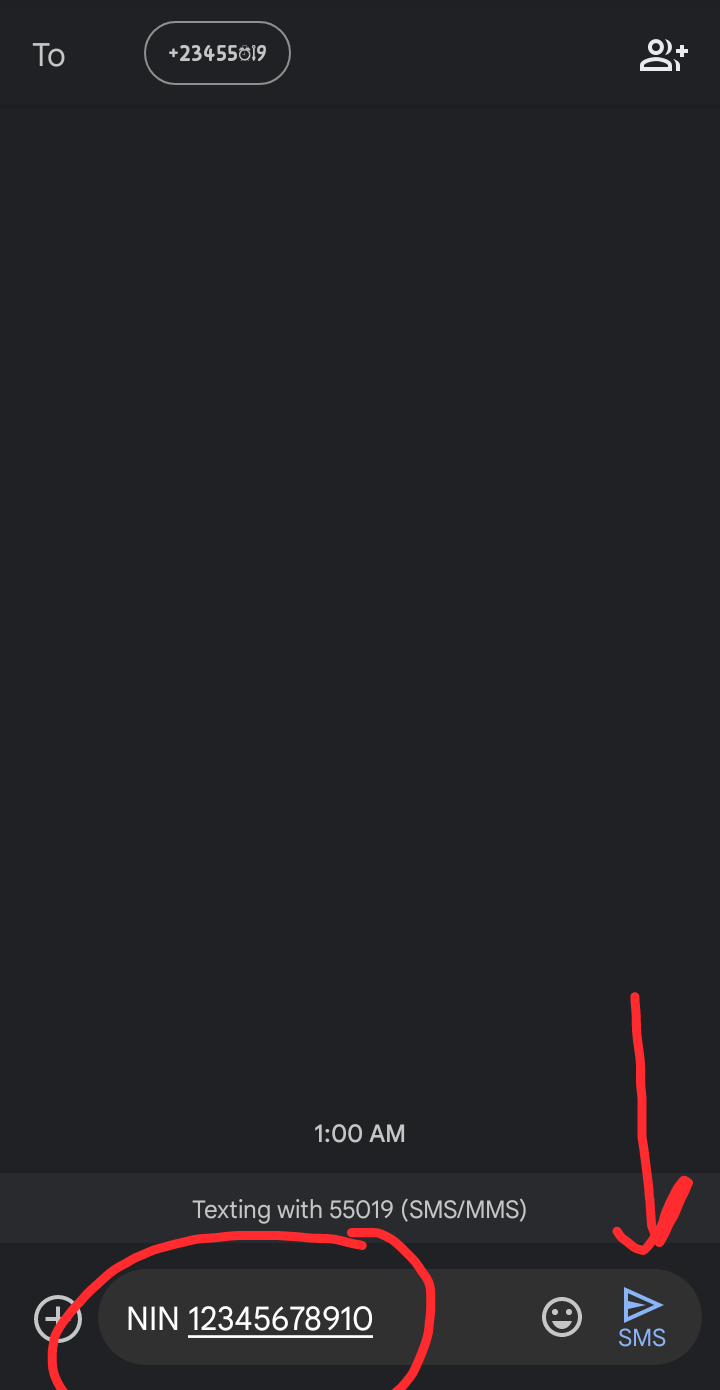 Write the word 'NIN' then space and add the 11digits NIN number and send to 55019 or 66019. you must have up to N50 in the SIM you are using for this.
After sending this message, you will receive a Profile code of 10 characters on the same telephone number, it is this profile code sent to you, you will present to the Bank, NIPOST or any of JAMB E-pin sales point.
This now brings us to the fifth (5th) stage of our JAMB registration process…
5. Buy your E-pin from any of JAMB designated e-pin sales point (Banks, NIPOST e.t.c)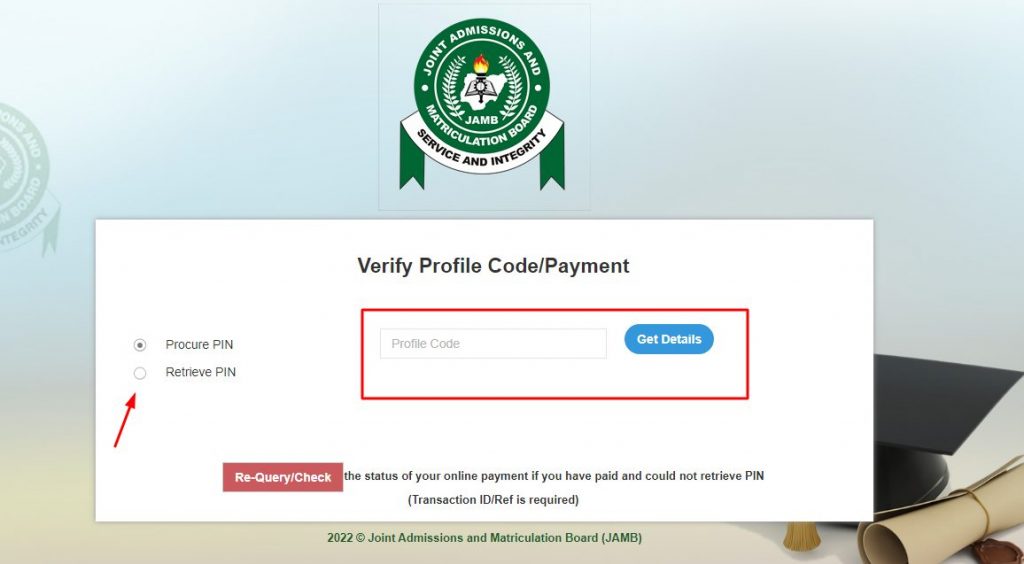 With your JAMB profile code with you, you can then proceed to any of the E-pin selling outlets, these outlets include…
NIPOST and other Participating Banks (FIRSTBANK, JAIZ, Polaris, STERLING, TAJ, UNION and UNITY)
Mobile money Operators/Microfinance Banks/Online Platforms listed below: Paga, e-Transact, TEASYPay, Packway Projects (Readycash) and Xpress payment solutions, Zazzau MFB, CapricSo what orn Digital limited, cloud interactive Associates, Funds and electronic Transfer, Interswitch (Quickteller), Upperlink, Itex Integrated Services, System Specs (Remita) and Unified Payment Services (UPS), JAMB Multi-Purpose Cooperative Society, Digital Partners Network, payvantage, PayCom, Nomiworld and Cottage Assets and Global Accelerex
Foreign Candidates can visit the Nigerian Embassy for guidance on how to apply in any of the following countries

Abidjan, Cote D'Ivoire
Accra, Ghana
Addis Ababa, Ethiopia
Beau, Cameroun
Cotonou, Benin Republic
Jeddah, Saudi Arabia
Johannesburg, South Africa
London, United Kingdom
Berlin, Germany
What are the Duties of these JAMB e-pin outlet centers?
The duties of these outlets are to…
Collect the Profile Code from the candidate's phone
Collect payment and vend ePIN by SMS to candidate's phone (Not dictating or copying)
Facilitate POS Payment, if necessary
Issue Evidence of Payment
Delivery of ePIN to candidates electronically. (This is not to be Handwritten)
It is this e-pin you shall take to the CBT registration center for JAMB registration, if you are to misplace your E-pin, you can retrieve it by…
How To Recover Lost E-pin After Payment
If ePIN is not Received or Lost, send [UTMEPIN] or [DEPIN] to 55019 or 66019 for UTME or DE, respectively, from the unique number
The ePIN would then be retrieved and delivered on the candidate's unique number
AFTER SUCCESSFUL PAYMENT AND OBTAINING ePIN, YOU ARE TO PROCEED TO ANY OF THE JAMB ACCREDITED CBT CENTRES TO COMPLETE YOUR REGISTRATION.
6. Visit any JAMB Registration center to complete your Registration
Now that you have your E-pin and Profile code, you can now proceed to any of JAMB approved VBT registration center to complete your registration.
At the center, you must PERSONALLY present your profile code and e-PIN at any JAMB accredited CBT Centre for registration. Your photograph and biometrics (all ten (10) fingerprints) would be captured at the CBT centre
Important Information to Note
Service charge of N1000 hitherto payable at the CBT center for registration (NOT MOCK) is now part of registration fee, as such, you are not to pay for the registration. during registration, no other payment will be made.
Provide choice of institutions and programmes (course of study)
Provide qualification with grades and dates, if not awaiting result
Upload relevant certificates, if not awaiting result (this is applicable for both UTME and Direct Entry (DE) candidates)
Provide O/L and or A/L grades are to be provided by candidates. Candidates who are awaiting results should supply (upload) the results online on CAPS (JAMB) as soon as they are available on JAMB's portal. JAMB will consider no recommendations from any Institution if the candidate has not uploaded his/her result on the portal of JAMB. No institution is allowed to take a new picture/photograph, biometrics or require any other upload of the result. All results are downloadable by institutions from the Board's website (and the download is tracked to avoid abuse)
Supply JAMB registration number for previous institutional certificates for DE only.
Provide UTME subjects and choice of examination town(s) for
Review entries and confirm the correctness
Print Registration Slip USING BIOMETRIC AUTHENTICATION to confirm valid fingerprint (UTME/DE). Note that authentication with your fingerprint removes blames for errors from CBT centres. Candidates are to check before confirming their fingerprints.
Collect, at no other cost, the reading text and CD
Collect the e-slip after registration as evidence of registration.
MIND YOU: There will be no offline registration, as all the accredited CBT centres have been empowered for real-time online registration.
You should register at any centre other than the accredited CBT centre and JAMB State-Offices. Any student who is registered outside approved centres will be identified and disqualified. 
With this, you are now fully registered for JAMB and can now start preparing for your Forth coming examination…
To charge you up for the exam, I have prepared some exciting tips and information that will help you in the Exam… ENJOY!
OTHER EPISODE FROM MY "JAMB DOCTOR SERIES"

A. Is It Compulsory To Upload O' level To JAMB

B. How To Upload O' level (WAEC, NECO & NABTEB) To JAMB 

C. 4 Solutions To JAMB "You are Not eligible to use this service"

D. Difference Between WAEC, NECO And NABTEB

E. How To Gain Admission Without Using JAMB 

F. JAMB CAPS 2023/2024: How to Accept Or Reject Admission

G. How To Correct Mistake Made In JAMB Registration

H. How To Gain Admission With Low JAMB Score (120 to 170)

I. Meaning of Admission In Progress & Not Admitted On JAMB CAPS

J. How To Check Admission Status On JAMB & School Portal 2022/2023
Frequently Asked Questions
Is JAMB Registration still On?
YES, Registration for JAMB 2023 will continue until February 14th, 2023.
This means, if by this time you have still not gotten your JAMB form, then you will have to wait till next, when the portal will be opened again for another JAMB registration.
How Much Is JAMB Form?
JAMB Form for 2023/2024 is N6,700 with MOCK Fee included or N5700 for students who may not want to register for JAMB MOCK.
Can I register JAMB with my phone?
Can I register JAMB with my Laptop?
NO, you cannot register JAMB with your Laptop or personal computer, you cannot also register JAMB at a cyber cafe, if you must register for JAMB it must be at JAMB accredited registration center.
You can see JAMB approved centers for 2023 JAMB registration here.
Can I Register for JAMB Myself?
NO, you cannot register for JAMB yourself, even if you go to a cyber cafe you still won't be able to register for JAMB, registration for JAMB can only be done at an approved CBT center.
I have explained the step by step process here already.
Can I Register JAMB On Saturday?
YES, most Accredited JAMB CBT centers open and allow registration on Saturdays.
In Summary
Get your personal email address, Phone number and NIN, request for your JAMB profile code and use the profile code to procure your e-pin from any of the JAMB e-pin sales outlet.
Once you successfully buy your e-pin, visit any JAMB approved registration center close to you to then complete your registration.
Read Also: How To Pass JAMB 2023/2024 With High Score (300+)
This will be all for now, I understand you may have a question or two to ask, feel free to drop them using the comment box below!
Ensure to share this with friends on Facebook, Whatsapp, or any other social media network you can connect them with…
Related Searches...

a. jamb registration 2023

b. jamb registration slip

c. jamb registration 2023/2024

d. jamb registration 2023

e. requirements for jamb registration 2023

f. how to register for jamb