Solutions To JAMB CAPS Showing Blank & Welcome 2022/2023
Advertisement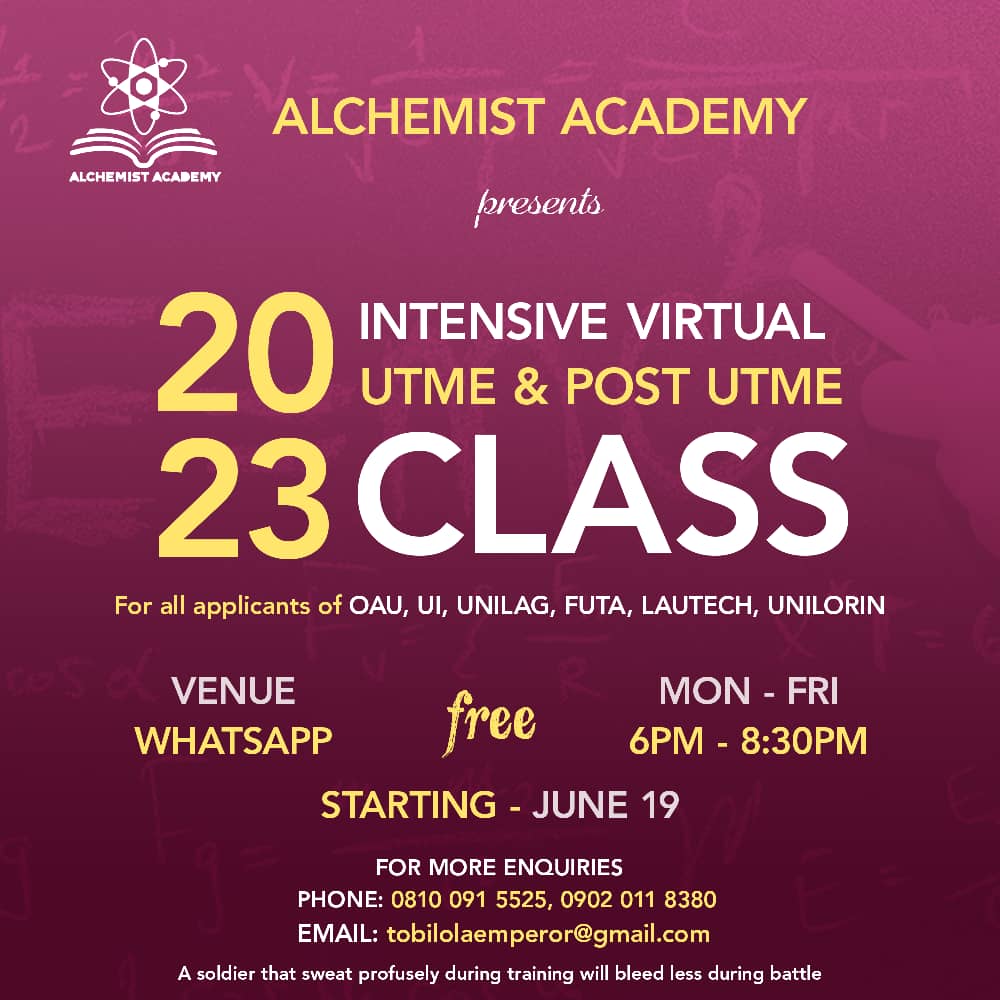 JAMB CAPS Showing Blank For Course & Institution: My JAMB Caps is blank, how can I resolve this?, The Space for Institution and Course is empty on my JAMB CAPS portal, what could be the course of this?.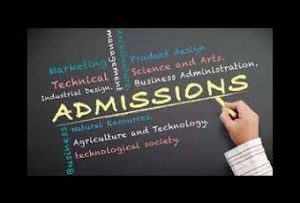 In this article I will show you possible reasons why your JAMB Caps is blank with two (2) effective solutions. Keep reading diligently for details…
Did you try accessing your JAMB Central Admission Processing System (CAPS) portal but all you kept seeing were blank spaces?, or did you click on your JAMB admission status through JAMB CAPS and saw that your Institution and choice of course were both empty and you are now worried?, well fear not because I've got you covered.
READ ALSO: How To Contact JAMB For Complaint & JAMB Offices
ARE YOU ON TELEGRAM? Subscribe To My Telegram "JAMB Doctor Channel" For Frequent Updates by clicking the "SUBSCRIBE NOW" button below.
In today's episode of my JAMB Doctor Series, I will explain why you are seeing Blank spaces on your JAMB CAPS with possible ways to resolve this.
But before you can be sure you are seeing blank spaces on your JAMB CAPS you must first know how to access it. For those who may not know how to Access their JAMB CAPS I will show you how.
How To Check JAMB Admission Status Via CAPS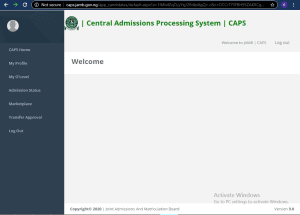 Follow this guide below on how you can effectively access your JAMB CAPS portal…
Visit JAMB E-facility portal @https://www.jamb.gov.ng/EfacilityLogin (I would advise you use a good browser like Google chrome or Mozilla Firefox, if possible use a PC).
Upon clicking on the link above you would be asked to fill in your Email address & Password (fill your correct Email and Password here) and click login
Upon login, locate the 'check admission Status' just below the page and click on it
You will be taken to a page where you would be asked to select your UTME year and fill your JAMB Reg number
Then Click on Access JAMB CAPS (If you see 'not eligible to use this service' just follow the guide HERE)
Easy right?
Haven understood how to access your JAMB CAPS Portal lets now get to the good stuff…
Read Also: Polytechnics That Offers Pharmacy In Nigeria
MORE FROM "POST UTME TOOLKIT SERIES" 

A. Required Subjects To Write In Post UTME

B. Universities That Do Not Write Post UTME 2021/2022

C. Difference Between JAMB And Post UTME

D. How Schools Conduct Post UTME For admission

E. How To Answer Post UTME Aptitude Test Questions

F. How To Gain Admission With Low JAMB Score (120 to 170)

G. JAMB Caps Login: How To Login & Check Admission Status

H. WAEC Result Checker: How To Check Waec Result Online

I. How To Change JAMB Email Address For JAMB Profile

J. JAMB Subject Combination For All Courses (Science, Art & Social Science)
Why Do My JAMB CAPS Shows Blank?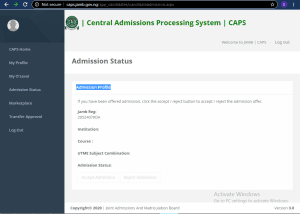 This error comes in two forms which I will explain shortly, these forms include
JAMB Caps Showing 'welcome'
JAMB Caps Space For Institution and Course are blank
Irrespective of the issue you are facing, the solution is just few lines below… Cheers!?
READ ALSO: Meaning of Admission In Progress & Not Admitted On JAMB CAPS
JAMB CAPS Showing 'Welcome"
If when you login in your JAMB CAPS Portal and all you see is just a text saying 'Welcome' then you have absolutely no reason to be bothered.
Students checking with their PC will have no problem with this at all but those using their mobile device (Android or IPhone) may be stuck.
In order for you to pass this welcome page you must request for desktop mode else you won't be able to access the portal menu which include CAPS Home, My Profile, My O' level, Admission Status, Marketplace, Transfer approval and the Log out option.
How do I switch to desktop mode on JAMB CAPS?
For this tutorial, we will be using Google Chrome browser, for those who may not be used to using chrome browser, you can just locate it on your phone or use other suitable browser aside Opera mini.
The process is pretty much same.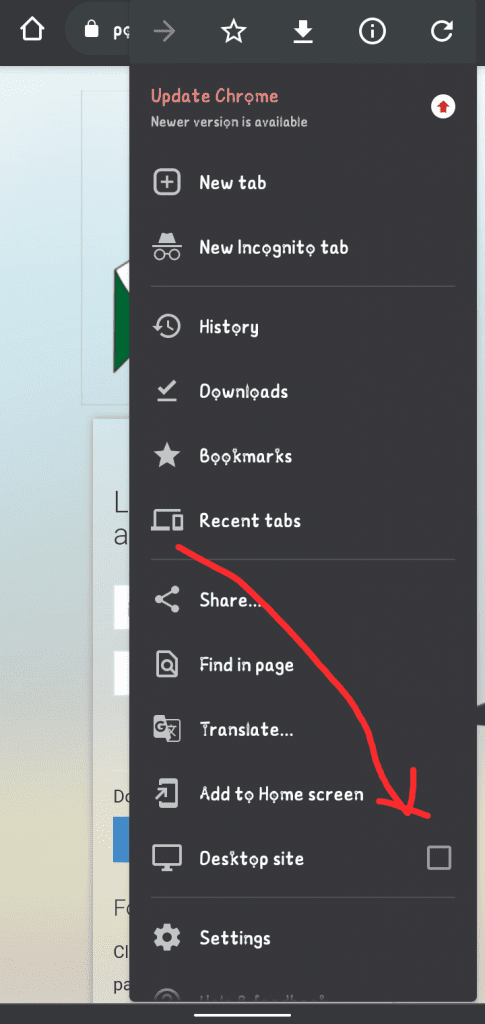 Locate the MENU Icon (this is indicated with three (3) dots)
Next, click on the three (3) dots and locate 'desktop site'
Click on it, this will make your phone view your JAMB CAPS as if it was a desktop viewing it.
2. JAMB CAPS Shows Empty Space For Institution & Course
Aside from the welcome page (which I have already proffered solution to above), students may also encounter this kind of issue.
The truth is, this is not an issue at all, having a blank space for your course or institution is nothing your should worry about.
All student will keep seeing blank spaces for their Institution and course till granted admission from their school of choice.
Now here is the logic behind it, Upon registration for JAMB you are given the opportunity to apply to various tertiary Institutions, through the Preferred and most preferred choice options, any of these schools are likely to grant you admission provided you meet up with their admission requirement.
The Space for Institution and course will be filled up when you are considered for admission by any of the schools you choose in JAMB. For now you can diligently go through the differences between JAMB CAPS Admission and School Admission.
Frequently Asked Question
How do I know if JAMB gave me admission?
You can tell if you have been given admission by JAMB by checking your admission status on JAMB CAPS, if you see admitted, then it means you have been offered provisional admission for that course, else it means your admission is being processed or you were not granted admission
In Conclusion
Your Institution and Course space being empty is no reason to panic because eventually it will come up, all you have to do for now is pray and hope for the best, you should also check JAMB Marketplace regularly to check if other schools (that is, schools you did not apply for in JAMB) has granted you admission.
Success in your 202 Admission Processing… SHALOM!
READ ALSO: Universities That Offers PharmD Program In Nigeria
This will be all for now, I understand you may have a question or two to ask, feel free to drop them using the comment box below!
Ensure to share this with friends on Facebook, Whatsapp, or any other social media network you can connect them with…
Related Searches...

a. why is my jamb caps blank 

b. how to check admission status on jamb caps 

c. jamb has given me admission but school has not 

d. jamb caps changed my course 

e. jamb caps not working 

f. I can't login my jamb profile