JAMB CAPS Portal 2023/2024: Login & Check Admission Status
Sponsored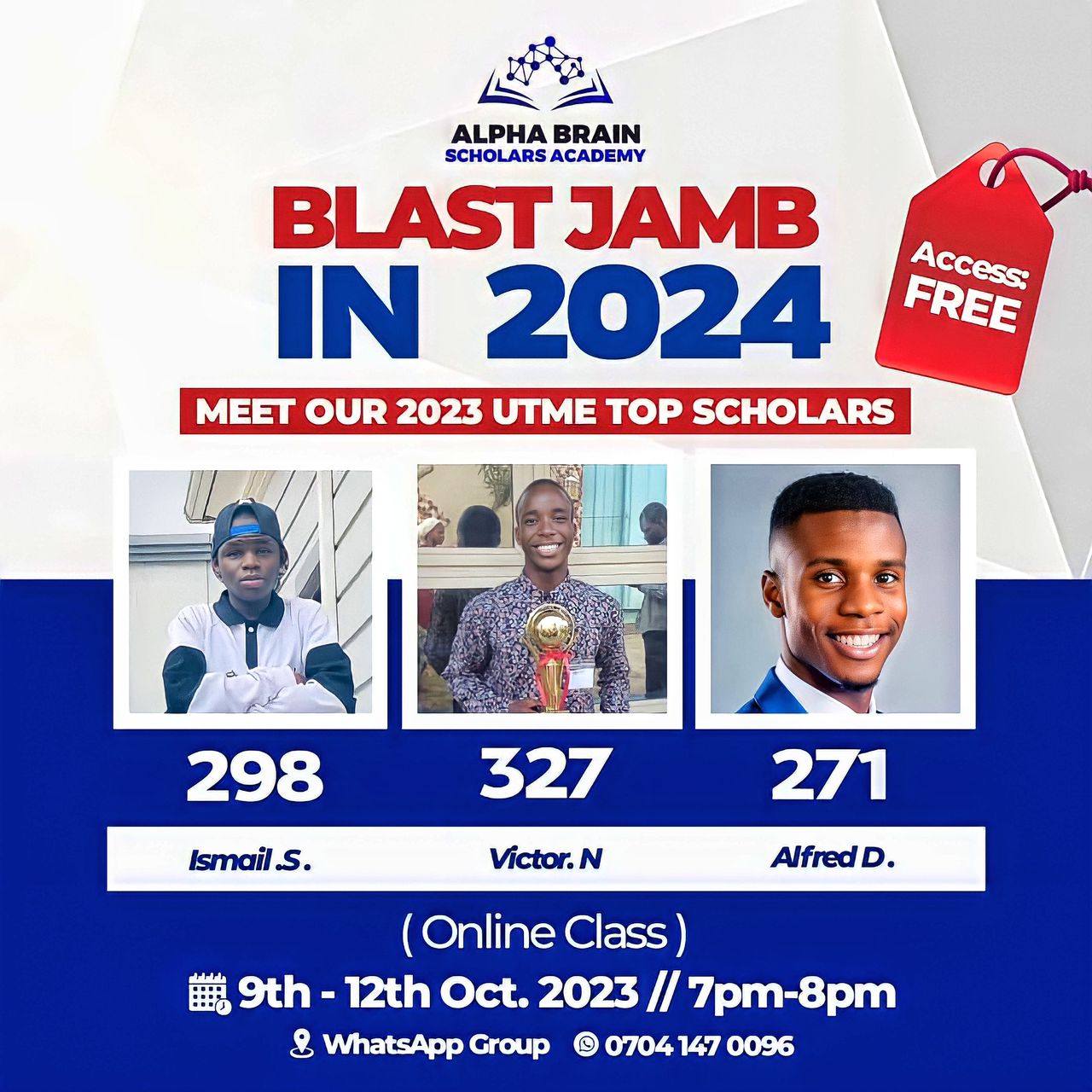 JAMB CAPS Login 2023/2024: How Can I login JAMB with Registration number?, Is it possible to Login my JAMB CAPS using my phone / Computer?, How can I create JAMB CAPS Account?
Hey SAVANT! In Today's Episode of my "JAMB Doctor Series" I will show you step wisely how you can easily login to your JAMB CAPS Profile Using your Mobile Phone or Personal computer, Fun right?… Don't thank me just yet?. ENJOY!!!
Years after the Joint Admission and Matriculation Board (JAMB) launched the central admission processing system (CAPS), students have not been finding funny getting their head round how to use the platform.
This is a problem because, irrespective of the course or institution (University, Polytechnics and colleges of Education) you applied to, you must accept or Reject your admission on JAMB CAPS.
Read Also: Post UTME Subject Combination For All Schools 2023/2024
ARE YOU ON TELEGRAM? Subscribe To My Telegram Channel For Frequent Updates & Guide by clicking the "SUBSCRIBE NOW" button below.
---
Aside login to JAMB CAPS to Accept or Reject admission offered to you by Schools, your CAPS Profile can also be used to perform other very important functions such as…
…you can check if your O' level result was successfully uploaded, Access JAMB Market Place where you can explore other options for admission. Cool right?
But students having difficulty with JAMB CAPS Login with certainly not enjoy all this benefits.
For better understanding on how JAMB CAPS Work and the meaning of some of the terms like Admission in progress, Not admitted e.t.c used on JAMB CAPS
So, to the the reason we are here, walk with me?
Read Also: 10 Causes Of JAMB Failure And Possible Remedies
What Is JAMB CAPS?
CAPS is an acronym for Central Admission Processing System.
This system was developed to automate the Admissions Process into the tertiary institutions (Universities, Polytechnics and Colleges of Education) In Nigeria.
CAPS streamlines the Admissions Process, addresses the challenges associated with the manual approach, restores the autonomy of the tertiary institutions with respect to admissions, makes candidates the focus and empowers them with information on available choices of institutions and programmes, expands admission opportunities, eliminates multiple admissions, and provides easily retrievable data for decision making and research.
This system was introduced in 2017. JAMB CAPS do not only automate the process of admission, it also makes room for various functionalities, some of which include; granting student the ability to confirm provisional admissions thus eliminating cases of candidates abandoning admissions…
Market place to enable institutions source candidates from the available pool based on various criteria such as JAMB score, State, Local Government and even gender of the candidates; and the requirement for all awaiting O/L results candidates to upload their results into JAMB portal before being considered for admission.
In addition, admissions can be processed in batches as well as instantaneously with candidates being able to check their admission status at any point in time on the JAMB portal. 
It is also available through the USSD code on the major telephone operators. Admissions Process for 2023 will be performed only using CAPS.
Student admitted on JAMB CAPS are those who meet the requirement for their Course.
Website to Access JAMB CAPS Login Page
JAMB has two website that would take you to JAMB CAPS Login page, these two website serve two distinct purposes…
While one is accessible by the student, and can be use to carry out all the many functions we said you can use Your JAMB CAPS Login for in this post, the other website is only accessible to the Admission officer, Head of institution or Desk officer of various Universities.
So, did you try login in to JAMB CAPS website, and each time you fill your email address and password, you keep getting a feedback error saying "Invalid login Credentials", then you are most likely using the wrong website.
The error is as shown in the image below…
The two JAMB CAPS Login websites are…
The first website, caps.jamb.gov.ng/ is not the website for student to login to their JAMB CAPS portal, the correct website is the JAMB Efacility page and all you need to be able to access this is your Email address and password.
Now that you know JAMB website to access your JAMB CAPS profile, let me now show you how you can login to your JAMB CAPS and possibly accept or reject admission… ENJOY!
Read Also: How To Gain Admission With Low JAMB Score (120 to 170) 2023/2024
Requirements To Login To JAMB CAPS
To be able to access your 2023/2024 JAMB CAPS, you must have the following;
| S/N | REQUIREMENTS TO LOGIN TO JAMB CAPS |
| --- | --- |
| 1. | Linked your email address to JAMB |
| 2. | A mobile device or PC that can access the internet |
| 3. | Remember the email address linked to your JAMB and the user password generated |
| 4. | The "Technical Know How" which you will be taught here |
This table shows the requirements to log in JAMB CAPS
How To Login to JAMB CAPS & Check Admission Status
To continue with this process, make sure have access to the internet, together with your Username and Password (this was sent to you when you linked you email to JAMB).
If you have them ready, then follow the step by step guide below
Estimated time to login to your Jamb Caps 4 minutes
Open Your Web Browser (Preferably Chrome)

Locate the Web browser on your Mobile device, preferably chrome or Firefox and click open the App.

With your opened browser, visit JAMB Student Portal by entering this link @https://portal.jamb.gov.ng/ in the search box.

You will be taken to a page similar to what is shown in the image above…

On this page, click on the "Create e-facility Account/Log in" button at the top right corner.

Enter Your Email Address & Password And Click Login

After clicking on the "Create e-facility Account/Log in" you will be taken to a log in page as shown in the image above, fill the fields with the required information (Email address and Password) and click login

The email address is what you linked to JAMB, while the password is the password generated when you carried out this process.

You can learn more on How To Link Your Email Address To JAMB.

Click On The "Check Admission Status" button

After filling your Correct email address and password, you will be taken to your JAMB Profile homepage, it is on this page you will see the option to access your JAMB CAPS.

Locate the "Check Admission Status" option on the left sidebar of profile or scroll down of the page (if you are using your phone, you can find this by clicking on the menu button on the page.

Hit the "ACCESS MY JAMB CAPS" button

Once you click on the check admission Status Option, you will be taken to a page where you will asked to access JAMB CAPS.

Click on the "Access JAMB CAPS" Button and Voila, you are in. Here you will find the option to accept or reject the admission offered to you.
Make sure, the year shown on your JAMB Profile correspond with the year you are checking for, which in this case is 2023 UTME.
Simple right?
I have received reports that some student find it difficult accessing CAPS or checking their Admission status when they click on this page, it keeps showing "not eligible to use this service".
Well I have gone through this and identified the reasons you may be seeing this and how to solve this problem HERE. Don't worry you can thank me later!
See Also: How To Answer Post UTME Aptitude Test Questions
How To Login To JAMB CAPS With Only Registration Number
If for some reasons you cannot remember the email address you used to register for JAMB, the next logical question to ask would be…
Instead of login in using email address and Password, cannot I use my JAMB registration number?
Unfortunately, the answer to this is NO, the only option made available by JAMB to student is what I have shown you above, and it requires you to have your email address and Password.
But all hope is not lost yet, if you did forget the Email address, you can easily fall back to the slip you were given when you registered for JAMB
On it contains the email address you used to create your JAMB account, or try out the tips I have outline in How To Change JAMB Email Address For JAMB Profile.
If the password is the issue, then simply click on the forget password on the JAMB CAPS Login Page.
Read Also: How To Get JAMB Password To Login CAPS Profile 2022/2023 (Reset Through SMS)
Frequently Asked Questions
What is my username for JAMB CAPS?
Your username to login to JAMB CAPS is the Email address you used to register for JAMB.
So, if when registering for JAMB you used [email protected] as your email address, this automatically becomes your username to gain access to your JAMB CAPS login
How To Login To JAMB CAPS Without Email address?
The only way to login in to JAMB CAPS without Email address is by downloading the JAMB Mobile app on google play store.
The criteria for login with this app is your JAMB registration number, which you can find on your JAMB registration slip. With this app you can escape the email address login step.
Is JAMB Portal For 2023 Now Activated?
Yes, JAMB 2023/2024 Central Admission Processing System (CAPS) is now open.
This means, you can follow the steps outlined here to access your JAMB CAPS to start enjoying the many benefits of CAPS.
How Can I Check My Name On JAMB CAPS?
Once logged in to CAPS, locate 'Admission Status' option at the sidebar to confirm you been admitted, there your Name and admission details will be visible
In Conclusion
To login to JAMB Caps, visit https://efacility.jamb.gov.ng/ and login in with your email address and Password. On your CAPS page, you can accept or Reject Admission offered to you by Schools.
I understand you may have a question or two, do not hesitate to drop them here using the comment box below
Ensure to share this with friends on Facebook, Whatsapp, or any other social media network you can connect them with…
Related Searches...  

a. jamb caps login

b. jamb portal

c. jamb caps login 2023

d. check admission status on jamb caps