Will Direct Entry (DE) Students Write JAMB and Post UTME 2023/2024
Sponsored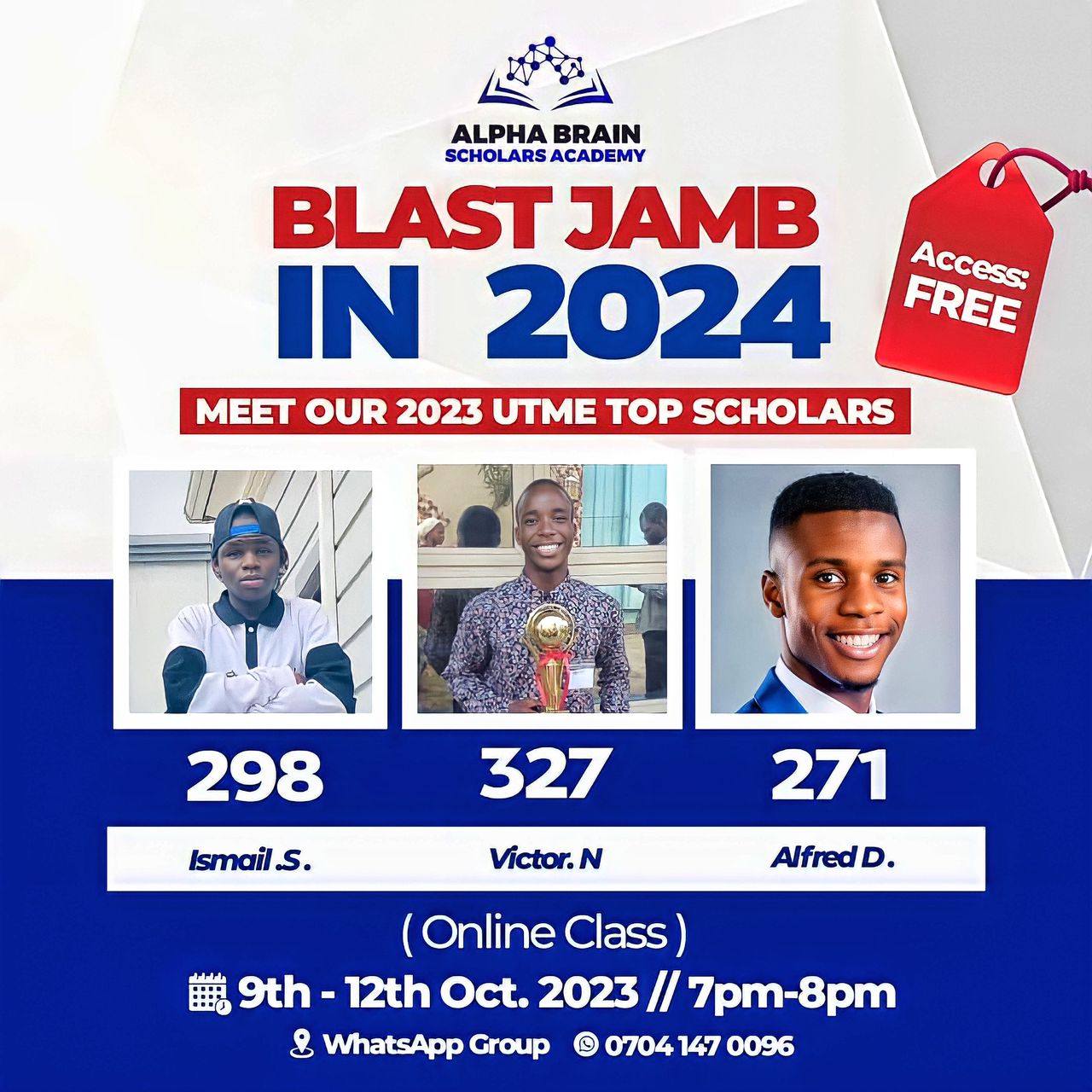 Direct Entry (DE) Students Write JAMB and Post UTME: Will DE Students sit for JAMB this year?, Do Direct entry students (DE) write POST UTME to secure admission, Will JAMB Open Direct Entry Portal
Hey SAVANTS! In Todays episode of my 'JAMB Doctor Series', I will answer the question "Do Direct Entry (DE) Students Write JAMB and Post UTME?" STAY TUNED!
This has been a pressing question for students who has registered or Intend to register for JAMB with the hope of securing admission to 200 level to study their desired course in their preferred Universities.
Just so you know, there are other programs that offers you similar opportunities as JAMB direct entry, you can check them out on how to gain admission without JAMB.
Read Also: Post UTME Subject Combination For All Schools 2023/2024
ARE YOU ON TELEGRAM? Subscribe To My Telegram Channel For Frequent Updates & Guide by clicking the "SUBSCRIBE NOW" button below.
---
Back to the subject matter, this question is that, after writing JAMB Exam before, Sat for Post UTME exam, gained admission to study a five (5) or four (4) years course in the University
Will I still be writing another JAMB and Post UTME exam to secure admission with JAMB direct Entry?
To best answer the question, I will explain the Prospect of JAMB Direct Entry Admission, how it is different form the normal UTME exam and whether or not they will sit for JAMB, Post UTME or not.
What Is JAMB Direct Entry?
JAMB Direct entry is one of the means to gain admission in Nigeria without sitting for JAMB-UTME Exam, there are others like JUPEB, IJMB, NABTEB A' level.
Direct entry for JAMB is primarily for those that already possess a diploma certificate and want to go for a degree program in the university. So if you wish to apply for JAMB Direct Entry you must…
…already have Bachelors in any degree from the University or finished from Polytechnics with their ND (National Diploma) or HND (Higher National Diploma).
So, a student who first studied Pharmacology in the University, or Pharmacy technician in Polytechnic and want to study Pharmacy, will not have to apply through JAMB UTME to begin from 100
Instead, you apply through JAMB direct entry to any University of your choice, where you stand the chance of gaining admission to 200 level.
Haven understood what JAMB Direct entry entails, lets now see if students for direct entry will be sitting for JAMB Exam.
Read Also: Universities That Accept Low JAMB Score (120, 130, 140, 150, 160, 170 & 180)
Do Direct Entry (DE) Students Write JAMB
Yes, Direct Entry students will sit for JAMB in the upcoming 2024 JAMB UTME.
Recently, the Joint Admission and Matriculation Board (JAMB) has said that Direct Entry (DE) candidates seeking to gain admission to Nigerian universities will henceforth be required to sit for the UTME along with other candidates.
JAMB said that the new policy was to ensure that the DE candidates justify the possession of their A Level certificates.
This was disclosed by the Public Relations Officer of JAMB, Mr. Fabian Benjamin.
Do Direct Entry (DE) Students Write Post UTME
Yes, Direct entry students will write Post UTME for the schools the selected in JAMB provided the school writes Post UTME.
As Mr. Fabian rightly said, you will not be sitting for JAMB UTME exam, but this do not in any way prevent the school you applied to in JAMB from screening you.
But note that, not all Universities write Post UTME exam, some of these Universities have been listed here.
So, if you applied to a university that do not write Post utme in JAMB, then you will neither Sit for JAMB nor Write Post UTME exam.
What Is The Difference Between JAMB Direct Entry (DE) and UTME
From the explanation above, you would see that JAMB UTME is completely different from Direct Entry JAMB, here are some of the Basic differences…
| S/N | JAMB DE | JAMB UTME |
| --- | --- | --- |
| 1. | JAMB DE stands for Direct Entry | JAMB UTME stands for Unified Tertiary Matriculation Examination |
| 2. | Only students who already had a degree from any University or Polytechnics in Nigeria can apply for this. | Students with a diploma, just O' level certificate are qualified for this Exam. |
| 3. | Direct Entry Students can also Apply for JAMB UTME if they want | JAMB UTME students (students with just credits in O' level (WAEC, NECO or NABTEB) can only apply for UTME and not DE |
| 4. | Admission is straight to 200 level in any University once admitted | Admission is to 100 level once admitted. |
Differences between JAMB DE and UTME
With this differences, I hope you now see clearly that Jamb direct entry is quite different from JAMB UTME.
Will All Universities Conduct Post UTME for DE students
NO, not all universities will conduct Post UTME exam for Direct entry students.
Some Universities, like UNIBEN, UI, UNILAG et all, are known to conduct Post UTME for student, and as such will likely do the same for DE students
But, there are other Universities that do not Organize Post UTME exam for her students, you can see list of those Universities HERE.
Read Also: 10 Most Competitive Courses To Study In Nigeria
Frequently Asked Questions
Do direct entry require JAMB?
Direct Entry do not require JAMB, it could be through Nabteb A' level, JUPEB or IJMB.
But students who want to use JAMB Direct entry you will have to buy JAMB form for direct entry student once the form is out for sale.
What is the difference between JAMB and direct entry?
JAMB is different from direct Entry, but JAMB Direct Entry is not different from JAMB.
I have already shown the difference between JAMB Direct Entry and JAMB HERE, but other direct entry exams must not necessarily be through JAMB.
How Much Is JAMB Direct Entry Form?
JAMB direct entry form is sold for exactly the same price as JAMB UTME form, which is NGN5700.
You can get a total breakdown of this price HERE
In conclusion
JAMB Direct entry students will sit for JAMB UTME exam, but whether or not they write Post UTME is dependent on the school they apply to.
This will be all for now, I understand you may have a question or two to ask, feel free to drop them using the comment box below!
Ensure to share this with friends on Facebook, Whatsapp, or any other social media network you can connect them with…
Related Searches...

a. how much is direct entry form for 2024

b. direct entry requirements

c. direct entry form closing date

d. will jamb reopen direct entry portal