10 Most Competitive Courses To Study In Nigeria 2023/2024
Sponsored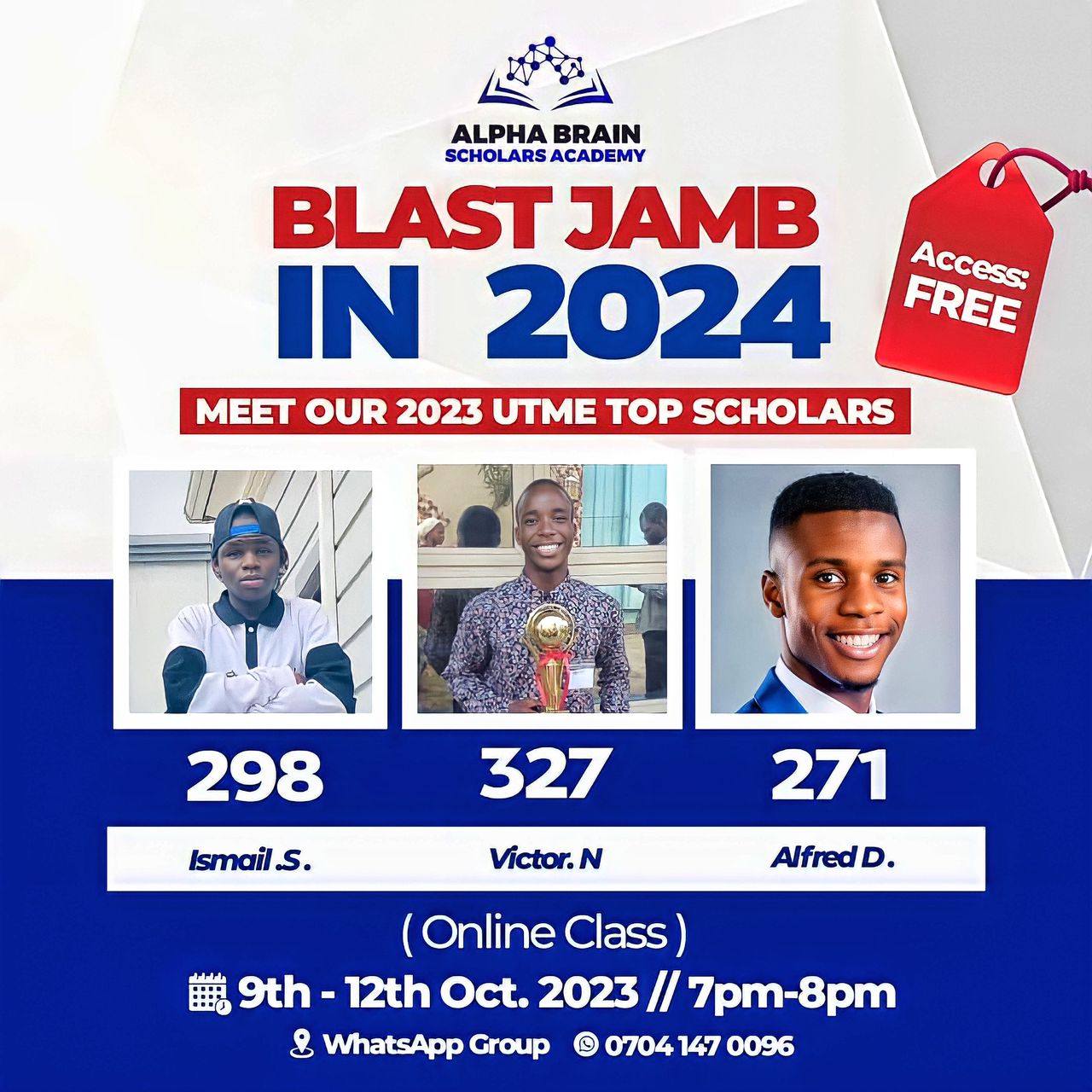 Top 10 most Competitive Courses To Study: Is biochemistry a Competitive Course?, I need a list of top most competitive courses to study through JAMB in UNILAG?, What is the most applied course in 2023 JAMB?
Do you find your self asking questions about the most competitive courses to study in Nigeria, then you are definitely reading the right Post, HERE I will provide you with the list of Most competitive courses in JAMB and answers to other related questions… ENJOY!
There are so many courses studied in the University (Medicine and surgery, Pharmacy, Biochemistry, Engineering, Biology, Accounting et al)
Some of these Courses are very competitive while some are less competitive, with this in mind, the question of what are the most competitive courses to study come into play.
Read Also: WAEC Marking Scheme For All subjects: Grading System 2023/2024
ARE YOU ON TELEGRAM? Subscribe To My Telegram Channel For Frequent Updates & Guide by clicking the "SUBSCRIBE NOW" button below.
---
But before giving you the list of competitive course in JAMB
let us first understand what the term competitive is and what a makes a course more competitive than the other.
What Is A Competitive Course?
According to the Oxford Advance learners dictionary, the word competitive means;
Involving competition or competitiveness
With this definition, you will agree with me that, any thing that is being rushed…
That is, having more than one person try to get a particular thing, that thing becomes automatically rushed.
With this, we can boldly say, the higher the number of student that applies to study a particular course, the more competitive that course would be.
This forms the basis for listing, courses toping this list normally have tons of student applying to study them, and as such winning a spot in this compilation of 10 most competitive courses to study.
Can I Gain Admission To Study A competitive course In Nigeria?
YES, you can gain admission to study a course that is tagged competitive
But only if you are a competent competition.
That is to say, if you must gain admission to a competitive course, you must be willing and ready to do the work, reading extensively and scoring very high in JAMB and Post UTME.
If you will or are able to do this, then admission to courses like Pharmacy, Medicine or Accounting would be a piece of cake for you.
But Why Should I bother putting in this much effort for a difficult course to gain admission in?
Good Question, now let me tell you a secret, these course are not competitive because they want to, not at all, they are competitive because of what you can achieve at the end of the day, with a degree in any of these course.
So you can say in a way, that, the more competitive a course is, the more lucrative that course is likely to be?. Its common logic
So studying a competitive course do have it perks.
Well, enough with the chit chat, below you will find my list of Top 10 Most competitive course to study in Nigeria…
Read Also: How To Contact JAMB For Complaint & JAMB Offices
10 Most Competitive Course To Study In Nigeria
This compilation is based on the number of students that apply for these courses yearly in Jamb and how lucrative these courses are.
The Top Most Competitive courses to study in Nigeria are…
1. Medicine And Surgery
Medicine and Surgery wins the top spot in this list, medicine and surgery is unarguably the most competitive course to study in Nigeria.
In fact, the field of health is one that cannot be done without in any society, of which Doctors play a very important role in.
This is not the only reasons Medicine and Surgery is a competitive course to study.
What other reasons could there be?
You see, out of over hundred (100) universities in Nigeria, only about 39 offers medicine and surgery, and as such, reducing the number of available school options for student who may be interested in studying this course.
That is why, if you must study Medicine in Nigeria, you should be ready to put in the effort and study like your life depends on it.
In fact, students who which to study medicine in Nigeria, irrespective of the University you applied to that offers Medicine, must have a JAMB score of at least 260 if you want to stand a chance.
SEE: JAMB Score That Assures You Admission In 2023
According to JAMB report after 2020 UTME registration, over 12% of the student who registered for JAMB (119,037 candidates) choose Medicine and surgery as their Most preferred course of study.
So, if want to study Medicine and surgery, your target in JAMB should be a score from above 260 and also do very well in your Post UTME exam.
Don't worry, with my JAMB Doctor Series and POST UTME TOOLKIT SERIES, you are covered?.
2. Law
Next on our list is law, in fact, LAW is almost as competitive as Medicine and Surgery in Nigeria.
Law is a professional course, which a lot of University aspirant would want to study. This course is not studied in Polytechnics and Colleges of Education, and as such, limiting the number of available options for students who may want to study it.
With respect to same JAMB 2020 UTME Registration statistics, Over 85,000 Students applied to study law in JAMB, and this makes up about 9% of the student that applies for JAMB.
Interestingly, only about 57 Universities in Nigeria offers LAW out of over 100 Universities in Nigeria.
Although this number is high, when compared to that of Medicine and surgery, it still accounts for the competitive nature of the course.
Next on our list is Pharmacy.
Read Also: Differences Between JAMB CAPS And School Admission
3. Pharmacy
Pharmacy of course, conveniently wins the 3rd spot on our list.
Pharmacy is a highly competitive course in Nigeria, it might interest you to know that, out of over 100 Universities in Nigeria, only twenty (20) offers pharmacy.
And out of this 20, only 5 offers the Pharm D program, this of course makes Pharmacy a highly competitive course to study.
Also, this program as well as Medicine and law, is not offered in Polytechnics and Colleges of Education, thereby reducing the available options a student can choose from.
Based on reports from 2020 Jamb, about 34,578 jambite applied to study Pharmacy.
The interesting thing about this figure is that, out of this 34,578 students that applied to study Pharmacy, only about 4000 students would be admitted
Leaving the remaining 30,578 students either admitted to study a different course or not even offered admission at all.
Student who which to study Pharmacy in any of the Universities that is accredited to offer the course, should be able to secure a JAMB score of above 260, and also perform very well in Post UTME so as to increase their chances.
4. Accounting
You cannot have a list of competitive courses in Nigeria, without Accounting and finance being listed in it.
The services and importance of an accountant cannot be overemphasized. An accountant provides various accounting or data-processing services.
From Jamb's statistics, out of over 1.3million students that enrolled for the recent JAMB, about 105,877 candidates choose to study accounting.
Although most Universities in Nigeria offers the accounting program, that does not in anyway reduce the competitive nature of the course, but perhaps made it not win my TOP SPOT? of most competitive courses in JAMB.
If you wish to study Accounting in any University in Nigeria, you should score above 250 in JAMB, to boost your chances of being admitted.
5. Nursing
Nursing also finds its position on this list.
Are you looking forward to studying in a course that would never run out of Job option, Viola, Nursing is definitively a good choice.
Nursing comfortably finds herself in the 5th position of my list of Top 10 Most competitive courses in Nigeria. Although there are quite a number of ways to become a nurse
You could apply through Jamb to get your B.sc nursing, or get the form from an accredited nursing school like; UBTH school of nursing, St. Philomena School of Nursing and Others.
For students who may wish to study Nursing through JAMB, you must be ready to score above 240 in JAMB to increase your chances of being admitted.
Remember; The higher the JAMB score, the better.
Read Also: Deadline For Uploading O' level (WAEC, NECO & NABTEB) To JAMB
6. Dentistry & Dental Surgery
Like Medicine and Surgery, this is a highly competitive course to Study in Any University in Nigeria.
Admission to Study Dentistry in Nigeria is as competitive as a competition can be, this is why I say so;
This is a course, where we would have over 3000 to 4000 thousand students applying to Study, but at the end of the day, only about 25 students (Not two thousand five hindered students, I even had to spell it in words, ?) would be admitted
If the school is to be kind, then maybe 40 students.
Hilarious right?
This is because of the limited slot available to students, which one result to a very high competition.
7. Engineering
If you want to find the creme de la creme of any University, then go to Engineering.
Engineering is and will always be on of the most competitive courses to study in Nigeria, there are various aspect of Engineering, we have…
Mechanical engineering
Electrical Engineering (Elect Elect)
Chemical Engineering
Petrochemical Engineering, etcetera
To gain admission to become an engineering, you should be able to secure a Jamb score above 250 increase your chances.
8. Computer Science
It might interest you to know, that, In JAMB 2020 UTME registration, over 66,000 Students opt in to study Computer science.
This is understandable, because of the limitless opportunity you stand to enjoy with a degree in Computer science.
With this course, you get to be equipped with the necessary usage of Computers (Software), Programming, etcetera.
If you wish yo study Computer Science, then a Jamb score of around 240 and above, should do the Job.
9. Mass Communication
YES, Mass communication made it to number Nine (9) of my list of Top 10 most competitive courses.
The "media" is not one that will be loosing its worth as times go on, NO, instead, a lot of its potentials are yet to be harnessed.
JAMB recorded a total of 69,736 candidates that applied to study Mass communication in Nigeria, so you see that the competition is high.
But if you must, then prepare well for JAMB and score a point above 230.
10. Biochemistry
The last but not the least on this least is BIOCHEMISTRY
Biochemistry is a medically related field, and some student have the belief that if they are admitted to Biochemistry, on a long run, they can transfer to Either Pharmacy or Medicine, hence making the course quite competitive.
To be able to secure a spot in Biochemistry, you should aim at a JAMB score of somewhere around 250 and above.
From 2020 JAMB report, over 35,318 JAMB candidates choose Biochemistry as their Most preferred course choice in JAMB.
This will be all on my "10 Most Competitive courses To Study In Nigeria" compilation.
Next on the menu is answer to some frequently asked questions, if by chance your question was not answered here, feel free to drop them using the comment box just below this write-up… ENJOY!!!
Read Also: Is It Compulsory To Upload O' level To JAMB
Frequently Asked Questions
Can I Gain Admission to Study A Competitive Course?
Definitely YES, you can secure admission with ease to study a highly competitive course (like the once mentioned in this list)
But to be able to do this, you must be outstanding in JAMB and any other Exam that you may have to write on your Journey to Admission
What Course Is The Best To Study In Nigeria?
No course is better than the other, the most important factor to consider when choosing a course to study, is your Interest.
You will be able to make a difference where your interest lie.
Which Course Has More Job Opportunities In Nigeria?
Nursing and other health related courses would to this list. Computer Scientist would always find use in the society too.
In Conclusion
The Top 10 Most Competitive courses are…
Medicine and Surgery
LAW
Pharmacy
Accounting
Nursing
Dentistry and Dental Surgery
Engineering
Computer Science
Mass Communication
biochemistry
If you wish to study any of these above listed courses, then scoring very high in JAMB should be your number one (1) priority…
…I understand you may have a question or two, do not hesitate to drop them here using the comment box below.
Ensure to share this with friends on Facebook, Whatsapp, or any other social media network you can connect them with…
Related Searches

a. most competitive universities in nigeria 

b. less competitive courses in nigeria 

c. list of competitive courses in unilag

d. less competitive course in unical

e. is biochemistry a competitive course