Meaning of Admission In Progress & Not Admitted On JAMB CAPS
Advertisement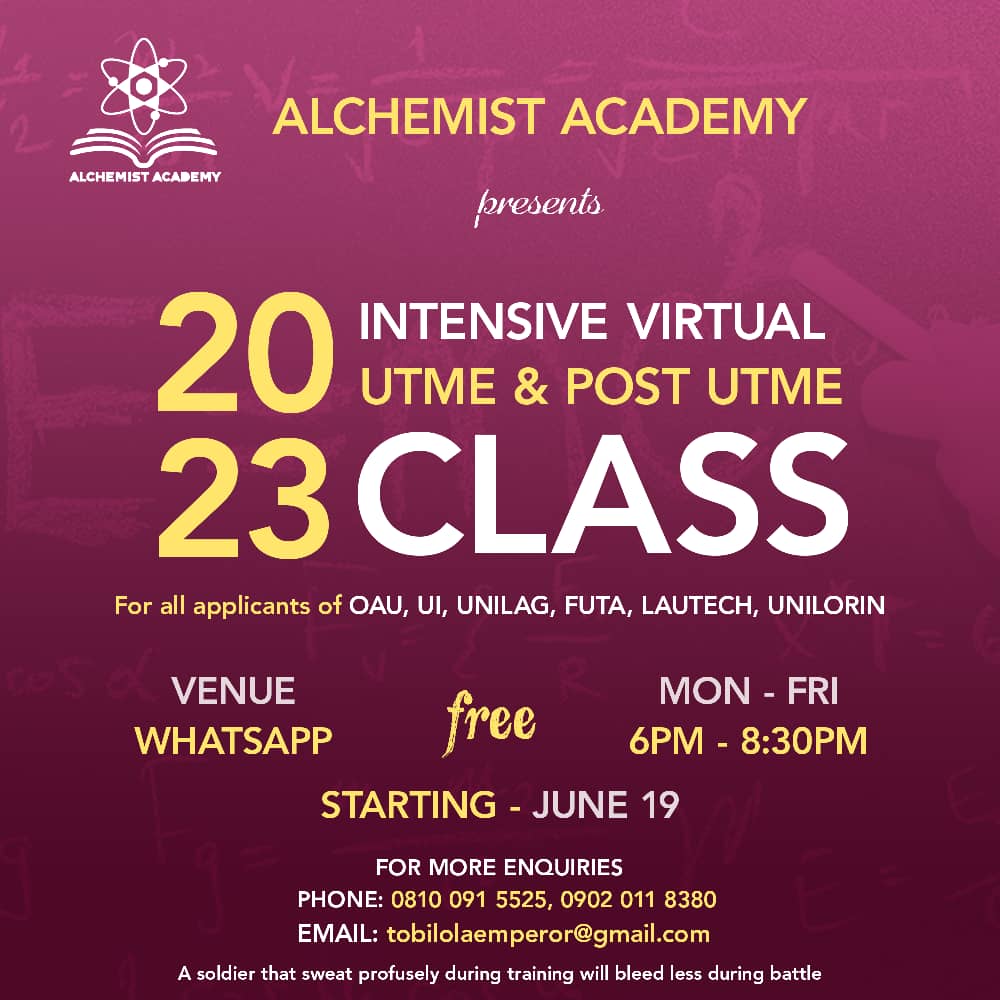 Meaning of Admission In Progress, check back later: Can "not admitted" change back to admitted?, what is the real meaning of admission in progress, my JAMB caps is showing recommended, what does it mean?, How long does it take for admission in progress to change back to admitted?.
Hey SAVANT! welcome to today's episode of my JAMB Doctor Series, In this episode I will explain some of the most common terminologies used on JAMB Caps such as Admission in progress, Recommended, Sorry No admission given yet, Not admitted, et al with the best steps to take afterwards… STAY TUNED!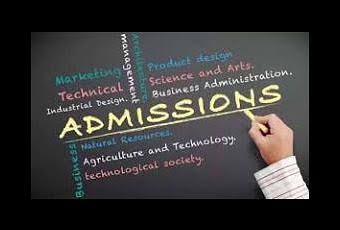 First of all, I will like to congratulate you for the completion of your Post UTME exam in your respective school of choice, haven come this far, the next most important thing to do now is to check how it pays off.
Checking how it pays off in this sense is to see if you were successfully admitted or not, and one of the most important ways to do this is by checking your Admission status on JAMB CAPS.
Read Also: Universities That Offers Admission Without JAMB 2022/2023
ARE YOU ON TELEGRAM? Subscribe To My Telegram "JAMB Doctor Channel" For Frequent Updates by clicking the "SUBSCRIBE NOW" button below.
With JAMB CAPS, you will be able to know when you have been admitted or not by the school you choose in Jamb, you can also reject the admission or accept it, if it is the course or school you wanted to study in.
I have explained all you need to know about JAMB CAPS in a great deal on another blog post which you can check out HERE, so I will not be talking much about it in this write-up.
So, when you log in to your JAMB CAPS, terms like admission in progress gets you confused, you will be like, does it mean that my admission is guaranteed? or it just means that JAMB is simply processing my admission?
Well, all these will be answered here, did I just hear you say thanks, nah, there is no need for that, what are friends for??
MORE FROM "POST UTME TOOLKIT SERIES" 

A. Required Subjects To Write In Post UTME

B. Universities That Do Not Write Post UTME 2021/2022

C. Difference Between JAMB And Post UTME

D. How Schools Conduct Post UTME For admission

E. How To Answer Post UTME Aptitude Test Questions

F. How To Gain Admission With Low JAMB Score (120 to 170)

G. JAMB Caps Login: How To Login & Check Admission Status

H. WAEC Result Checker: How To Check Waec Result Online

I. How To Change JAMB Email Address For JAMB Profile

J. JAMB Subject Combination For All Courses (Science, Art & Social Science)
Meaning of Admission in Progress (AIP) check back later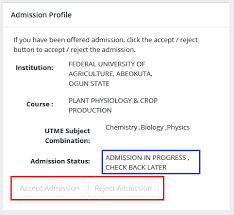 According to the Joint admission and Matriculation Board (JAMB), Admission in progress on JAMB CAPS means that the student has been recommended for admission and currently undergoing processing.
If you read my post on differences between JAMB and School admission, you would have understood by now that the admission of student cannot be done by Schools alone neither can JAMB admit students without the university's approval.
What this means is that both JAMB and Schools (Universities, Polytechnics and Colleges of Education) work hand in hand in collating and admitted students to the various courses and Institutions in Nigeria.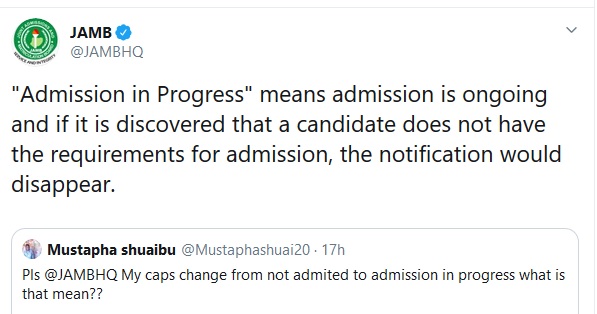 How does this now relate with my admission status; Admission In progress in JAMB??‍♂️
Good question, you see, the school you applied to is responsible for granting admission to students (that I have explained here), so after deciding on the students that are worthy of admission, they send the list (recommendation) to JAMB.
Once this list gets to JAMB, JAMB reviews the list and check if the students admitted actually meet the requirement for the stipulated course, if after checking, the board (JAMB) is satisfied with the process followed by the University in recommending a student for admission
The admission in progress status would change to admitted, thereby allowing the student to accept or reject the admission.
In summary
The admission in progress status on JAMB CAPS simply means, the school you choose in JAMB has recommended you for admission, but JAMB is yet to certify if your admission is fair.
Once confirmed, the admission in progress will be changed to admitted, else not admitted.
From the information above, you will agree with me that, the admission in progress will in a long run either change to Admitted or Not Admitted, pending on the decision taken by JAMB.
With this, the next logical question that comes to mind is, How long will it take for Admission in Progress to change to Admitted or not admitted?
How Long Will It Take For Admission In Progress To Change To Admitted?
Typically, it takes two (2) to three (3) days for admission in progress to change to Admitted, it does take longer to change to not admitted, but sincerely, there is no fixed date for this change.
This is what JAMB has to say on the matter; as shown in the image below…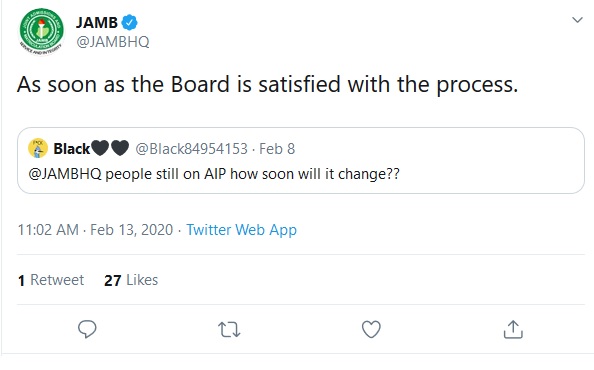 From the image above, you will see that, there is not fixed date for which admission in progress is expected to change, what determines the time is JAMB clarification period.
It can take two (2) days or run into weeks or even months, but taking longer means that JAMB is not satisfied with the admission and will most likely turn "not admitted" when the University does the needful.
This can be proved by the response from JAMB official twitter handle to a concerned students as shown in the image below…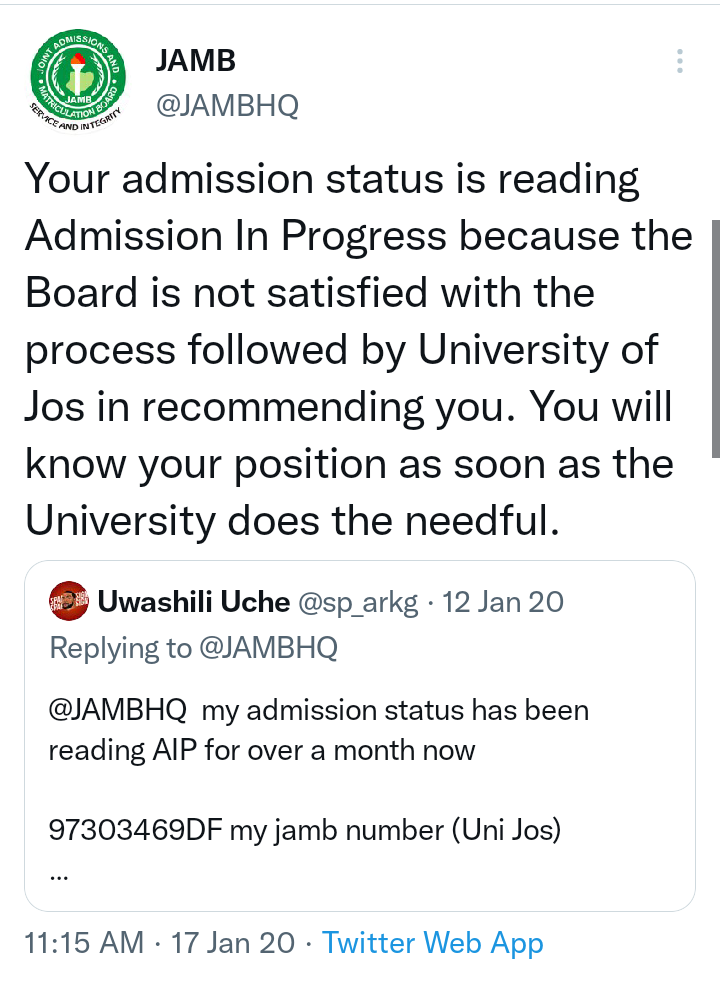 So, if it takes a shorter time, then there is a higher chance of being admitted, but this does not mean if yours takes a longer time, like a month or so, it must change to not admitted, No.
I have seen students with their JAMB CAPS showing admission in progress for close to a month, but later changed to admitted.
What To Do If Your Admission In Progress Stays For a long time
If you observe that your admission in progress keeps showing for a long time (over a month), then you must look out for the following and see how you can fix it.
Next on the list is recommended…
Meaning of Not Admitted on JAMB CAPS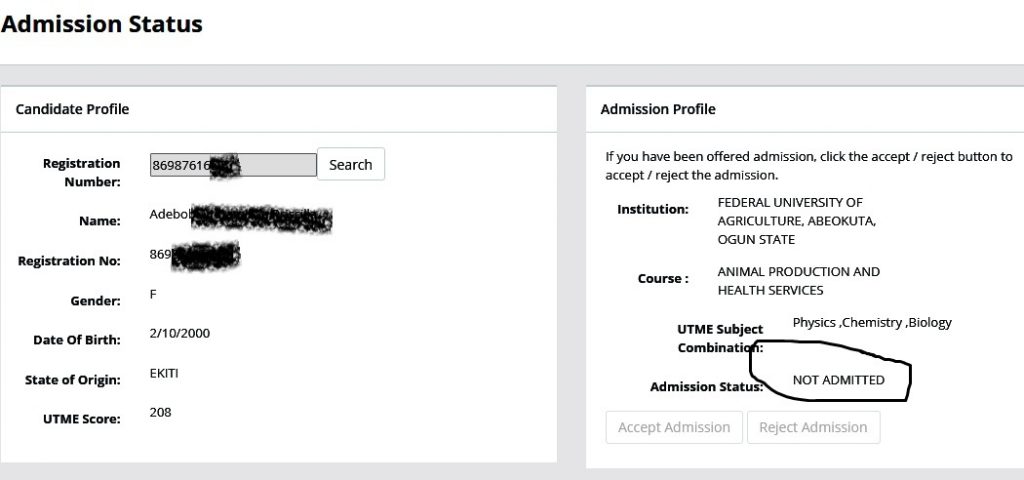 JAMB CAPS Not Admitted means that, you were denied admission by the school you applied for, this could be because you either did not meet up with your School's required cut off mark for admission
Or you did not have at least five (5) credits in your core courses in O' level (WAEC, NECO or NABTEB), or probably did not upload your O' level result to JAMB.
What To Do If JAMB CAPS Says Not Admitted
If your JAMB Caps shows not admitted or admission in progress changes to Not admitted, then the next best thing to do to check JAMB Market place, at JAMB market place, you stand a chance to be admitted by other Universities (mostly private or new Universities though).
I will prepare a detailed guide on how you can check JAMB market place for admission soon, you can subscribe to this blog to be notified when published or follow me on my various social media handle.
With this, I hope you now understand the difference and meaning of Admission in progress and not admitted on JAMB CAPS, I will now attempt to answer some of the frequently asked questions on JAMB CAPS terms…ENJOY!
Frequently Asked Questions
Does Admission in Progress Mean You Will Be Admitted?
NO, your JAMB caps showing "admission in progress" does not mean your admission is sure or guaranteed, it only means that the school you applied to recommended you for admission but JAMB is yet to process (that is, it is currently being processed).
Some student's JAMB CAPS portal shows admission in progress but still end up not admitted, but the chances of being admitted once it shows admission in progress is very very high, but is still not guaranteed.
Can Admission in Progress Change to Not Admitted?
YES, admission in progress can change to not admitted if JAMB is not satisfied with the way the admission was being offered to you.
I have shown you what to do here, if your JAMB Caps shows admission in progress for a long time, do well to check it out.
What can make Admission in Progress change to not admitted?
Admission can change to not admitted if; you did not upload your O' level result to JAMB, Wrong JAMB Subject combination, changing of course or institution while the admission is still on or your the admission not in compliance with JAMB admission policy.
My JAMB Caps shows Welcome?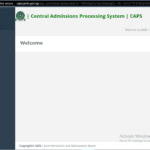 IF you JAMB caps shows Welcome alone, it is because you are using a mobile device to check your JAMB caps and as such the menu is not visible.
To resolve this, change your browser view to desktop mode and you will be fine.
In Conclusion
The difference between JAMB admission in progress and not admitted is shown in the table below…
| ADMISSION IN PROGRESS | NOT ADMITTED |
| --- | --- |
| For your JAMB CAPS to show admission in progress, it means your school of choice has sent your name to JAMB for admission | Your name was not part of the list (recommendation) sent by your school of choice for admission |
| JAMB is processing the admission to confirm if the admission is fair | No admission was offered to the student, and as such no need for JAMB to process the admission |
| Students have hope of being admitted once confirmed by JAMB | The only hope for admission is via JAMB market place and the admission will not be to the school he or she choose in JAMB. |
| Can change to admitted or not admitted | Cannot change to admitted. |
Admission in progress & not admitted
This is the much I can take on this topic for now, If I failed to answer your question feel free to drop them using the comment section for review…
Ensure to share this with friends on Facebook, Whatsapp, or any other social media network you can connect them with…
Related Searches...

a. what does admission status pending'' mean

b. what does admission in progress check back later means

c. admission status meaning

d. how long does it take admission in progress to change to admitted

e. what does refresh admission from caps mean