How To Accept Admission On JAMB CAPS Portal 2023
Sponsored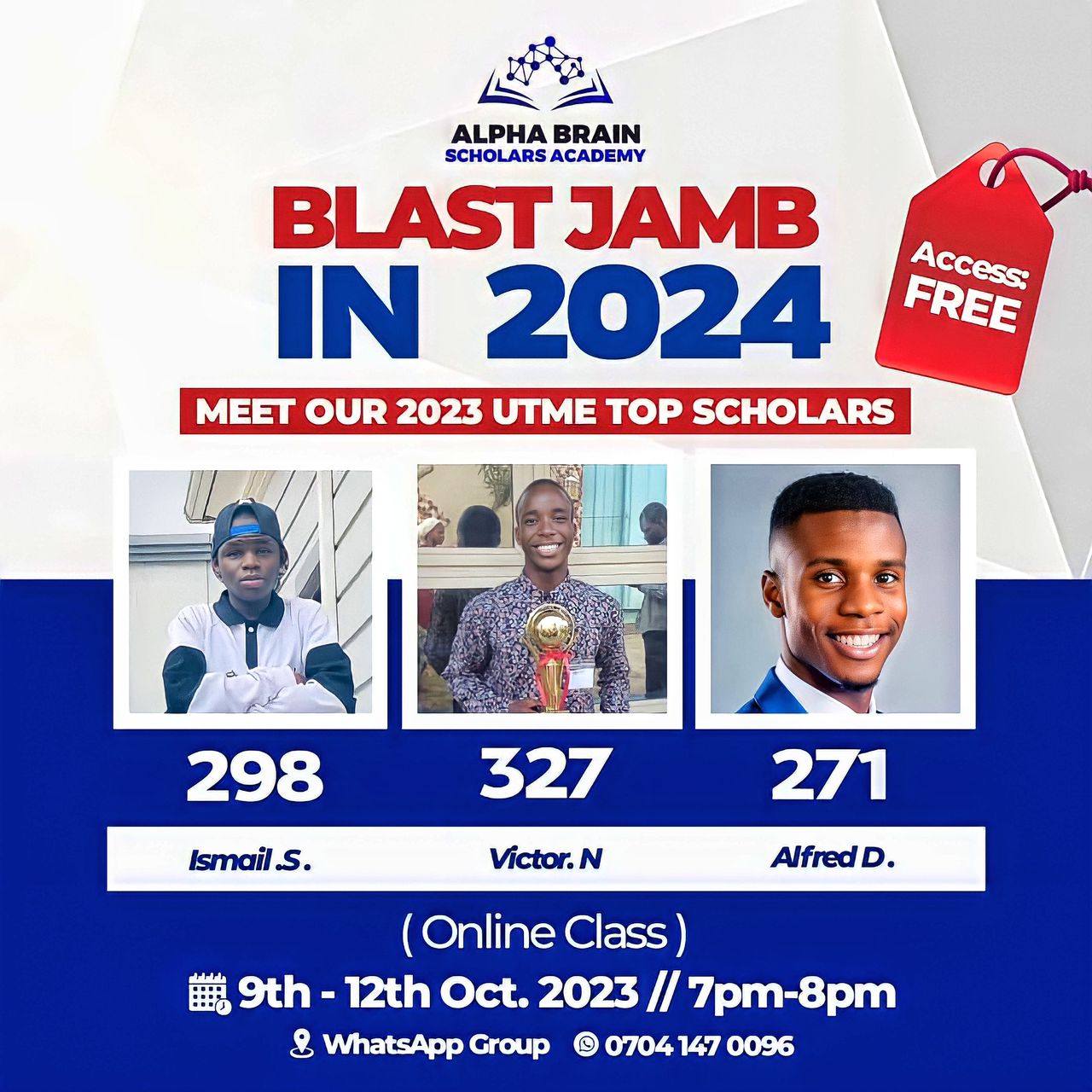 JAMB CAPS 2022/2023 > Accept Or Reject Admission: What is everything I need to know about JAMB CAPS?, Is it true that I can check my admission Status Using JAMB CAPS?
Hey SAVANT! welcome to today's episode of my "JAMB Doctor Series" here I will demystify Mr. JAMB CAPS, exposing hidden facts, importance, and how you can get around your JAMB CAPS profile like a pro… STAY TUNED!
OTHER QUESTIONS THAT WILL BE ANSWERED HERE ARE...

A. What is Jamb Official website to access Jamb Caps?

B. How can I accept admission on Jamb Caps?

C. What is the next step after accepting admission on Jamb Caps?

D. Jamb Caps Login for 2023?
These and many other related questions will be answered in this post, so if you find yourself in dire need of relevant info about JAMB CAPS, then welcome to your last bus stop.
Read Also: How To Check Admission Status On JAMB & School Portal 2022/2023
ARE YOU ON TELEGRAM? Subscribe To My Telegram Channel For Frequent Updates & Guide by clicking the "SUBSCRIBE NOW" button below.
---
Admission before the advent of JAMB CAPS was as confusing as how confused can be, before now, a student can be given multiple admission from different schools without proper regulation, this may sound good until you find yourself at the receiving end.
For every multiple admission a student is offered, another student elsewhere loss the chance of being admitted.
So you see that multiple admission (although having its plus, based on the fact that the student being offered multiple admission gets to choose the school he or she would like to study in, and in most cases…
…the course he or she would prefer to study from the variety of admission offered to him or her) is not as good as it sounds, because for every extra admission offered to a student another student out there suffers.
This was not the only issue experienced before the advent of JAMB CAPS, we also had the issue of students travelling to far distance all because they want to check for their names on the admission list released by their School of choice.
So then, if a student who stays in Abuja applies to study Pharmacy in the University of Benin, and unfortunately this student has no friend or relation in Benin.
This student will have to travel all the way from Abuja down to Benin just to check for his or her name on the admission list released by University of Benin (UNIBEN).
In order to save student from this stress, the Joint Admission and Matriculation Board – JAMB, came up with JAMB's Central Admission Processing Systems (CAPS) which helps to regulate admission of student and prevent bias as much as possible.
Enough with the chit chat, lets now get down to business.
I would recommend you take a glass of water as you walk with me on this journey… ENJOY!!!?
Read Also: Differences Between JAMB CAPS Admission And School Admission
MORE FROM "POST UTME TOOLKIT SERIES" 

A. Required Subjects To Write In Post UTME

B. Universities That Do Not Write Post UTME 2023/2024

C. Difference Between JAMB And Post UTME

D. How Schools Conduct Post UTME For admission

E. How To Answer Post UTME Aptitude Test Questions

F. How To Gain Admission With Low JAMB Score (120 to 170)

G. JAMB Caps Login: How To Login & Check Admission Status

H. WAEC Result Checker: How To Check Waec Result Online

I. How To Change JAMB Email Address For JAMB Profile

J. JAMB Subject Combination For All Courses
What Is JAMB CAPS Login Website?
The Joint Admission and Matriculation Board (JAMB) have two Website that directs users to JAMB CAPS login page, these website URL are…
These two website url are not the same, the website url that starts with https://caps. is only accessible to the Admission officer, Head of institution or Desk officer of various Universities.
What this means is that, each time you use this url to access your JAMB CAPS Student portal you will keep getting invalid credentials as seen in the image below…
The correct url accessible to student is @https://portal.jamb.gov.ng/efacility./, all you need to be able to access this is your Email address and password, trying to login in with other Url will give you a feedback error saying "Invalid credentials"
Read Also: JAMB CBT Centers Near You 2022/2023 (Location & Center Name)
How Can I login To JAMB Caps?
To login in to JAMB CAPS, you don't need your JAMB Reg number, all you need is your JAMB Registration email and the password to your JAMB account, if you have these two ready, you can follow the guideline below to access your CAPS.
First Visit JAMB Portal for Students @ https://portal.jamb.gov.ng/efacility./, you will be taken to a page where you will be asked to fill in your Email and Password.
Fill in the box with your correct email address and Password and click on the Login button
You will now locate the "check admission status" at the menu of your Homepage and click on it.
This will take you to a page where you will be asked to "access JAMB CAPS", click on this button.
Tada, you just successfully gained access to the Central admission processing system page, here you can check your admission status, accept admission, reject admission and even access JAMB market place for other possible options if you reject the admission offered to you.
For a more detailed guide on how to access your CAPS profile on JAMB follow the guide below diligently…
Picture Guide On How To Access CAPS Profile
To continue with this process, make sure have access to the internet, together with your Username and Password (this was sent to you when you linked you email to JAMB).

If you have them ready, then follow the step by step guide below…
With your browser (Preferably Chrome) visit JAMB CAPS Student's login page @https://portal.jamb.gov.ng/efacility./, you will be taken to the page shown above…

On this page, fill the required box with your correct Email address and password and hit the "login" button
Next, Click the Check Admission Status button
After filling your Correct email address and password, you will be taken to your JAMB Profile homepage, it is on this page you will see the option to access your JAMB caps.

Locate the "Check Admission Status" option on the left sidebar of profile or scroll down of the page (if you are using your phone, you can find this by clicking on the menu button on the page.
Lastly, Hit the "ACCESS MY JAMB CAPS" button
Once you click on the check admission Status Option, you will be taken to a page where you will asked to access JAMB CAPS.

Click on the Access JAMB CAPS Button and Voila, you are in.
Make sure, the year shown on your JAMB Profile correspond with the year you are checking for, which in this case is 2022 UTME.
Simple right?, I have received reports that some student find it difficult accessing CAPS or checking their Admission status when they click on this page, it keeps showing "not eligible to use this service".
Well I have gone through this and identified the reasons you may be seeing it and how to solve this problem HERE. Don't worry you can thank me later.
See Also: How To Answer Post UTME Aptitude Test Questions
How To Accept and Reject Admission On JAMB CAPS
To access accept you admission on CAPS, follow this guide…
Visit JAMB E-facility @ https://portal.jamb.gov.ng/efacility./
Fill in your Email address and Password next and click login
Then locate and click on 'Check Admission Status'.
And HIT the "access my CAPS" on the next page
Once logged into the JAMB Caps page, Select 'Admission Status' on the left panel.
Locate and click on the 'Search' button in front of your JAMB Registration Number to load your profile.
You can now accept/reject your admission offer under 'Admission Profile'.
This are the steps you will follow when using your Laptop or other PC, the steps for mobile devices is a bit different.
How To Accepts Or Reject Admission On CAPS using Phone
If you use your mobile phone to Access your JAMB Caps, you may not see directly the option "check Admission Status" as you would get when using a laptop, but there is a trick to it, which I will show you shortly…
Visit JAMB E-facility portal at https://portal.jamb.gov.ng/efacility/.
Enter your Email Address and Password in the required columns and then login.
Then locate and click on 'Check Admission Status'.
Select your examination year, and supply your JAMB registration number in the required column and then click on 'Access my CAPS' button.
Select the three doted line at the top right-corner of your browser ( i.e. ⋮) and then tick 'Desktop site'.
Select 'Admission Status' on the left panel.
Locate and click on the 'Search' button in front of your JAMB Registration Number to load your profile.
You can now accept/reject your admission offer under 'Admission Profile'.
Simply turn your mobile browser to Desktop mode to enjoy the same view as Laptop viewers would.
Read Also: Meaning of Admission In Progress & Not Admitted On JAMB CAPS
Frequently Asked Question On JAMB CAPS
How Long Does It Take To Accept or Reject Admission on JAMB CAPS?
The Option to ACCEPT or REJECT the admission offered to you on JAMB Caps is usually within the period of 2 – 3days.
That is why, I always recommend you check your JAMB CAPS at least everyday so you will know when you have been admitted in due time.
What Is The Meaning Of Admission in Progress JAMB CAPS?
This means your school of choice have start processing admission for students, and any moment from now student will start getting the admitted or not admitted notice.
All you can do at this stage is wait.
What Does Not Admitted mean on JAMB CAPS?
Not Admitted means, you were not offered admission by the school you selected in JAMB, you can try other JAMB alternative or wait till the next JAMB.
What Does Admission Pending Mean In JAMB?
This means you have not be offered admission yet by any school and most likely your school have choice have not started processing admission for student.
The recommended step to take here is to wait also.
Institution and Course Space is Blank?
This is normal for student that have not been given admission, when you have been offered admission the information will be updated
School Has Admitted buy Jamb Hasn't
If you have been admitted by your school but it is not reflecting on your CAPS page, all you have to do is exercise patience, your school of choice is yet to send your name to JAMB.
Once your name is sent, it will reflect on JAMB CAPS, no need to panic.
In Conclusion
You can accept your admission on JAMB CAPS by visiting CAPS portal @https://portal.jamb.gov.ng/efacility./, enter your login details, locate the check admission status option and click on ACCEPT.
Read Also: Universities That Offers Pharmacy In Nigeria 2023
I understand you may have a question or two, do not hesitate to drop them here using the comment box below
Ensure to share this with friends on Facebook, Whatsapp, or any other social media network you can connect them with…
Related Searches...

a. jamb caps login 2022

b. jamb caps login with registration number

c. jamb caps admission status

d. jamb. org. ng/efacility/login