How To Print JAMB Admission Letter: Unable to print JAMB admission letter after payment, How to get JAMB admission letter after regularization?, accept JAMB admission letter, how to print JAMB admission letter after payment?, JAMB admission letter deadline, Can I Still print my JAMB Admission letter of two (2) years ago.
Hey SAVANT!, to another exciting episode of my "JAMBPEDIA Series", in this episode I will show you a step by step guide on how you can effectively print your JAMB Admission letter all by yourself using your mobile phone or personal computer without having to go to a JAMB Accredited center or cyber Café… STAY TUNED!👌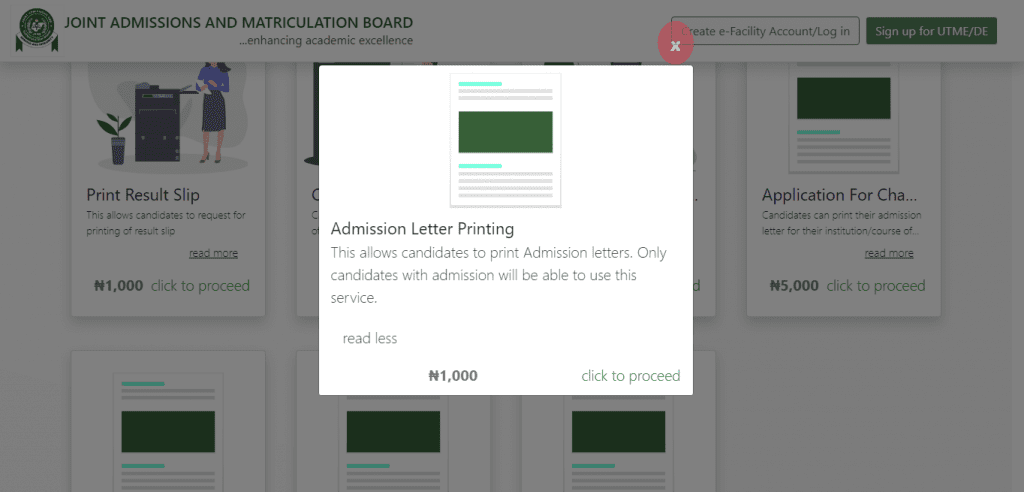 Your Jamb admission letter is the only physical proof you have as a student that the Joint Admission and Matriculation Board (JAMB) officially recognized the admission offered to you by your School of Choice, so it is expected that, after you accept your Admission on Jamb caps the next step…
…is to proceed to your Jamb Profile and print your Jamb admission letter, this letter also, is one of the compulsory documents you will be asked to submit by the school that offers you provisional admission during your clearance.
Read Also: How To Print Jamb Original Result 2022/2023 Yourself (All Years)
ARE YOU ON TELEGRAM? Why Not Subscribe To My Telegram "JAMB Doctor Channel" For Frequent Updates by clicking the "SUBSCRIBE NOW" button below.
So now, you see that the Importance of your Jamb admission letter cannot be overemphasized. Jamb Admission letter is not only important to students that were newly admitted, that is, 2022/2023 Jambite, this letter is also very important for students who gained admission years back, pending on what you need for.
Students who also did not gain admission through Jamb, maybe applied some of the practical steps I explained on one of the episode of my Jamb Doctor Series titled; HOW TO GAIN ADMISSION WITHOUT USING JAMB…
…or applied for their School's change of course, and was later admitted to a different course other than what they chose in Jamb will have to do what we call Jamb Regularization because they will need it before they can proceed with NYSC.
After applying for Jamb Regularization, you can then print Jamb Admission letter which you will also need for your Final year clearance.
But then how to Print this Admission letter from Jamb becomes the issue, here, I will show you how to print this admission letter, where you can print this letter, how much it would cost you, and answer some frequently asked questions concerning this topic.
All you have to do from your end, is to take a glass of water, sit back and read through diligently as I take you on this Voyage… ENJOY! 😉
Read Also: Universities That Gives Admission Without Jamb 2022/2023
YOU MAY BE INTERESTED IN OTHER EPISODE FROM MY "POST UTME TOOLKIT SERIES" 

A. Required Subjects To Write In Post UTME

B. Universities That Do Not Write Post UTME 2021/2022

C. Difference Between JAMB And Post UTME

D. How Schools Conduct Post UTME For admission

E. How To Answer Post UTME Aptitude Test Questions

F. How To Gain Admission With Low JAMB Score (120 to 170)

G. JAMB Caps Login: How To Login & Check Admission Status

H. WAEC Result Checker: How To Check Waec Result Online

I. How To Change JAMB Email Address For JAMB Profile

J. JAMB Subject Combination For All Courses (Science, Art & Social Science)
What Is JAMB Admission Letter?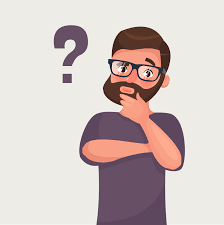 JAMB Admission letter is an official document issued by the Joint admission and Matriculation Board (JAMB), recognizing the provisional admission offered to a student by the school he/she applied to (University, Polytechnic or College of Education).
This document contains the School, Degree, Duration of course, Faculty and Department a student was admitted into, it also contain a passport photograph of the student admitted at the top right corner of the documents.
It is one of the required document you are to submit during your clearance along side your JAMB Original Result, School Admission letter, Birth certificate e.t.c, and as such, it is imperative you print out your copy so you can tender it for use when the need arise.
Luckily for you, I will guide you on how you can go about this yourself at no extra cost.
Below is a sample image of JAMB Admission letter…
How Do JAMB Admission Letter Look Like
1. Picture of JAMB's admission letter for Student use only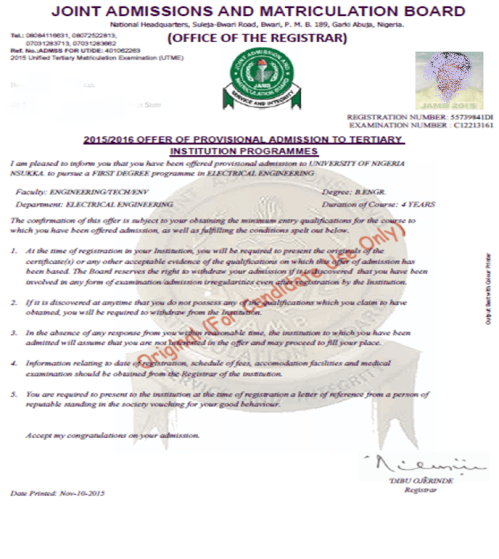 2. Picture of JAMB's admission letter for School use only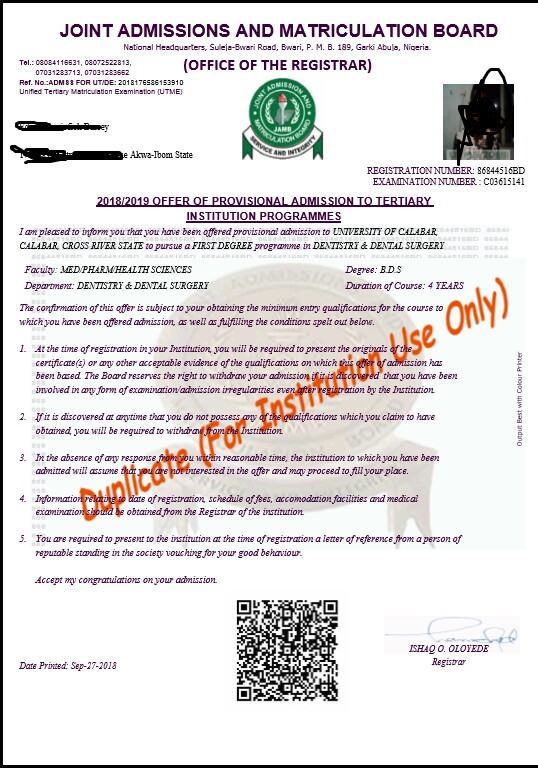 From the two images shown above, you will see that there are two types of Jamb admission letter, which leads us to our next question.
What Are The Types Of Admission Letter And How Are They Different?
There are two types of admission letter for Jamb, one is for Student's use only and the other is for Institution use only, they look exactly the same, containing similar information such as Student's School, Degree, Duration of course, Faculty and Department, registration number, et al
But there are some differences with respect to how it is used, the reason you are provided with two Original copies from Jamb is because Schools that request for your Jamb Admission letter will not accept photocopied copies of this document.
and you the student also need an original copy of this document for future use when the need arise, for that reason you are given two copies one for you and the other for the Institution in question.
But Can I Use the Admission Letter with the inscription "For Candidate Only" for Clearance also?🤷‍♀️
YES, Schools do not discriminate between which letter you submit to them for clearance, but I would advise you submit that with "Institution Only" to your school, while the other copy of your admission letter with "For candidate use only" is kept for personal use later on.
Can I print my JAMB admission letter anytime?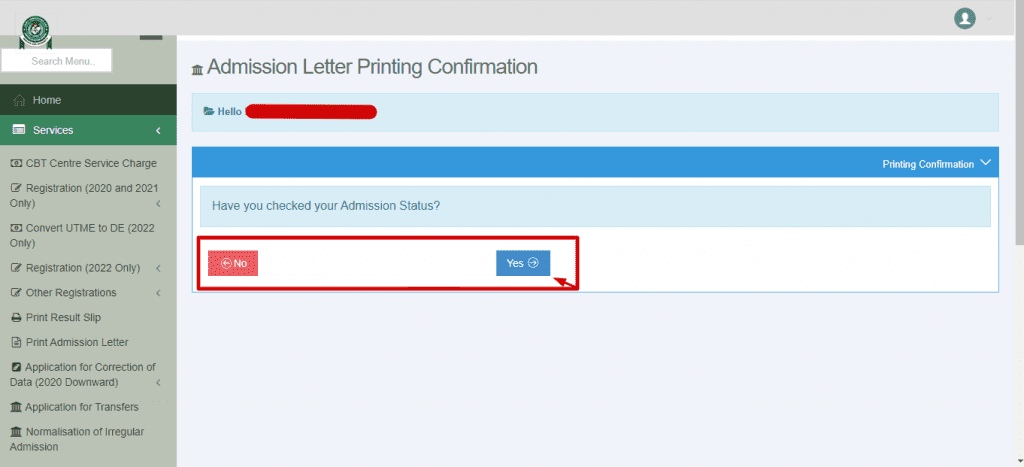 Yes, you can print your admission letter for Jamb anytime you like, provided you have accepted the provisional admission offered to you on your Jamb Caps or have successfully completed your Jamb regularization.
For 2022/2023 Jamb UTME students, you will have to wait till your admission is processed on Jamb caps before you admission letter will be ready, for now you should check out my guide on; Meaning of Admission In Progress & Not Admitted On Jamb Caps
How Much To Print JAMB Admission Letter?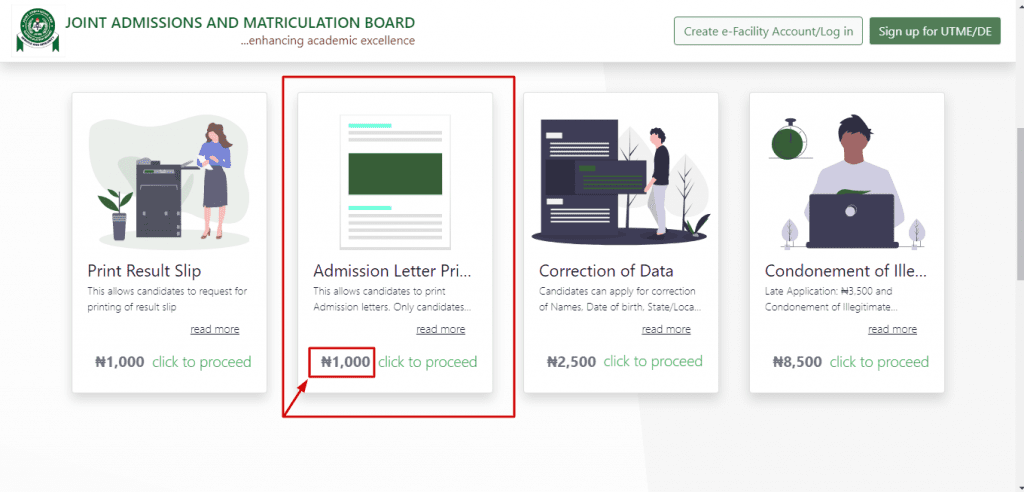 Printing of admission letter from Jamb would cost you One thousand Naira (N1000) only, but I would recommend you have at least N1200 in your account before proceeding with the payment because of remita charges.
But if you don't want to print it yourself, you want me or a Cyber Cafe to help you with the process of printing, then you may be asked to pay N1500, this extra charge is as a result of the services rendered.
But then, that would ruin the essence of this content, because the goal of this piece is for you to be able to print this letter yourself using your mobile phone or personal computer.
Now that you know everything you need to on the admission letter, let me now show you the requirements and how you can print this online all by yourself…
Requirements To Print JAMB Admission Letter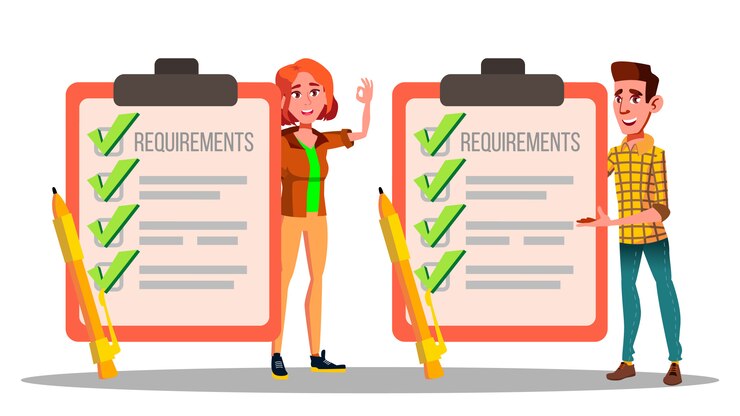 To be able to print your Jamb admission letter, there are requirements you must meet to be successful, they include…
| S/N | REQUIREMENTS |
| --- | --- |
| 1. | A device that can connect with the internet (Personal computer or Android Phone) |
| 2. | Jamb Profile Information (Login email address and Password), if you don't have this yet, you can follow my premium guide on how to create and access your Jamb profile😎 |
| 3. | You must have checked your Admission Status first before proceeding |
| 4. | Admission letter charges; N1000 |
| 5. | ATM card |
| 6. | The 'Technical Know How' (TKH), as funny as this may sound it is actually a very important requirement, if you follow this guide duly you should be fully equipped with the necessary knowledge to carry this out yourself, but if after reading this, you are still unsure, you can visit a cyber cafe where processes like these are carried out. |
This table contain requirements to print Out Jamb admission letter
How To Print JAMB Admission Letter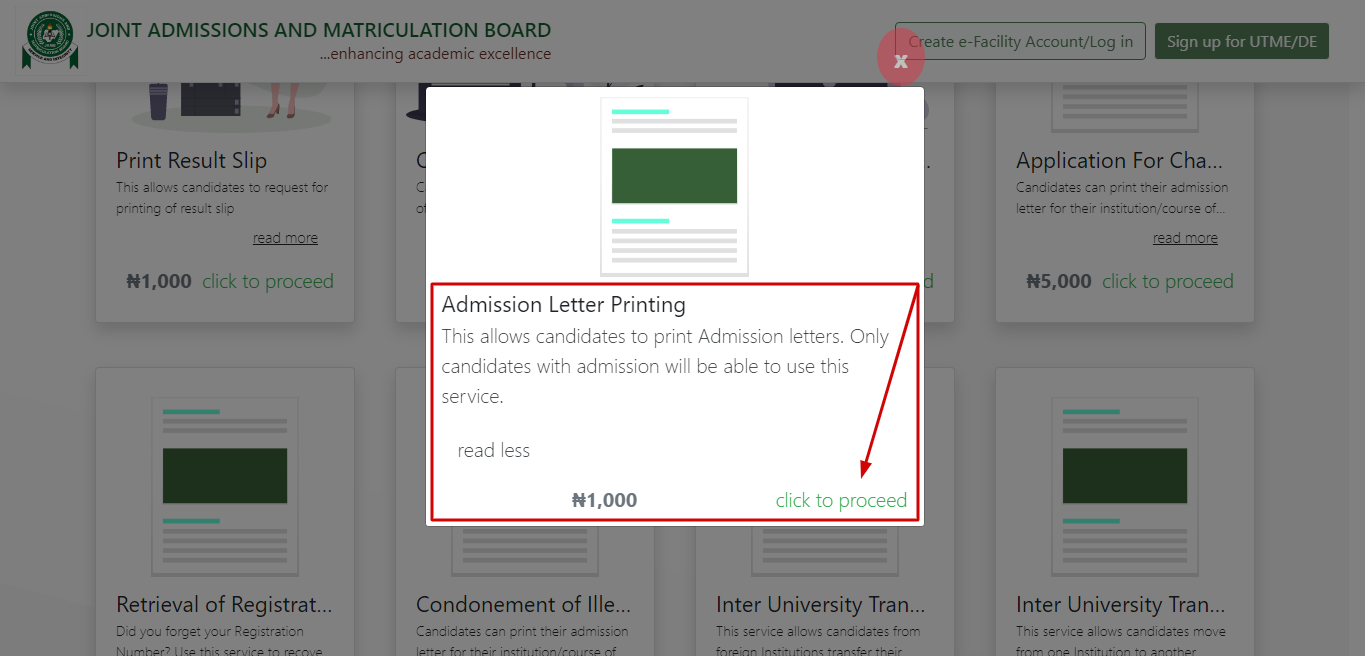 You will need a debit card, mobile phone or PC and data before you continue with this process
Estimated time 6 minutes
Step 1: Open Chrome Or Other Suitable Browser On your Phone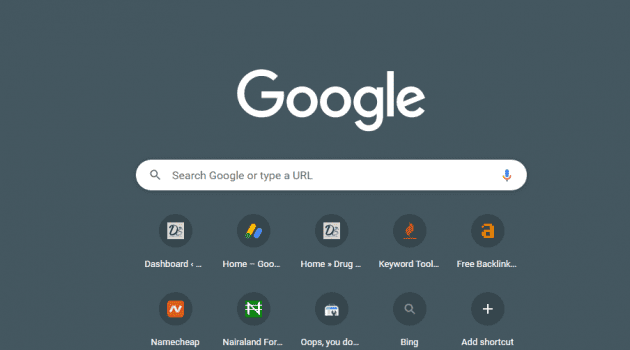 Using your mobile phone, locate your chrome web browser or other Suitable browsers like Firefox, Internet explorer and open it
Step 2: Visit Jamb's Efacility Page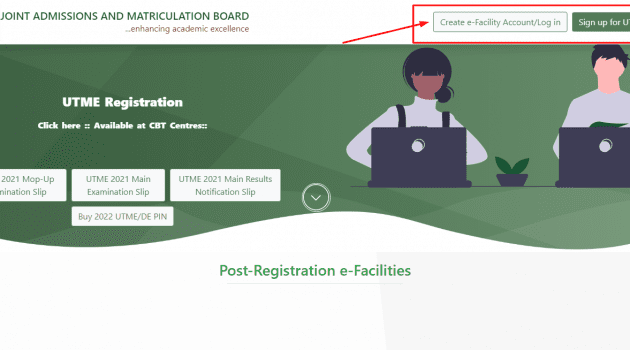 On the browser you have opened, fill in the search or url box with https://portal.jamb.gov.ng/, you will be taken to the page shown above, on that page, click on the "Create e-facility Account/Log in"
Step 3: Login To your Jamb Profile On the E-facility Website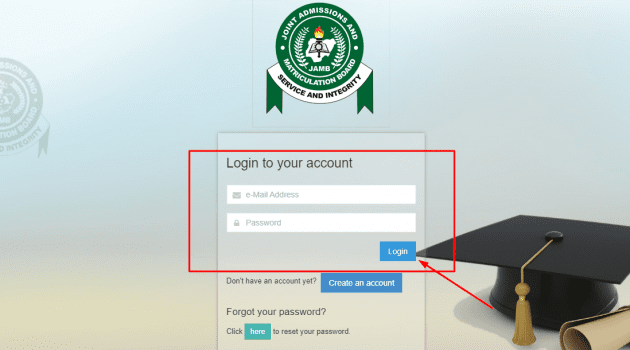 When you click on the "Create e-facility Account/Log in", you will be taken to your Jamb Profile Login Page, Fill the email address and Password with the Email address you linked to your Jamb Profile and the Password sent to your email by Jamb
For 2022 Jamb Students: If you have not linked your Email address yet, Click here now for steps on how to link your Email to Jamb Profile.
Step 4: Locate The "Print Admission Letter" On your Jamb Profile Homepage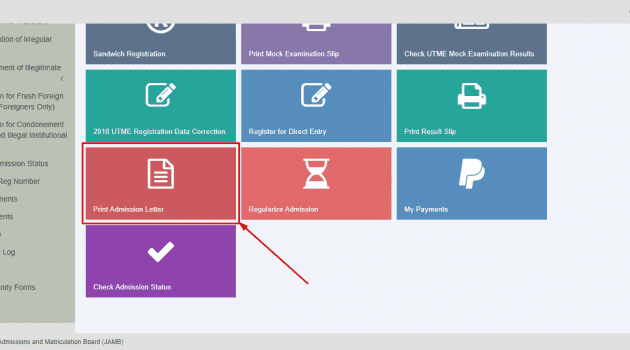 Once you fill in your correct email address and Password, you will be taken to the page shown in the image above, on this page, locate the "Print Admission Letter Option" and click on it.
Step 5: Click On "Pay With Remita" Option On The Next Page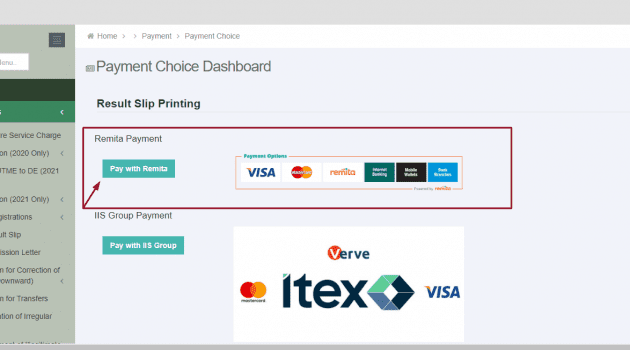 On the Admission letter Slip printing Page, you will see two payment options, click on the first option (Pay with remita)
Step 6: Click On "Continue To Payment"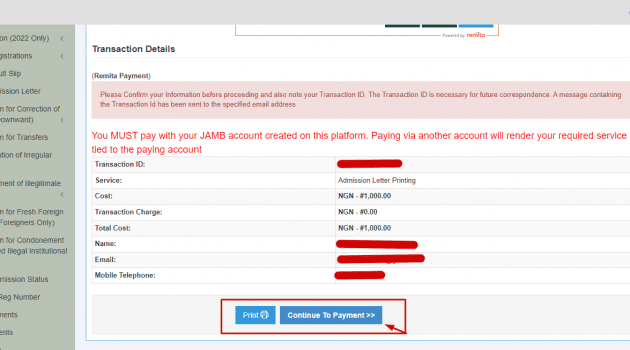 When you click on the Pay with remita button, you will be taken to the page shown in the image above, click on the "continue to payment" button.
Step 7: On the Next Page Click On "Pay Now"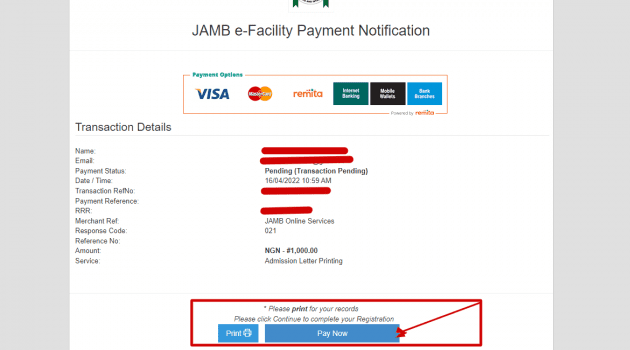 On the next page, click on the Pay Now button, there you will be taken to the remita page where you will confirm your details and fill your card details for the payment.
Step 8: Hit The Submit Button on the Remita Page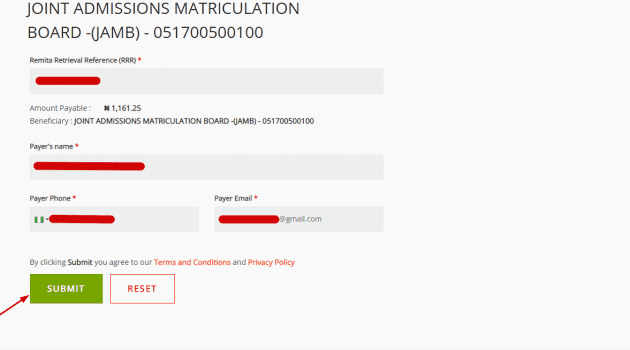 On the Remita page, go through thoroughly the details on the remita page, if they are correct click on the submit button.
Step 9: Fill your Payment Details and click on "Pay Now"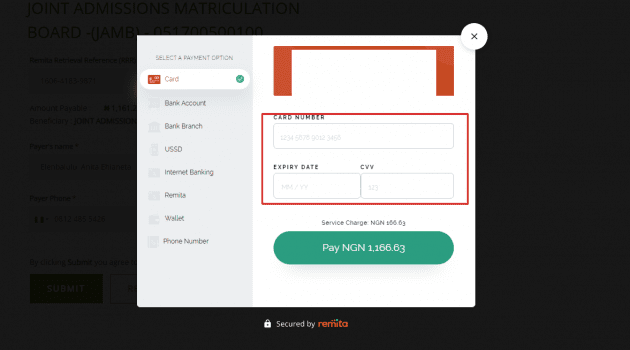 On the next page, you can choose to pay either by through Card, Bank account, USSD and others. Decide on the payment option to use and fill the details correctly on the right boxes.
After that, click on "Pay"
Once payment is completed, you will be asked to provide the following:
Year of Exam and
JAMB Registration Number.
After entering the information correctly, you can now print the Admission letter as shown on your screen. Easy peasy lemon squeezy!
Unable to print jamb admission letter after payment
If you have paid already but you have not been able to print your Jamb Admission letter, simply locate the print admission letter option on your Jamb profile, click on "pay with remita" and instead of going through with the payment, click on the Print button as shown in the image below…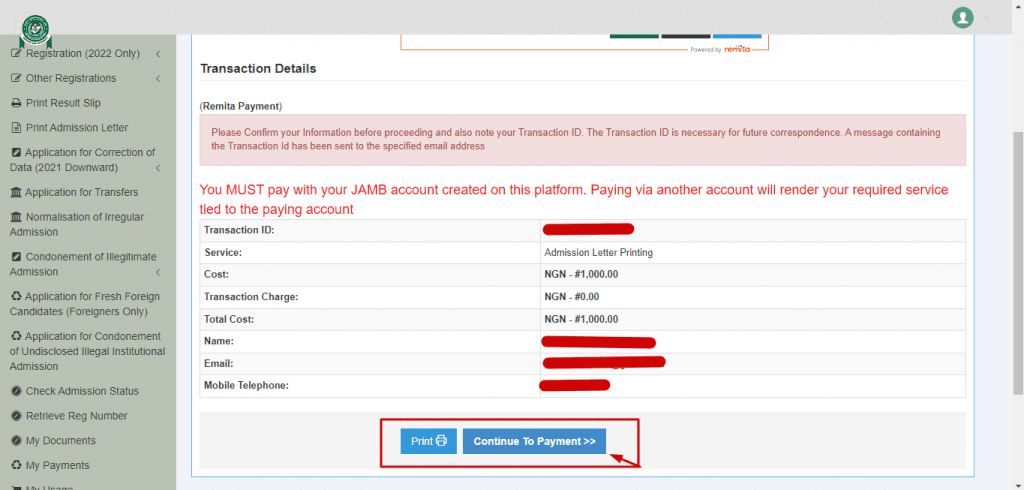 Deadline To Print JAMB Admission Letter
There is no deadline to print admission letter from Jamb, but it would be wise to print it now so you would have it ready whenever you need it.
Frequently Asked Questions
Can JAMB admission letter be printed twice?
YES, you can print your Admission letter multiple times, but for a maximum of five (5) times, after the firth attempt you will have to make another payment of NGN1000 to get an extra 5 times trial.
Is JAMB Admission letter Compulsory
YES, Jamb admission letter is a compulsory documents, you will be asked to submit this document during clearance to complete your admission proceedings.
Aside that, it is a confirmation that Jamb recognizes your admission, and without it, you cannot continue with NYSC.
JAMB Admission Letter Printing cost?
The Actual amount to print your Admission letter from Jamb is NGN1000, but because of remita charges, you should have up to NGN1200 to be able to complete the payment.
Does JAMB admission letter expire?
NO, JAMB Admission letter do not expire, provided you did not change your course or institution your admission letter remains valid for as long as you want to use it.
Is JAMB admission letter out?
YES, Jamb admission letter for all years is out, so irrespective of the year you were admitted (2021, 2020, 2019, 2018, 2017, 2016, 2015, 2014, 2013 e.t.c) you can follow the steps shown to you here to print your admission letter.
After printing JAMB admission letter what next
After you have successfully printed you admission letter, the next is to keep the student copy of your letter safe with you and use the Institution copy of your letter for the purpose you printed it (for NYSC, school clearance, Final Year Clearance e.t.c)
In Conclusion
Provided you have NGN1200, Your JAMB email address and Password, Computer or mobile device that can access the internet, login to your JAMB profile @https://portal.jamb.gov.ng/efacility and follow the procedures I have shown you here to Print your admission letter.
I understand you may have a question or two, do not hesitate to drop them here using the comment box below
Ensure to share this with friends on Facebook, Whatsapp, or any other social media network you can connect them with…
Related Searches...  

a. how to print jamb admission letter with registration number

b. how to print jamb admission letter after regularization

c. how to print jamb admission letter 2021

d. how to print jamb admission letter without email

e. how to print jamb admission letter for nysc
GUESS WHAT, I HAVE COMPILED SOME TURORIALS TO HELP YOU WITH JAMB USE OF ENGLISH...

A. How To Answer Questions On Emphatic Stress In Exams

B. Tenses | JAMB Use Of English Tutorial 2023/2024

C. How To Pass JAMB 2023/2024 With High Score (300+)

YOU MAY ALSO BE INTERESTED IN: 

A. Universities That Offers Pharmacy In Nigeria 2023

B. How To Gain Admission Without Using JAMB 

C. How To Recover Lost JAMB Profile Code, Email & Pin

D. How Many Subjects Are Written In WAEC 2023

E. How To Upload O' level (WAEC, NECO & NABTEB) To JAMB 

F. How To Link Email Address To JAMB Profile 2023/2024

G. How Many Questions Will JAMB Set This Year 2023/2024

H. JAMB Mock Exam 2023/2024: All To Know About JAMB Mock 

I. How To Check JAMB Result 2023/2024 Using Phone (SMS & Online)

J. How To Print JAMB Admission Letter 2023/2024 Yourself (All Years)

K. NECO Timetable 2023/2024 June/July & Exam Date [Download Pdf]