JAMB Mock Result 2023/2024, Here's How To Check
Sponsored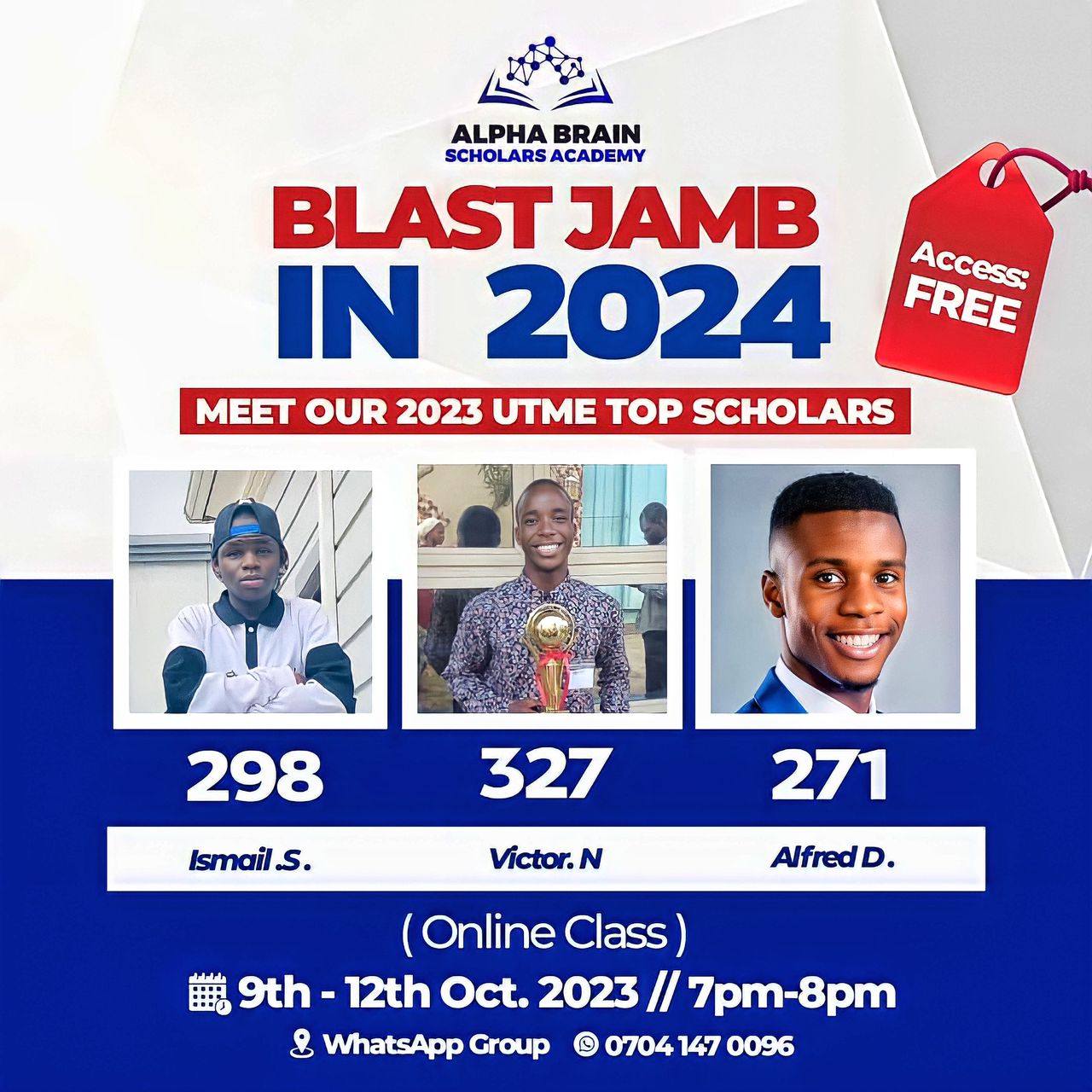 JAMB Mock Result 2023: How do I check my JAMB mock result using my phone?, Is JAMB mock result for 2023 Out now?, How can I check my JAMB Mock Result using SMS?, how to check JAMB mock result online?, JAMB mock result checker
Hey SAVANT! In Today's Episode of my "JAMB Doctor Series", I will show you all possible ways you can employ to check your 2023/2024 JAMB Mock Result and the next thing step after JAMB Mock… STAY TUNED!!!
Before now, I emphasized the need for students to participate in the Mock Exam organized by the Board (JAMB), more on JAMB Mock can be seen HERE.
But there, I did not do justice on the procedures to take to check/confirm your JAMB Mock result once they are out, and that is what you shall be learning here today… No need to thank me, what are friends for!
Read Also: How To Correct Mistake Made On JAMB Profile For 2023/2024
ARE YOU ON TELEGRAM? Subscribe To My Telegram Channel For Frequent Updates & Guide by clicking the "SUBSCRIBE NOW" button below.
---
Imaging sitting for an Exam, especially one that was to test your level of preparedness, and not being able to see the result later on, JAMB understands this plight and for that reason came up with a number of ways students can use to check how well they perform in the Mock Exam.
Without further ado, lets get down to business… ENJOY!
How To Check JAMB Mock Result?
The steps for checking your Mock result for JAMB is quite limited, unlike that for the main UTME Exam, for the main Exam, students will most likely get their JAMB Result Via SMS.
Precisely to the SIM with which they registered for JAMB, but this is not obtainable for JAMB Mock exam, you will not be set your Mock Exam Result as SMS.
If I can't check for my MOCK Result for JAMB through SMS, what Method can I then use??
Aside the SMS method, there is only one method for checking your JAMB mock Result, and this is through JAMB Mock Result Checking Portal.
Currently, this portal is not activated because the results are yet to be uploaded.
Once the results are live, the portal will become fully functional, in the meantime, here is a step by step guide to follow when checking for your JAMB Mock Result online…
How To Check JAMB Mock Result Online
Open Chrome or Other Suitable Browser

Locate chrome application on your mobile or other suitable browser to access the JAMB mock result checking portal

Visit JAMB Mock Result Checker Page

On your browser, visit JAMB Mock Result Checking Page @https://slipsprinting.jamb.gov.ng/CheckUTMEMockResults or click on this link directly

Enter Your JAMB Registration Number or Email Address

Click on "Check JAMB Mock Result" button

View your result
Tada! Your result will be shown to you afterwards.
Important Note
A Low Score in JAMB Mock do not Guarantee the same in the main Exam
JAMB Mock Score will not be added to your Main JAMB UTME result
There is no known consequences for missing your JAMB mock Exam, but the Exam will not be rescheduled for you.
This will be all on checking your JAMB Mock Result, I will now take some frequently asked questions…
Frequently Asked Questions
Can I check JAMB Mock Result On Phone?
YES, you can check your JAMB Mock Result on using your Mobile phone.
The procedure for doing this have been highlighted on this Post.
How to check JAMB mock result through SMS
Currently, you cannot check for your JAMB Mock Result through SMS, if you must check your JAMB mock result, it must be through JAMB Mock result checking Portal.
How to check JAMB mock result without email
Will JAMB Mock Result Be Added To JAMB?
NO, your JAMB mock Result will not be added to your main JAMB Score, as the mock exam is strictly for Practice.
In conclusion
JAMB result is out, you can check for your Mock Result by visiting JAMB Mock Result checker page @https://slipsprinting.jamb.gov.ng/CheckUTMEMockResults.
Read Also: How Many Questions Will JAMB Set This Year 2023/2024
This will be all for now, I understand you may have a question or two to ask, feel free to drop them using the comment box below!
Ensure to share this with friends on Facebook, Whatsapp, or any other social media network you can connect them with…
Related Searches...

a. jamb mock result 2023

b. mock exam results 2023

c. jamb portal

d. mock exam results 2023

e. www jamb org ng result 2023 portal login