JAMB Mock Exam 2023 (What You Need To Know)
Sponsored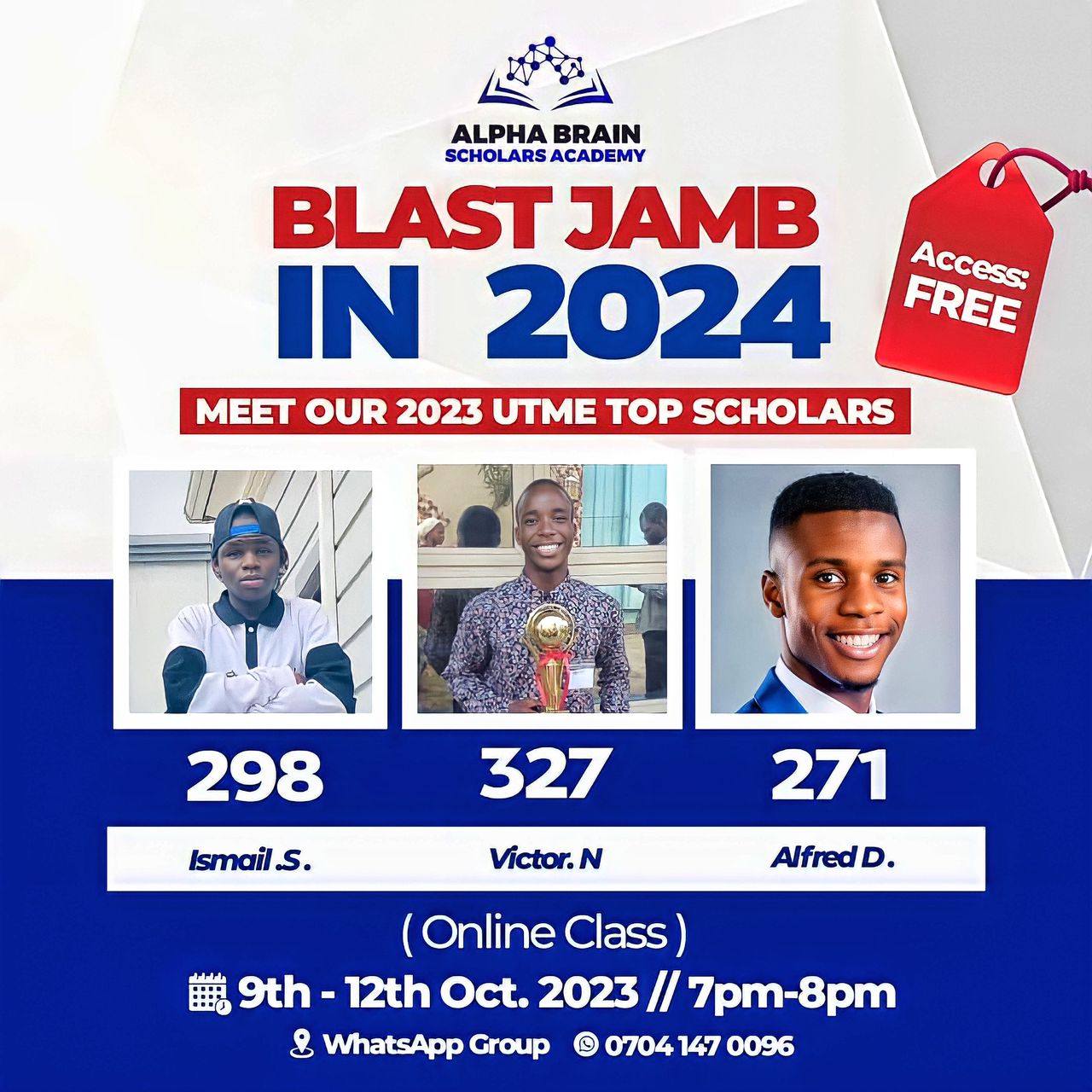 JAMB Mock Exam 2023/2024: When Is JAMB Mock going to commence?, How can I Register for JAMB Mock Exam?, Is it compulsory to write JAMB Mock?, what are the advantages and Disadvantages of writing JAMB Mock exam? How can I check my JAMB Mock Exam Date, time and Venue?, how Much to register for JAMB Mock Exam.
In Today's Episode of my "JAMB Doctor Series" I will provide answers to some of the most frequently asked questions on JAMB Mock Exam, covering everything you need to know.
If at the end of this write-up, I fail to answer the question you interested in, or there was something you were not clear on, do not hesitate to use the comment box just below the end of this Post…ENJOY!?
Read Also: JAMB CAPS Login 2023/2024: How To Login & Check Admission Status
JAMB RECOMMENDED TEXTBOOKS...

A. JAMB Recommended Physics Textbooks

B. JAMB Recommended Chemistry Textbooks

C. JAMB Recommended Biology Textbooks

D. JAMB Recommended Economics Textbooks

E. JAMB Recommended Government Textbooks

F. JAMB Recommended Use Of English Textbooks

G. JAMB Recommended Mathematics Textbooks

H. JAMB Recommended Literature In English Textbooks

I. JAMB Recommended Commerce Textbooks

J. JAMB Recommended Christian Religious Study (CRS) Textbooks

K. JAMB Recommended Textbooks For All Subjects

L. How JAMB Is Marked And Scored (All You Need To Know)
Have you ever wished you had the opportunity to see the questions you will be asked in an exam prior to sitting for that exam, or you wished you had a glimpse of the pressure you would experience while writing an Exam.
That is the priceless opportunity JAMB mock exam brings to your table, it offers you the opportunity to be able to sit for a dud exam which simulates the actual JAMB Exam (that is, this exam looks exactly like JAMB in everyway)
Interesting right?, Trust me, It is?.
But to my greatest surprise, most students have little or no information about JAMB Mock Exam and as such tend to miss out on this opportunity, but at the end of this piece, all questions and doubts you have about JAMB Mock Exam will be cleared.
Nah, no need to thank me, moreover, what are friends for? ?
Without Further Ado, lets get down to Business…
Read Also: How To Link Email Address To JAMB Profile 2023/2024 & Deadline
What Is JAMB Mock Exam
JAMB MOCK exam is test exam for student conducted by the Joint Admissions and Matriculation Board (JAMB) before the main Exam.
This exam does not replace the main Exam but allow you have a feel of how the Exam would be, this EXAM is not compulsory and as such most student do not see the need to participate in it.
And even students who may want to participate in this exam may not be given the chance, because the exam last for a day, this further reaffirms my position on registering for JAMB Early.
The word MOCK according to the Oxford Advance learners dictionary is to "Imitate with mockery and derision", and that is What JAMB Mock does, it imitate the main Exam but is not and do not replace the actual exam.
You will not be forced to partake in this Exam (come on, you are a grown up already), so we can safely say this exam is not compulsory, but sitting for this exam will not exempt you from sitting for the main exam.
I would want you to see this exam more like an eye opener, In fact, this may be the only expo you will have for this year's JAMB.
Haven understood what JAMB Mock exam is all about, we will now move to answering other questions relating to JAMB Mock.
Is JAMB Mock Exam Compulsory?
NO, JAMB Mock exam is not compulsory for students and as such not sitting for JAMB Mock Exam would not translate to not sitting for the main exam.
This exam is completely optional and will only be written by students who are interested.
There is not add-on or special treatment given to Students who sat for Mock Exam, it does not guarantee you Passing JAMB or even scoring above 300 in JAMB (You can check out my Tips on how to pass JAMB HERE).
So sitting in the Exam should be with the intention to test your level of preparedness and how you will cope with time management when faced with real time JAMB questions.
But if JAMB Mock Exam is not compulsory why should I bother myself with it? ?‍♂️
Well, there are so many reasons you should register and sit for JAMB Mock, and some of these include…
You are able to test how prepared you are for the main Exam
You get to be able to manage the pressure that comes with the main exam.
Do note that, scoring high in the mock Exam, do not guarantee same for the main Exam, because I have seen cases where students do so well in JAMB mock only to perform poorly in the main exam.
This works both ways though, Scoring low In JAMB Mock exam do not translate to scoring low in the main Exam, in fact, students with poor performance in Mock is more likely to do well in the main JAMB Exam.
Because, then they realize they have a lot of work to do, and eventually make the effort.
Your JAMB Mock Score will not be added to your main JAMB Score.
Read also: How To Correct Mistake Made In JAMB Profile For 2023/2024
When Is JAMB Mock Exam for 2023 Starting?
JAMB Mock Exam is written before the Main UTME exam, and this date has been slated for Thursday, March 16th, 2023 as announced by the Joint Admission and Matriculation Board (JAMB).
This means, all registration for JAMB mock must be completed before this date, and students who indicated interest for the Mock exam are to get themselves prepared.
If any changes or update is to be made on this date, I will notify you by updating this page, you can subscribe to this blog for Top notch JAMB guide by Joining me on telegram or my other Social media channels
ARE YOU ON TELEGRAM? Subscribe To My Telegram Channel For Frequent Updates & Guide by clicking the "SUBSCRIBE NOW" button below.
Now that we know the scheduled date for JAMB mock Exam, I will now show you how to register for JAMB mock, as well as how to check and confirm your Exam time and Venue/Center. STAY TUNED…
How To Register For JAMB Mock Exam 2023
We can't know so much about JAMB Mock and not know how to register for it right?.
The process of JAMB mock registration is as easy as reading this blog post, there is no special process for this, the process of JAMB Mock registration is done along side the normal JAMB UTME registration.
To register for JAMB Mock Exam all you have to do is to notify the person that will be helping you register in your designated CBT center that you will like to sit for JAMB MOCK exam.
By doing this, when registering you for JAMB, when he/she gets to the section for JAMB Mock, he will click on "JAMB MOCK", notifying JAMB of your interest to participate in the mock Exam.
Tada!!! you are now eligible to sit for the 2023/2024 JAMB Mock Exam. YES, it is that simple.
How Much Is JAMB Mock Exam?
Students Sitting For JAMB Mock Exam will pay an extra N1,000 making their total registration fee N6,700.
Mind you, this is a one time payment, as no other payment will be made to the center where they have been assigned by JAMB after checking their Exam venue through JAMB Mock reprinting.
Also, do well to go with your JAMB Mock slip, NO Bags, mobile phones, calculators, and other electronic devices.
How To Check JAMB Mock Exam Date and Center
No fun in registering for an Exam and not knowing where and when you will be sitting for it.
To Guide you with this, I have created a detailed guide on how your can check your JAMB Mock Date here
That is all on JAMB Mock.
Below are answers to some frequently Asked Questions…
Read Also: How To Create JAMB Profile code 2023/2024 (Via USSD or SMS)
Frequently Asked Questions
How long does it take for JAMB mock result to come out?
JAMB Mock Exam result is expected to be released 24 to 48 hours after the Exam. This means that, at most 48hours after the exam, your result will be sent to you.
What will Happen If I Don't Sit For JAMB Mock after Registering
There is no penalty for students who indicated interest for the JAMB Mock Exam but for some reasons could not make it for the exam, you will still be allowed to Sit for the main UTME Exam.
Is JAMB Mock Score Added To Main JAMB Score?
No, Your JAMB mock score will not be added to your Main JAMB Score, these two exams are independent of each other.
So the scores for MOCK exam will not be used to compensate that for the main exam.
Can I use JAMB Mock Result For Admission?
NO, you cannot use JAMB Mock Result for admission purpose, the result for JAMB Mock is not even recognized by JAMB, it is strictly for your personal consumption.
Is JAMB Mock Exam Free?
NO, JAMB Mock Exam is not free.
Students eligible to sit for JAMB Mock exam will be required to pay an additional One thousand Naira (N1000) when registering for JAMB making their total registration fee N6,700.
What is the use of JAMB mock exam?
JAMB Mock serves dual purposes, It helps both JAMB and Students to Test how prepared they are for the Exam, so it kind of like serves a mutual benefit.
JAMB Mock is over what?
JAMB Mock Exam Score is 400, which is similar to what is obtainable in the main exam.
Key Takeaway
The following are the key takeaway from this write-up…
JAMB MOCK is not COMPULSORY for student, therefore no penalty for those who miss the Exam even after indicating interest during JAMB registration.
Your JAMB Mock Score is not added to your main JAMB Score
Students who perform poorly in MOCK will not necessarily perform poorly in the MAIN UTME/DE Exam
JAMB MOCK question is not exactly same with what you will be asked in the main Exam, the Mock questions are from Past Questions and sometimes few questions could be repeated.
There is no Make up exam for the MOCK test
Students are not expected to pay a dime for this Exam.
Read Also: How Many Questions Will JAMB Set This Year 2023/2024
This will be all for now, I understand you may have a question or two to ask, feel free to drop them using the comment box below!
Ensure to share this with friends on Facebook, Whatsapp, or any other social media network you can connect them with…