How To Reprint JAMB Mock Slip Exam 2023 To Check Date & Venue
Sponsored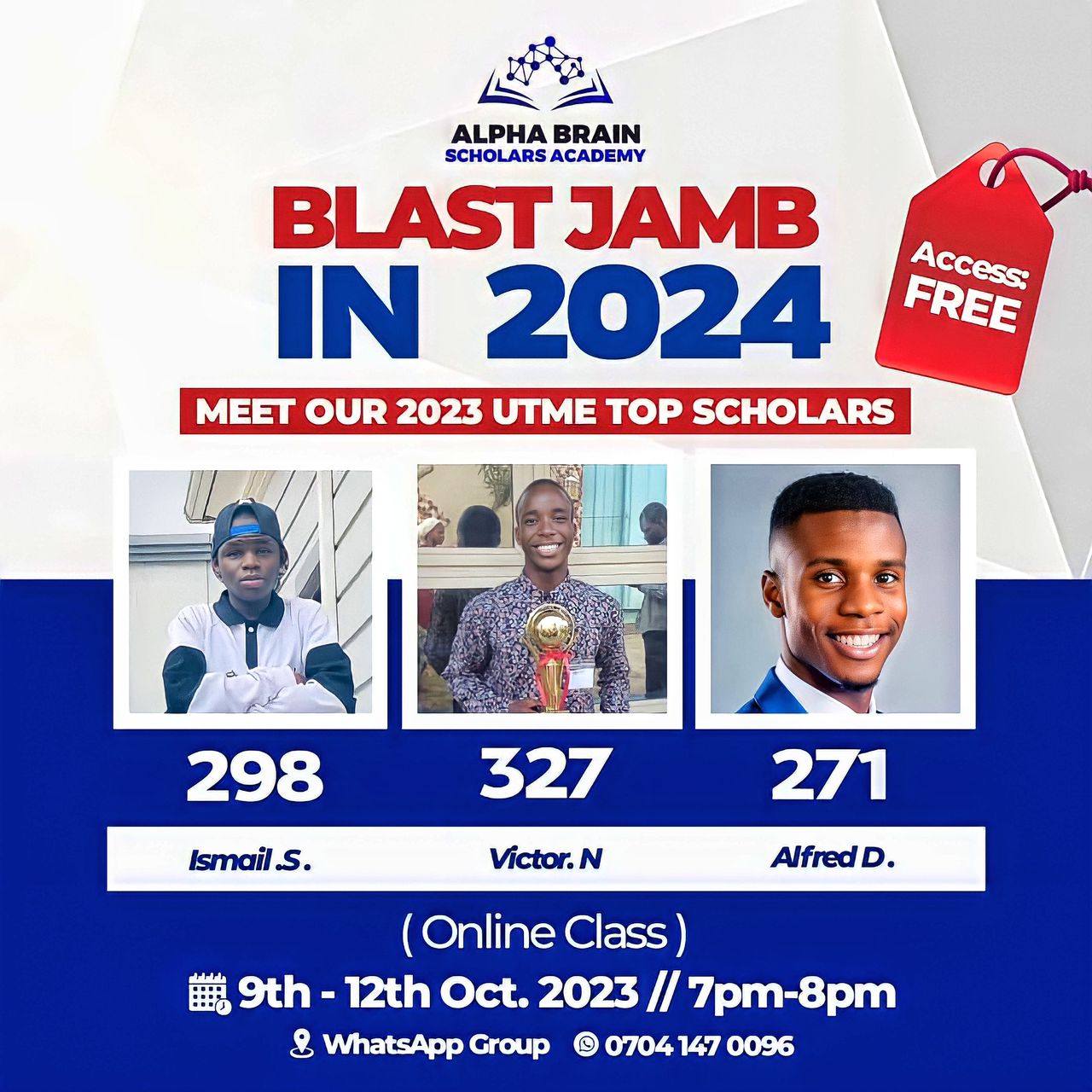 How To Reprint JAMB Mock Slip 2023/2024: How do I check my JAMB mock date?, How do I check my JAMB mock print?, How do I check my JAMB mock exam 2023?, How do I find my mock?, Is JAMB reprint the same with JAMB Mock Reprinting?.
Hey SAVANT! In today's episode of "JAMB Doctor Series", I will guide you through the process of how to reprint your JAMB Mock Slip and check for your JAMB Mock Exam venue and Date… STAY TUNED!
In one of my JAMB Doctor Series, I explained at a great length all you need to know about JAMB Mock Exam and provided some other important answers to questions relating to JAMB Mock Exam.
But today, I will show you how you can reprinting your JAMB mock slip and how you can check/confirm your JAMB mock Venue and Examination date.
Read Also: How Many Subjects Are Written In WAEC, NECO And NABTEB
ARE YOU ON TELEGRAM? Subscribe To My Telegram Channel For Frequent Updates & Guide by clicking the "SUBSCRIBE NOW" button below.
It definitely won't be any fun if you registered for JAMB mock and could not sit for the exam simply because you did not know how to check for your JAMB Mock Exam venue.
Well, if you are in this category of students, it is your lucky day, all you have to do is follow the guide shown here diligently… ENJOY!!!
JAMB RECOMMENDED TEXTBOOKS...

A. JAMB Recommended Physics Textbooks

B. JAMB Recommended Chemistry Textbooks

C. JAMB Recommended Biology Textbooks

D. JAMB Recommended Economics Textbooks

E. JAMB Recommended Government Textbooks

F. JAMB Recommended Use Of English Textbooks

G. JAMB Recommended Mathematics Textbooks

H. JAMB Recommended Literature In English Textbooks

I. JAMB Recommended Commerce Textbooks

J. JAMB Recommended Christian Religious Study (CRS) Textbooks

K. JAMB Recommended Textbooks For All Subjects

L. How JAMB Is Marked And Scored (All You Need To Know)
Has JAMB Mock Reprinting Started?
Yes, you can now reprint your JAMB mock slip to confirm your venue and time.
This means JAMB portal to check for your Mock exam venue and time is now live.
When Will JAMB Mock Reprinting Start?
Reprinting for JAMB Mock is usually a week before the exam, since this year mock exam is 30th March, 2023, reprinting should start from 25th March, 2023.
How To Reprint JAMB Mock Slip
To be able to check for your JAMB Mock Exam date, you will have to do what we call Reprinting, on this reprinted slip contains the information you are interested in, such as; JAMB Mock Schedule, Exam Venue, time e.t.c.
To be able to print your JAMB Mock slip, there are two possible steps you can employ, they include;
Checking the Email you registered JAMB With (Recommended)
Using JAMB Mock Exam Reprinting Portal To Check Your Schedule (Date and Venue)
I will explain how you can go about each shortly…
1. Through Email Address
This is JAMB recommended method of check for your Mock Exam Date, Time and Center. Candidates are advised to start checking their email as from 9th March, 2023.
To check for this simply;
Locate your Mail service app on your android or Iphone device
Check for JAMB Mail sent to you, if not found in the inbox, check your Spam folder.
If found, go to any cyber-cafe to print it out.
It is that simple.
2. Through JAMB Mock Exam Reprinting Portal
You can also check for your JAMB Mock schedule by using JAMB Portal, the procedures on how to do this, have been itemized below…
Viola, your JAMB Mock Slip will be downloaded to your phone, where you can now print it out for late use.
That is all on JAMB Mock, Will now take some of the most frequently Asked Questions On JAMB Mock Reprinting…
Read Also: How To Create JAMB Profile code 2023 (All You Need To Know)
Frequently Asked Questions
How do I check my JAMB mock date?
You can check for your JAMB 2023 mock Exam Date by reprinting your JAMB Mock slip, contain in this slip is the actual date for your Exam.
when Is JAMB Mock Exam Starting?
JAMB mock Exam is normally written before the Main UTME exam, and this date has been slated for 30th Of March, 2023 as announced by the Joint Admission and Matriculation Board (JAMB).
JAMB Mock Portal 2023
There is no official Portal for JAMB Mock Exam, aside that for reprinting of Mock slip and checking of JAMB Mock result.
What Is The deadline To Reprint JAMB Mock Slip?
JAMB mock Reprinting have no official deadline, but you are expected to reprint your Mock slip before the slated JAMB mock exam date.
In conclusion
You can reprint JAMB Mock Slip either through Email or by using JAMB Mock Reprint Portal, the steps for these have been explained in this post.
Whatever method you choose should do the Job perfectly.
Read Also: How Many Questions Will JAMB Set This Year 2023/2024
This will be all for now, I understand you may have a question or two to ask, feel free to drop them using the comment box below!
Ensure to share this with friends on Facebook, Whatsapp, or any other social media network you can connect them with…
Related Searches

a. check my jamb print out

b. how to reprint jamb mock slip 2023

c. mock exam for jamb

d. when is mock exam starting 2023

e. Certlibrary