Using Same Email, Phone Number & Profile Code Twice In JAMB
Sponsored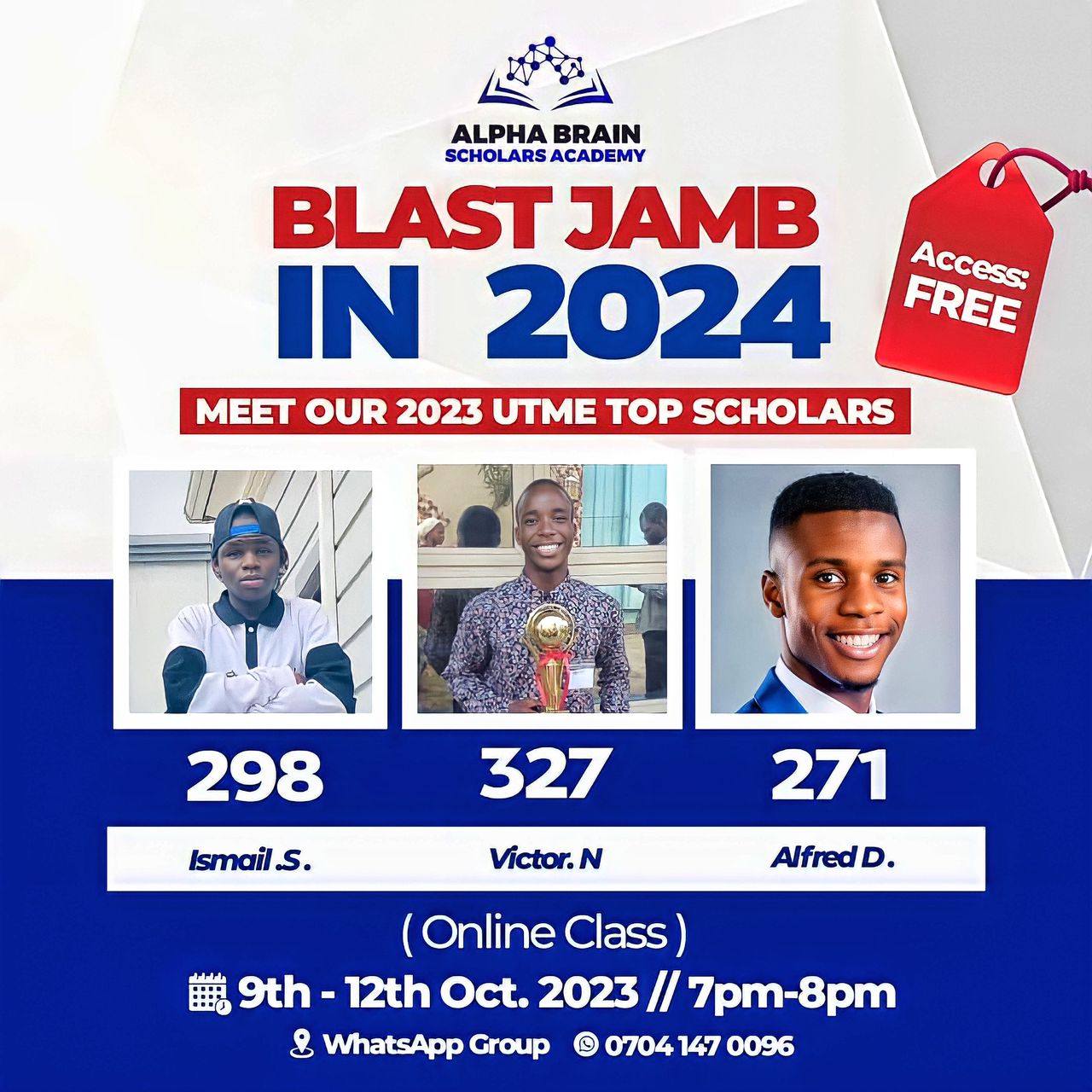 How To Use Same Email, Phone Number & Profile Code Twice In JAMB: How can I know the Email I used for JAMB Registration?, Is it possible to register for two different JAMB (like 2020 JAMB and 2021 JAMB) using the same Email address, Phone number and Profile code? Using Same Email with last year.
Hey SAVANTS!, In today's episode of my "JAMB Doctor Series" I will answer one of the most asked questions of the century with regards to JAMB 2022 registration; Can I use the same Email address, Phone number and Profile Code Twice to register for another JAMB… STAY TUNED!
Not all students registering for 2022/2023 JAMB is actually doing it for the the first time, Students that fall in this category normally find themselves in a quagmire.
Since they once registered for JAMB, it means during their first registration they used an Email address, a phone number and also requested for JAMB Profile Code using that Phone number.
Read Also: Difference Between JAMB And School Cut Off Mark 2022/2023
ARE YOU ON TELEGRAM? Subscribe To My Telegram Channel For Frequent Updates & Guide by clicking the "SUBSCRIBE NOW" button below.
Unfortunately, things did not turn out as they would have wanted it to, and so they decide to register for another JAMB (which of course will be better than the former).
On getting your JAMB registration requirements ready, the big question popped up, What Email address should I used for my Second registration?, can I use the first email address and Phone number I once used to register for JAMB this year?.
Worry no more, everything you need to know will be addressed here, all you have to do is, take a glass of water and read diligently. Nah, no need to thank me, what are friends for? 😊 ENJOY!!!
JAMB RECOMMENDED TEXTBOOKS...

A. JAMB Recommended Physics Textbooks

B. JAMB Recommended Chemistry Textbooks

C. JAMB Recommended Biology Textbooks

D. JAMB Recommended Economics Textbooks

E. JAMB Recommended Government Textbooks

F. JAMB Recommended Use Of English Textbooks

G. JAMB Recommended Mathematics Textbooks

H. JAMB Recommended Literature In English Textbooks

I. JAMB Recommended Commerce Textbooks

J. JAMB Recommended Christian Religious Study (CRS) Textbooks

K. JAMB Recommended Textbooks For All Subjects

L. How JAMB Is Marked And Scored (All You Need To Know)
The Joint Admission and Matriculation board (JAMB) has released a new guide on the use of Email address, Phone Number and Profile code for 2022/2023 UTME Registration.
The answer to How to use Same email address, Phone number and Profile code is not the same, see detailed explanation below…
Can I use One Email Address To Register For JAMB Twice
NO, you cannot use one Email address to register for JAMB two times, provided this email address has been used by you or anyone else to create and JAMB Profile, it renders that email address automatically not valid or available for creating another JAMB Profile.
So using the same Email you have used before would make it impossible for you to create your JAMB Profile that would correspond with your most recent JAMB registration.
Hmm!, what if I decide to still register for JAMB using the same Email address?😏
Well, there are consequences. If you register for JAMB using that same email address you used in your previous JAMB Exam, when the time comes to link your Email address to JAMB, you will encounter difficulty.
Not just that, each time you login to your JAMB profile account that was created by your once used email address, the account will not be updated to the current JAMB year
Instead, you will keep seeing the year you first used the email to register for JAMB, so let us say, John registered for JAMB in 2021 using [email protected] and went ahead to register for 2022 JAMB with the same email address; [email protected]
When John logs in to his JAMB account, instead of the account to be updated to 2022 JAMB, it will keep showing 2021 JAMB, and this can be very problematic because when the time for admission comes…
…each time you try to access your JAMB CAPS, you will get a feed back error saying "you are not eligible to use this service on JAMB CAPS". Bad right?.
My Recommendation:
If you registered for JAMB before now and you want to avoid stories that touch the heart, then create a new email address using the steps I have provided you with HERE.
Use this new email address you have created for all your JAMB related activity, you can use your email address for other purpose, bank, school admission, but not JAMB.
Read Also: Do Direct Entry (DE) Students Write JAMB and Post UTME 2022/2023
Can I Use Same Phone Number Two Times for JAMB
YES, Phone number, unlike your email address can be used twice for JAMB Registration, but it is a little more complicated than it sound, there are some conditions you must meet, before you can re-use same phone number, they include…
The Phone number can only be used by the same student that first used it by JAMB
The same profile code used while registering for the first JAMB must be reused while registering
The profile code of last year will be used to purchase a new ePin.
What this means is that, if you meet-up with the requirements listed above, then you can go ahead to reuse the same phone number for JAMB. To guide you with this, I have provided you with some resources you should go through…
Can I Use Same Profile Code To Register For JAMB Twice
YES, just as you can use same phone number you once used to register for JAMB, you can also use the same JAMB Profile code to register for JAMB again.
But for this to work, it must be used concomitantly with the phone number you used to create the Profile code, so they both work together. If you lost your old Phone number then there is no using of Old Profile code.
If for some reasons you don't remember your old JAMB profile code, then you can follow the steps HERE to retrieve/recover your lost JAMB Profile code.
Can I Use Last Year JAMB Profile For This Year?
NO, Since you cannot use same Email address for this year JAMB, you cannot use the same profile you used last year for this Year's JAMB even when it is with the phone number and Profile code.
The moment you retrieve JAMB profile code you will link it to a new email address, you will be sent a new password which you can now use to login to your new JAMB profile.
With all said and done, I will now answer some of the most frequently asked questions on how to use same email address in JAMB.
Frequently Asked Questions
Can someone register JAMB twice?
YES, you can register for Jamb twice but not in that same here, that is, you can register for Jamb in 2021 and decide to re-register in 2022, there is no crime in that, but if you mean registering for two Jamb that same year, then NO.
Can JAMB email address be changed?
NO, Once you use an email address to register for Jamb, you cannot change it. but there are some alternatives you could try, like creating a new email address that looks exactly like the one you mistakenly used to register for Jamb.
That way, you have been able to bypass the system.
How to know the email I used for jamb registration
To know the email address you used to register Jamb, just check the Jamb registration slip given to you when you registered for Jamb.
On it contains your Jamb Basic data, with the email you used for the registration as well.
In Conclusion
You cannot use the same Email address you once used to register for Jamb to register for another Jamb, but you can use the same Phone number and Profile Code twice for Jamb registration.
Read Also: How To Gain Admission With D7, E8 or F9 On A Required Subject In Waec
This will be all for now, I understand you may have a question or two to ask, feel free to drop them using the comment box below!
Ensure to share this with friends on Facebook, Whatsapp, or any other social media network you can connect them with…
Related Searches...

a. how to know the email i used for jamb registration

b. jamb email address

c. how to change jamb email address

d. how to send my email address to jamb

e. how to change my jamb email address 2020
JAMB SYLLABUS FOR OTHER SUBJECTS...

A. JAMB English Syllabus

B. JAMB Mathematics Syllabus

C. JAMB Syllabus For Physics

D. JAMB Chemistry Syllabus

E. JAMB Syllabus For Biology

F. JAMB Economics Syllabus

G. JAMB Syllabus For Christian Religious Studies (CRS)

H. JAMB government Syllabus

I. JAMB Syllabus for Commerce

J. JAMB Literature in English Syllabus

K. JAMB Computer Studies Syllabus