How to Change Jamb Subject After Registration: Can I change JAMB subject after registration?, I made a mistake while registering for 2022/2023 Jamb UTME exam and filled in the wrong Subjects for my course, is there any way I can correct it?, How can I change my Jamb Subject 2022?.
Hello SAVANT!, In today's episode of my Jamb doctor series, I will show you workable methods on how to correct your jamb subject combination mistakes (error) in Jamb, and jamb subject combination for courses, this post will also help answer questions like… pretty cool right? ENJOY!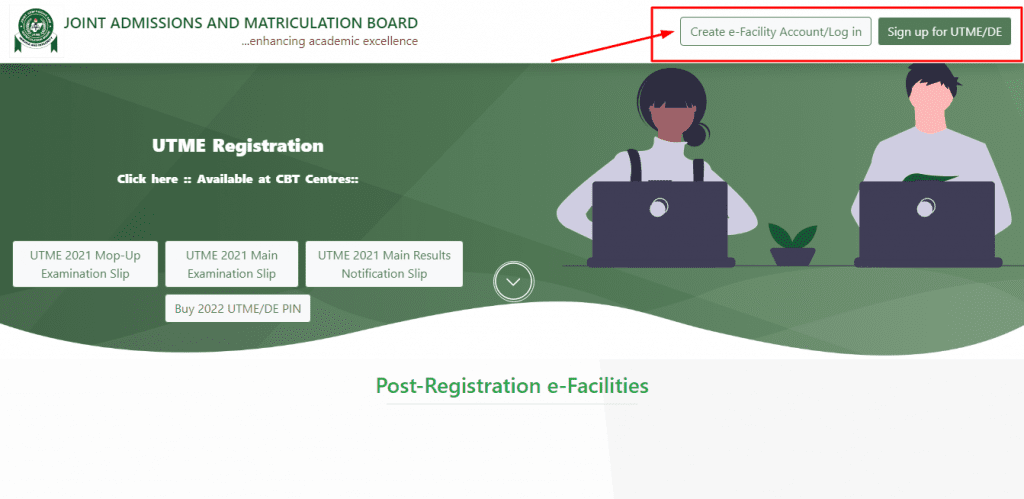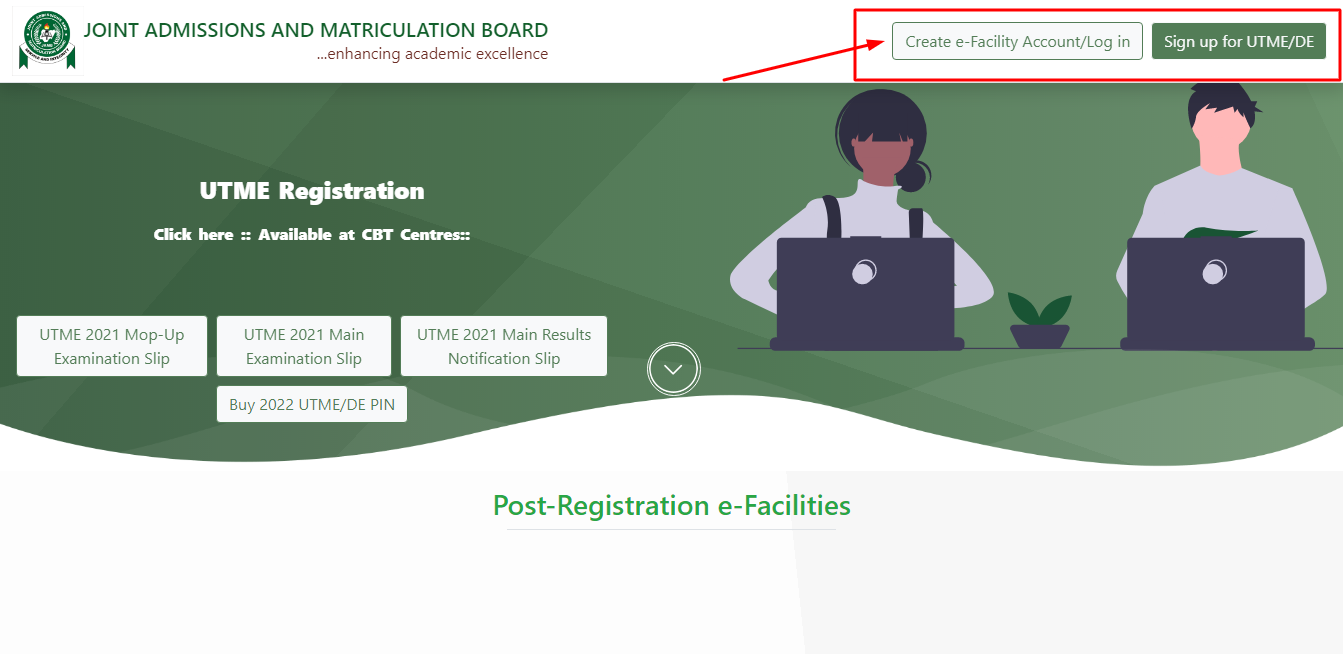 Do you find yourself in this dire situation, and you have been desperately in need of procedures that works with regards to correcting mistake made in your Jamb subject combination, then today is your lucky day.
I understand that, to make an error in your Jamb subjects arrangement (combination) is human, but to correct this is …😎
Read also: Universities That Accept Low Jamb Score (120, 130, 140, 150, 160, 170 & 180)
ARE YOU ON TELEGRAM?

 Why Not Subscribe To My Telegram "Jamb Doctor Channel" For Frequent Updates by clicking the 

"SUBSCRIBE NOW"

 button below.
...I made a mistake during registration, I used physics, biology, chemistry and use of English instead of mathematics, use of English, biology and chemistry, how can I correct it?

How can I change my details in JAMB?

Can JAMB profile be edited?

how will I change my contact phone number on jamb profile.
Now, lets get down to business.
Read Also: How To Pass Jamb 2022/2023 With High Score (300+)
GUESS WHAT, I HAVE COMPILED SOME TURORIALS TO HELP YOU WITH JAMB USE OF ENGLISH...

A. How To Answer Questions On Emphatic Stress In Exams

B. Tenses | Jamb Use Of English Tutorial 2021/2022

C. How To Pass Jamb 2022/2023 With High Score (300+)

YOU MAY ALSO BE INTERESTED IN: 

A. Universities That Offers Pharmacy In Nigeria 2022

B. How To Gain Admission Without Using Jamb

C. How To Recover Lost Jamb Profile Code, Email & Pin

D. How Many Subjects Are Written In WAEC 2022

E. How To Upload O' level (WAEC, NECO & NABTEB) To Jamb

F. How To Link Email Address To Jamb Profile 2022/2023

G. How Many Questions Will Jamb Set This Year 2022/2023

H. Jamb Mock Exam 2022/2023: All To Know About Jamb Mock 

I. How To Check Jamb Result 2022/2023 Using Phone (SMS & Online)

J. How To Print Jamb Admission Letter 2022/2023 Yourself (All Years)

K. NECO Timetable 2022/2023 June/July & Exam Date [Download Pdf]
Can I Correct Jamb Subject Combination?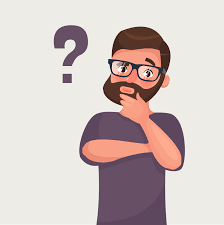 YES and NO, Yes for student who wish to change their Jamb subject immediately after registering for Jamb and NO to student who wants to change their subject after the main Exam has been written.
So the answer is a function of the category you find yourself, here I will show you how to correct your Jamb subject before the Exam and also guide students who wants to change Jamb subject after the exam has been written on the next best step to take… ENJOY!
How Much To Change Jamb Subject?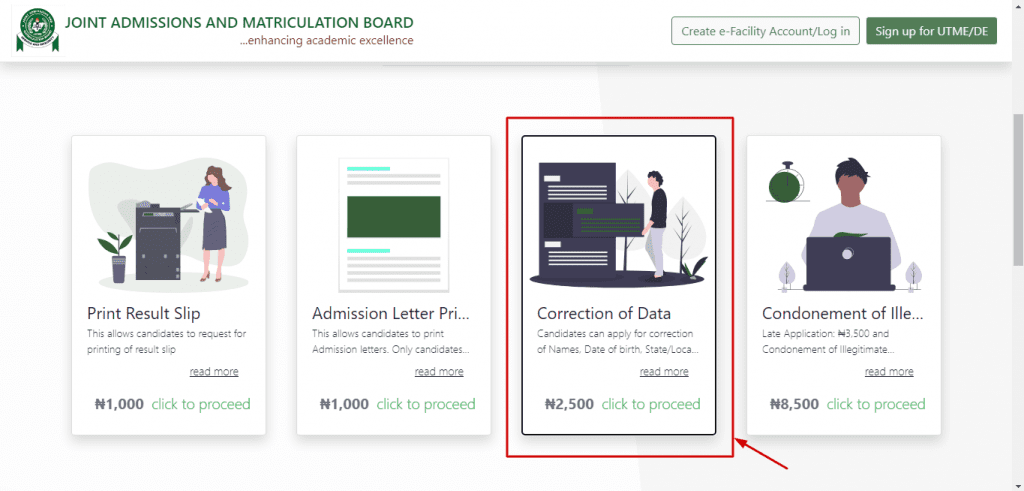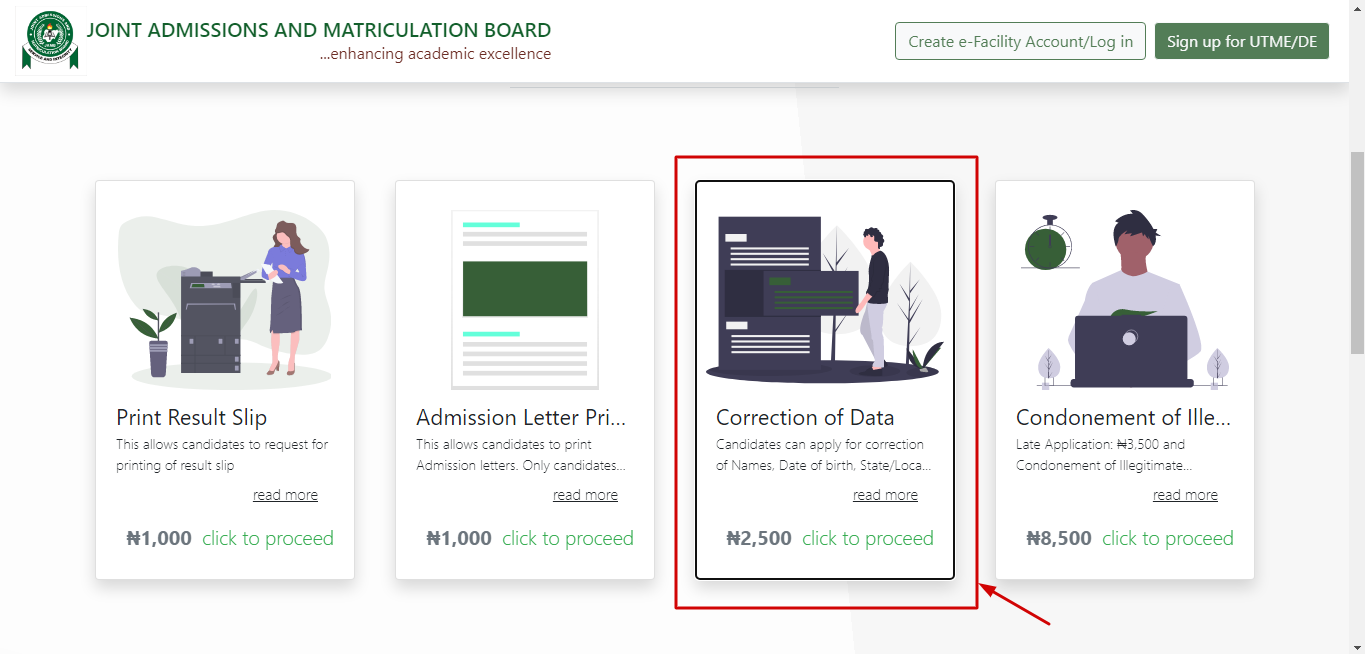 Changing of Jamb Subject Arrangement would cost you Two thousand five hundred Naira (N2500) only, but I would recommend you have at least NGN3000 for extra charges from the center.
How To Change Jamb Subject Combination After Registration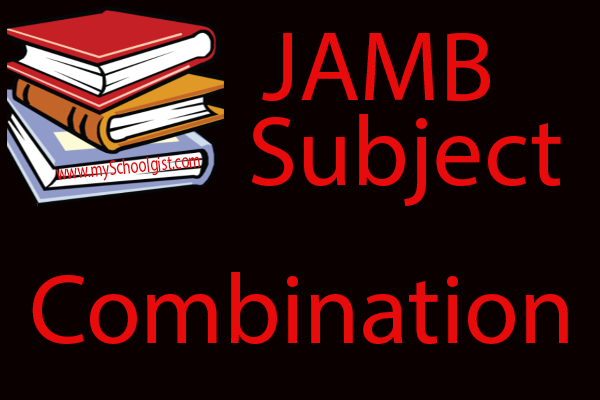 If you want to change your Jamb subject combination before the date for the main exam, the steps to take have been itemized below...
Visit any Jamb Accredited center near you or Jamb Office and
Ask that, you want to apply for Jamb change of subject form for 2022/2023
you will be asked to make a payment of NGN2,500
Choose your new preferred Jamb subject combination (Make sure you make no errors this time)
The rest will be carried out by the center where you applied.
You may also consider applying for jamb change of course, but this is only available after the Exams have been written. P.S; Jamb Change Of Course 2022/2023 (All You Need To Know).
How To Change Jamb Subject After the Exam?
As I mentioned earlier in this post, it is not possible to apply for correction of Jamb subject combination. The reason for this is that, you cannot sit for another exam once the main exam have been conducted.
So what does this mean for me?🤔
This simply means that, any error you made on your Jamb subject combination after the exam have been written, cannot be corrected, and as such may cost you your admission to your desired course if not dealt with properly.
So, you must make sure you go through Jamb brochure meticulously before moving to officially register for jamb.
But I have made the error already, is there not anything I can try to remedy the situation?
For a while now, I have been researching workable ways that can help you still secure admission even if you made an error in your Jamb subject combination
This may not be favorable to some students, but it may be the only options you've got, if you are interested in how this works, keep reading diligently.
Solution To Mistake In Jamb Subject Combination After The Exam
Like I mentioned earlier, Jamb has stopped the correction of wrong subject combination after exam. This means, once you make a mistake in your subject arrangement when registering for Jamb in 2022/2023…
…that mistake cannot be corrected once the exam as been written. But I have cooked up a correction tactics for this, it may be a little inconvenient, but I think it is worth the try.
The only solution as at now to correct mistake in Jamb subject combination is to change the course you initially applied for to a course that will accept this new subject arrangement.
This of course, has its disadvantages which may include…
You may not like the courses that would accept the combination of subjects you mistakenly registered.
The school you want to study in may not have the course you want to change to
Or, you may want to study the course you already registered for so bad, that no other option would be good for you.
But unless, you are willing to sacrifice rewriting another Jamb next year, you will have to highly consider changing your course.
Read Also: How To Link Email Address To Jamb Profile 2022/2023 & Deadline
How To Apply For Jamb Change of Course?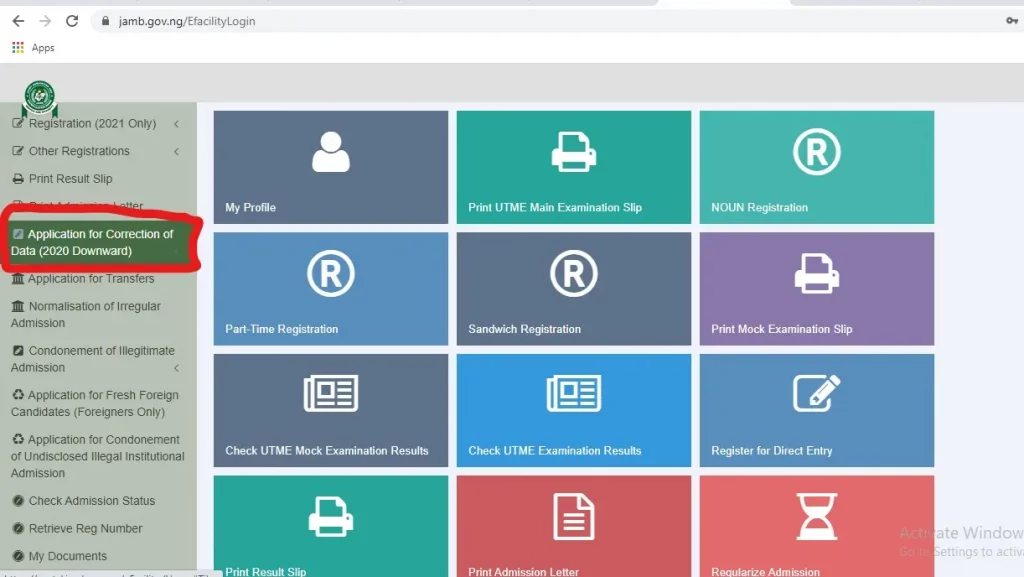 To apply for change of course, you must follow the following procedure…
Visit Jamb Student Portal @ https://portal.jamb.gov.ng/efacility_/
You shall be required to create a profile via the Sign Up (New User) Page if you are a new user. For existing users (that for those who already have Jamb profile account), simply type in your login details. To create your profile, you will provide your valid email address, surname, first name, Mobile No, State and LGA of Origin and password, then click on the Sign Up button. Each candidate is entitled to only one profile.
Subsequently, you shall use your email address and password to sign in.
Once logged in, you will be taken to the landing page where you will see all available services.
Select "Correction of Data". This is available on the side bar or on the Home page (Choose Date of Birth, Gender or Local government of Origin or course/institution pending on what you which to correct) in this case will be Change of course/Institution
Once selected, the menu item "Course/Institution" will be revealed. Click this.
Once you select this service, a Transaction ID is generated for this service. This will be displayed on the confirmation page screen.
Review the details displayed on the Confirmation Page. Also, note the Transaction ID displayed in a bold red font. The Transaction ID is useful for all future references concerning the Transaction. A copy of this transaction ID will be sent to your registered email address.
Click on the "Continue" button if you wish to pay with your card immediately. If you wish to use other payment channels like ATM, Cash at the Bank or Quickteller, please note the transaction ID as it will be required.
On the Interswitch Payment page, enter your card details and click on the Pay button.
The status of your payment will be displayed on the "My Payment Section" An SMS and email containing your unique Transaction Identification and payment status will be sent to you after payment. Click on the Continue button.
Once payment is completed, you will be asked to provide the necessary details. The information you are asked to provide will depend on what your are correcting.
JAMB will now process your application. If Approved, your details will be changed as requested.
Information To Provide for Jamb change of Institution and Course
Once payment is completed, you will be asked to provide the following:

a. Year of Exam and
b. JAMB Registration Number

After entering the information correctly, new options for Preferred course/Institution and second choices will appear. Options available will be based on availability.
Click Submit to complete your application.
JAMB will now process your application. If Approved, your details will be changed as requested.
Make sure you carefully go though Jamb brochure, so as not to repeat the same mistake twice, because that won't be funny.
Although Some schools may change your course to the one your subject combination is suitable for during admission. But there is no guarantee this will happen.
To be on a safer side, follow the guideline above to change your course to a more suitable one.
Read Also: Jamb IBASS Eligibility Checker 2022/2023; Brochure and Syllabus
Frequently Asked Questions
Can JAMB profile be edited?
Yes, your Jamb Profile data can be edited, but not for all the information. Data like date of birth, Course/Institution, Gender, Local Government of Origin e.t.c can be changed.
But information like Your Jamb subject combination cannot be changed once the Exam has been written.
How Much is JAMB change of Course?
The apply for Jamb change of course, you will need a sum of 2500 naira, this is what you will be asked to pay during your online application for Jamb change of course.
Can I change Jamb Subject Combination after Jamb Registration?
YES, you can change your Jamb Subject combination after you have registered for jamb, so if you failed to register for an important Subject that is required for the course you intend to study, provided the Exam has not been written yet, you can make correction to the subject.
Can I gain admission with wrong subject combination?
YES, there is a way out if you made a mistake in your Jamb Subject combination. The solution is to apply for Jamb Change of course to a course that the wrong subject combination you registered in Jamb will accept.
You can check the subject requirement for all courses via Jamb's IBASS here.
In Conclusion
Jamb subject Combination cannot be changed or corrected once the exam has been written but correction can be made before that, so be careful and make sure you have gone through Jamb brochure thoroughly before attempting to register your Four (4) Jamb Subjects.
I understand you may have a question or two, do not hesitate to drop them here using the comment box below
Ensure to share this with friends on Facebook, Whatsapp, or any other social media network you can connect them with…
Related Searches...

a. how to correct jamb subject mistake

b. how to change phone number on jamb profile

c. jamb portal

d. jamb correction of email 2020

e. jamb correction of data deadline 2022
SEE JAMB ACCREDITED CBT REGISTRATION CENTERS IN OTHER STATES...

1. Jamb Registration Centers In Abia State

2. Jamb Registration Centers In Adamawa State

3. Jamb Registration Centers In Akwa Ibom State

4. Jamb Registration Centers In Anambra State

5. Jamb Registration Centers In Bauchi State

6. Jamb Registration Centers In Bayelsa State

7. Jamb Registration Centers In Benue State

8. Jamb Registration Centers In Borno State

9. Jamb Registration Centers In Cross River State

10. Jamb Registration Centers In Delta State

11. Jamb Registration Centers In Ebonyi State

12. Jamb Registration Centers In Edo State

13. Jamb Registration Centers In Ekiti State

14. Jamb Registration Centers In Enugu State

15. Jamb Registration Centers In FCT Abuja

16. Jamb Registration Centers In Gombe State

17. Jamb Registration Centers In Imo State

18. Jamb Registration Centers In Jigawa State

19. Jamb Registration Centers In Kaduna State

20. Jamb Registration Centers In Kanu State

21. Jamb Registration Centers In Katsina State

22. Jamb Registration Centers In Kebbi State

23. Jamb Registration Centers In Kogi State

24. Jamb Registration Centers In Kwara State

25. Jamb Registration Centers in Lagos State

26. Jamb Registration Centers In Nasarawa State

27. Jamb Registration Centers In Niger State

28. Jamb Registration Centers In Ogun State

29. Jamb Registration Centers In Ondo State

30. Jamb Registration Centers In Osun State

31. Jamb Registration Centers In Oyo State

32. Jamb Registration Centers In Plateau State

33. Jamb Registration Centers In Rivers State

34. Jamb Registration Centers In Sokoto State

35. Jamb Registration Centers In Taraba State

36. Jamb Registration Centers In Yobe State

37. Jamb Registration Centers In Zamfara State