JAMB Brochure 2024/2025 For All Schools & Courses
Sponsored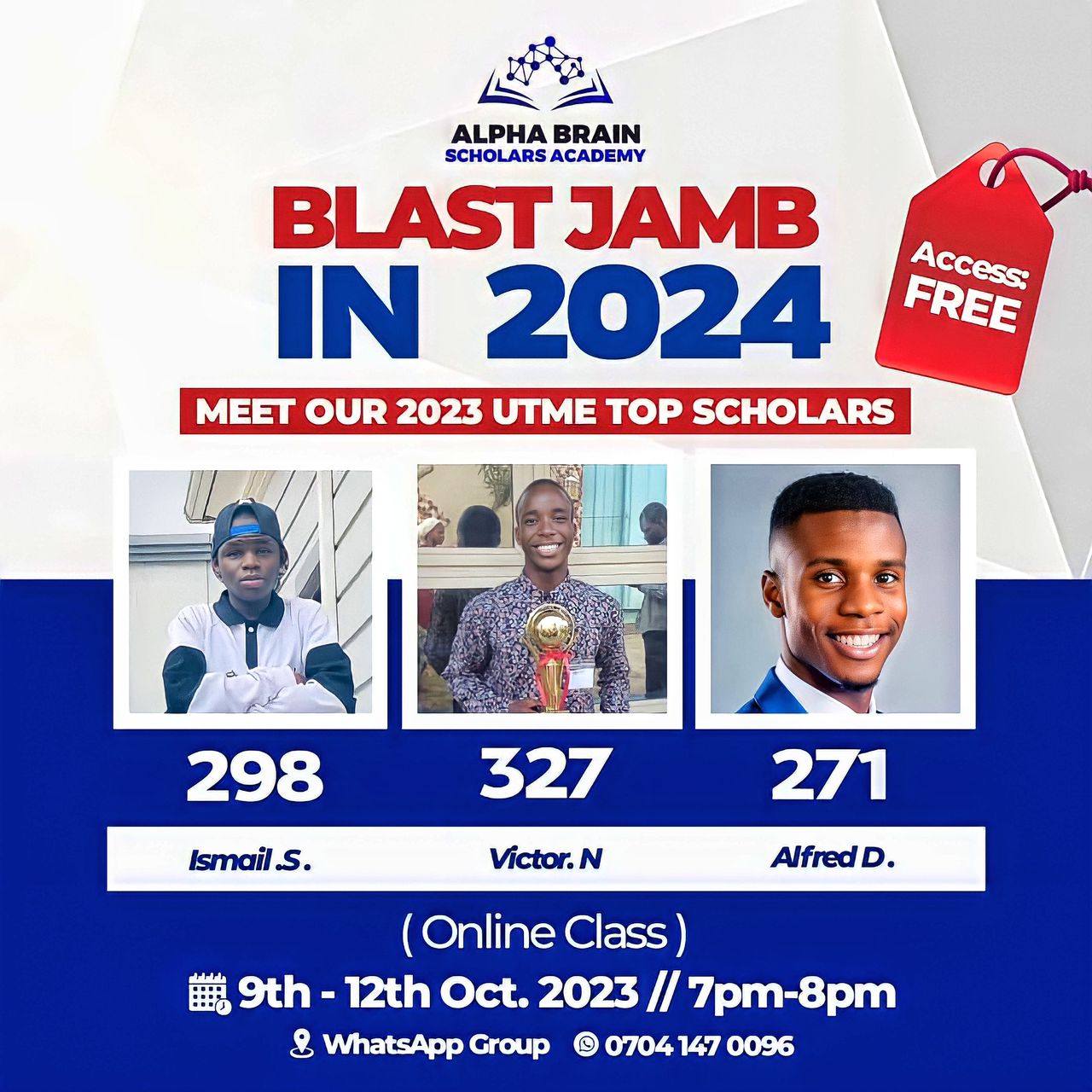 JAMB Brochure For All Schools & Courses 2024/2025: How can I download JAMB brochure?, I need JAMB brochure for the University of Benin, Is JAMB Brochure out?, JAMB brochure 2024 pdf download free, JAMB brochure for economics, ibass JAMB e-brochure, courses in JAMB brochure.
Hey SAVANT!, Welcome to another exciting episode of my "JAMB Doctor Series" in today's episode I will be providing you with JAMB brochure for all courses and Institutions such as UNIBEN, UI, UNILAG, ABU, AAU, DELSU, UNILORIN, just to name but a few. Cool right?, STAY TUNED!
Have you ever wondered if there is a place where you can check for the requirements (Cut off mark, O' level subject combination, JAMB subject combination e.t.c) to study a particular course (Pharmacy, Medicine and Surgery, Accounting) in the University of your Choice?
If yes, then you are definitely reading the right article. The Joint Admission and Matriculation Board (JAMB) in a bid to help student make the right Choices and also know the admission requirement for a specific course in a particular school, came up with "JAMB Brochure"
Read Also: JAMB Syllabus For All subjects 2024/2025: Topics & Focus Areas
ARE YOU ON TELEGRAM? Subscribe To My Telegram Channel For Frequent Updates & Guide by clicking the "SUBSCRIBE NOW" button below.
---
Different Institutions have different requirement for admission, while some Universities may accept two sittings for admission others may not, O' level requirement may not also be the same for all Universities, Polytechnics and Colleges of Education.
These course requirement and student eligibility are what you can find in JAMB Brochure.
In this piece, I will show you the two ways you can use to access JAMB brochure for 2024/2025 answer frequently asked questions on this topic and also provide you with the PDF as well, which you can easily download.
Nah!, no need to thank me, what are friends for? without further ado, let's get started… ENJOY!
What Is JAMB Brochure?
JAMB brochure is an informational booklet provided by the Joint admission and Matriculation Board (JAMB) which students (JAMBites) can use to to check their School's requirement, subject combinations and list of available courses offered by a particular school.
So, if you want to confirm if Unilag (University of Lagos) offers Accounting or the O' level requirement to study Pharmacy in the University of Benin, all you have to do is download your copy of JAMB brochure Pdf and check or use JAMB Ibass (I will talk about this shortly) to check you eligibility for that course.
Read Also: How Much Is JAMB Form 2024/2025? Answered (See Total Expenses)
Is JAMB Brochure For 2024 Out?
Yes, JAMB Brochure for 2024 is out.
The truth is, the information's on this brochure hardly ever changes since most Universities, Polytechnics and Colleges of Education almost never change their O'level and admission requirements.
What does this mean exactly??
This means, the JAMB brochure used for last year JAMB, is exactly what will be used for this Year's JAMB, with little or no changes, therefore, you can say that JAMB brochure is always available for use.
How and where can I download or access the Jamb brochure then??
As I mentioned earlier, there are two ways you can use to access JAMB brochure, One is online through JAMB Integrated Brochure and Syllabus System and the other is through the pdf I will be providing you here.
Read Also: Universities That Accept Combined Result (WAEC & NECO) For Admission
How To Access JAMB Brochure Using IBASS
This is the method I recommend you use, all you have to do is follow the procedures I have shown to you below…
Visit JAMB IBASS official Website @https://jamb.gov.ng/ibass
You will be taken to the page shown above, there locate the BROCHURE icon and click on it
You will be asked to choose Brochure by institution, select the right option
Voila! it is that simple.
How To Check JAMB Eligibility Status
Instead of checking the requirement for individual courses and Schools, you can simply use JAMB Courses eligibility checker following the steps below…
First, visit JAMB IBASS eligibility checking Portal @http://eligibility.jamb.gov.ng/checker/
You will be taken to JAMB IBASS eligibility checking Portal shown on the image above
On this page, you will be expected to fill the necessary information (Mode of entry, Institution type, Institution category, e.t.c) correctly
You will also be asked to "SELECT YOUR UTME SUBJECTS COMBINATION"
Once you are done with that, Click on the "Check Eligibility Program" button.
That is all, immediately you will be taken to "JAMB Ibass eligibility confirmation page" as shown in the image below, where you would see if you are eligible for the course/institution or not.
On this page, you will also be able to see other alternatives you are eligible for and may want to explore…
Read Also: JAMB Cut Off Mark For All Schools And Courses 2023/2024
JAMB Brochure For all courses Pdf Download
The other way to access JAMB brochure is by downloading the pdf version I have provided you with, these Brochure pdf covers all schools and courses such as…
Arts & Humanities
Education
Engineering, Environment & Technology
Agriculture
Administration
College of Education Brochure
Social & Management Sciences
Sciences
Medical, Pharmaceutical & Health Sciences
To get your copy of the pdf brochure for JAMB, click the Download button below (pdf size: 6.4mb)
Frequently Asked Questions
Is JAMB Brochure Real?
YES, JAMB brochure is real and should be your trusted tool when trying to determine if you are eligible to study a particular course in a particular school.
What is the Difference between JAMB Brochure and Syllabus
The difference between JAMB brochure and JAMB syllabus is that, JAMB Brochure contains all the requirements a student must meet before he/she will be eligible to study a course in a particular University while JAMB Syllabus contains all the topics on a particular subjects, lets say Chemistry, that a student must have covered before sitting for JAMB.
These two are very important in your JAMB preparation exercise.
Where Can I Get JAMB Brochure?
You can get JAMB Brochure Online by Accessing the JAMB IBASS link @https://jamb.gov.ng/ibass selecting on the Brochure option.
In conclusion
Brochure for 2024/2025 JAMB is available, ensure to go through it diligently before deciding officially on the course and school you want to register for.
This will be all for now, I understand you may have a question or two to ask, feel free to drop them using the comment box below!
Ensure to share this with friends on Facebook, Whatsapp, or any other social media network you can connect them with…
Related Searches... 

a. JAMB brochure pdf

b. JAMB brochure for 2024/2024

c. JAMB brochure for Social Sciences

d. JAMB brochure for art courses