WAEC & JAMB Subject Combination For Pharmacy 2023/2024
Sponsored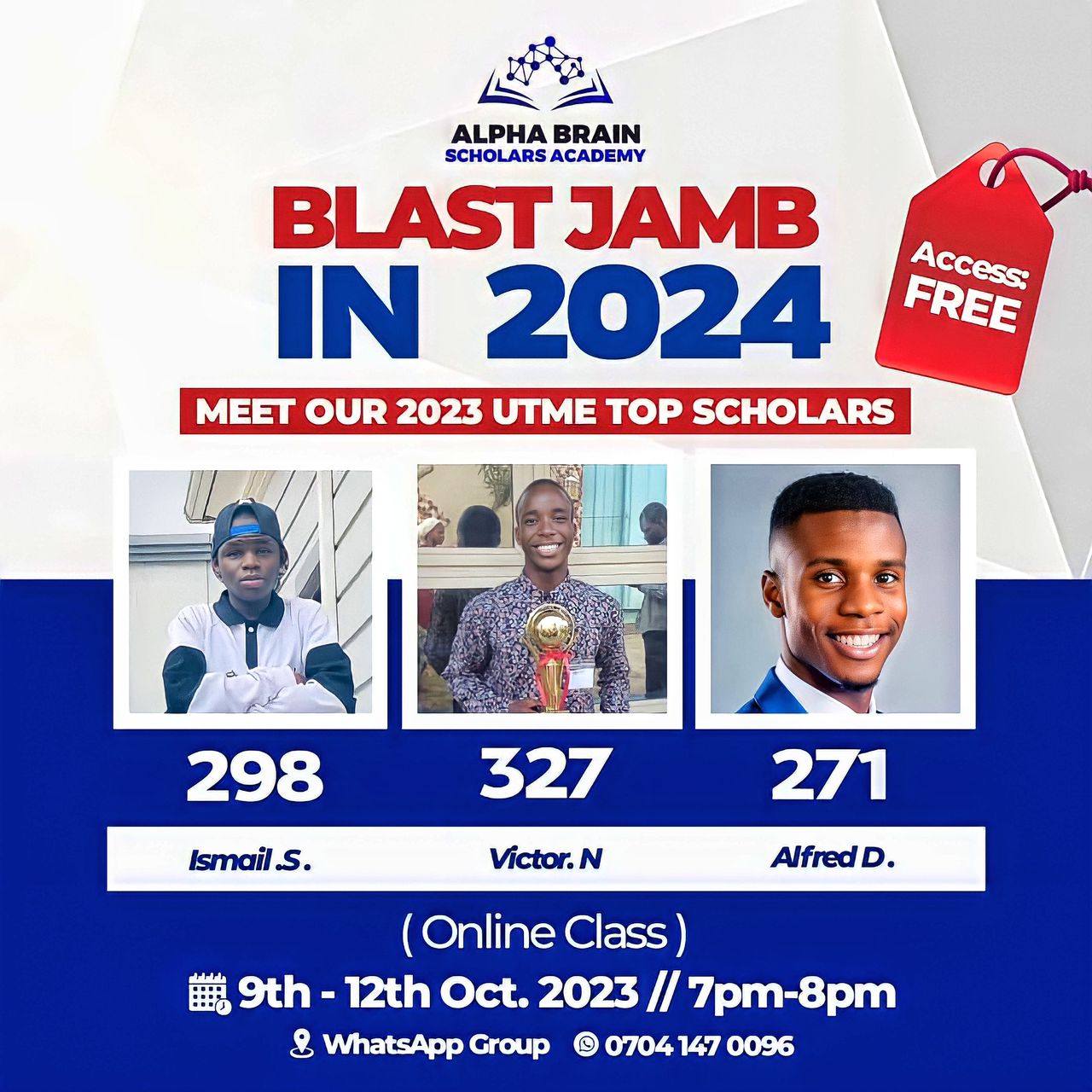 WAEC and JAMB Subject Combination For Pharmacy: What are the JAMB Subject combination to study Pharmacy in Nigeria?, Must I pass Maths in WAEC to study pharmacy?, what subjects are needed to study pharmacy in Nigeria?. In this write up, you and I will be going through diligently, answer to this…
Hey SAVANTS!, Welcome to today's episode of my "JAMB doctor Series" in this episode, you will see the correct WAEC and JAMB Subject combination for Pharmacy, you will also see Direct entry requirement to study Pharmacy through JAMB, JUPEB and IJMB, pretty cool right?… STAY TUNED!
For everyone who plans to study Pharmacy in Nigeria, it is important and necessary you know the subjects that are required to becoming a pharmacist in Nigeria.
Read Also: How To Complain To JAMB For Errors and Make Inquiry
ARE YOU ON TELEGRAM? Subscribe To My Telegram Channel For Frequent Updates & Guide by clicking the "SUBSCRIBE NOW" button below.
These subjects are core courses you must know, be good at and score well in JAMB so as to secure admission in any good pharmacy school in Nigeria. As obtainable in other countries, the admission system here is quite different.
If you must study pharmacy in Nigeria you must first get a minimum of five (5) credits in your O' level (WAEC, NECO or NABTEB) core courses and enroll four (4) subjects in JAMB which you should score at least 250.
What Are The Subjects Required To Study Pharmacy
The subjects Required to study pharmacy in Nigeria are…
Mathematics
English Language
Physics
Chemistry
Biology
Some of these subjects may not be required in some cases, I will highlight each of this subject and in what instances they may be applicable or needed.
Mathematics: Maths as a subject is one every student must offer right from primary school up till secondary school, this subject is required as a core subject for your O' level exams like WAEC, NECO, NABTEB or GCE.
For JAMB you will not enrol Mathematics, i.e maths is not required in JAMB to study Pharmacy it is only needed in your O' level.
Read Also: Everything you need to Know about Pharmacy in University of Benin, Uniben
Other Subjects: English Language, Physics, Biology and Chemistry are required for both JAMB and your O' level if you must study pharmacy.
JAMB and WAEC Subjects to study Pharmacy
To Study Pharmacy, the follow subjects will be enrolled for JAMB and WAEC…
JAMB Subject Combination For Pharmacy
The four (4) subjects you must enroll in JAMB (with use of English compulsory irrespective of the course you intend to study) for Pharmacy, are…
Physics
Chemistry
Biology
Use of English
To be assured of admission, you will need to score very high in JAMB, let's say 250 and above.
WAEC Subject Combination For Pharmacy
Unlike JAMB, you will be required to sit for a minimum of Eight subjects (8) and a maximum of nine (9), out of this Nine or Eight subjects, five are core subjects specific for the course you wish to study which in this case is pharmacy.
By core I mean subjects that lean directly to your field. Failure to pass these core courses can deny a student admission.
In WAEC, core subjects to study Pharmacy are…
Physics
Chemistry
Biology
Mathematics
English Language
The remaining three (3) or four (4) subjects will be determined by you.
Mind you: This subject combination for waec is applicable for all O' level exams such as NECO, NABTEB e.t.c
Requirements To Study Pharmacy Through Direct Entry
Student who which to study Pharmacy through direct entry should have either of the following requirements…
Ensure to go through JAMB Brochure for remarks/waiver for Pharmacy.
Frequently Asked Questions
Is Maths compulsory for pharmacy in JAMB?
NO, Mathematics is not a compulsory subject to sit for in JAMB if you want to study Pharmacy, but you must make sure you already have at least C6 in Waec or any other O'level Exams
What are the compulsory subjects for pharmacy?
The Compulsory Subject for Pharmacy In JAMB are Use of English, Biology, Physics and Chemistry, While for WAEC; English Language, Mathematics, Physics, Biology and Chemistry.
Is Physics Compulsory To Study Pharmacy
YES, Physics is COMPULSORY To be eligible to study Pharmacy. You must pass Physics in WAEC with at least C6 and also sit for it in JAMB.
In Summary
To study pharmacy you need to sit for four (4) subjects in JAMB which are Physics, JAMB Use of English, Chemistry and Biology and have at least credits (C6) in your Five (5) core courses which includes: English, Maths, Biology, Physics, and Chemistry.
⚠️ If you are viewing this table ? with your mobile phone, do well to activate desktop mode on your browser to be able to view this table properly!
| DIRECT ENTRY REQUIREMENT | UTME REQUIREMENT | SUBJECTS |
| --- | --- | --- |
| Three (3) 'A' Level passes in Chemistry, Biology/Zoology and Physics or Mathematics plus UTME requirements. | Five (5) SSC credit passes in English Language, Mathematics, Physics, Chemistry and Biology. | Physics, Chemistry and Biology. |
Summary table of JAMB Subject Combination to study Pharmacy
See Also: Number of Years It would take to Study Pharmacy In Nigeria
This will be all for now, do you have a question or two, or want to share your thoughts on this?, feel free to drop your comments using the comment box below.
Do well to share this with friends on Facebook, Whatsapp, or any other social media network you can connect them with using the share buttons below…
Related Searches... 

a. Pharmacy course subjects

b. What subjects are needed to become a pharmacist

c. JAMB Subjects for Pharmacy

d. Types of Pharmacy courses
JAMB SYLLABUS FOR OTHER SUBJECTS...

A. JAMB English Syllabus

B. JAMB Mathematics Syllabus

C. JAMB Syllabus For Physics

D. JAMB Chemistry Syllabus

E. JAMB Syllabus For Biology

F. JAMB Economics Syllabus

G. JAMB Syllabus For Christian Religious Studies (CRS)

H. JAMB government Syllabus

I. JAMB Syllabus for Commerce

J. JAMB Literature in English Syllabus

K. JAMB Computer Studies Syllabus