JAMB Change Of Course 2023/2024 (Data Correction %)
Sponsored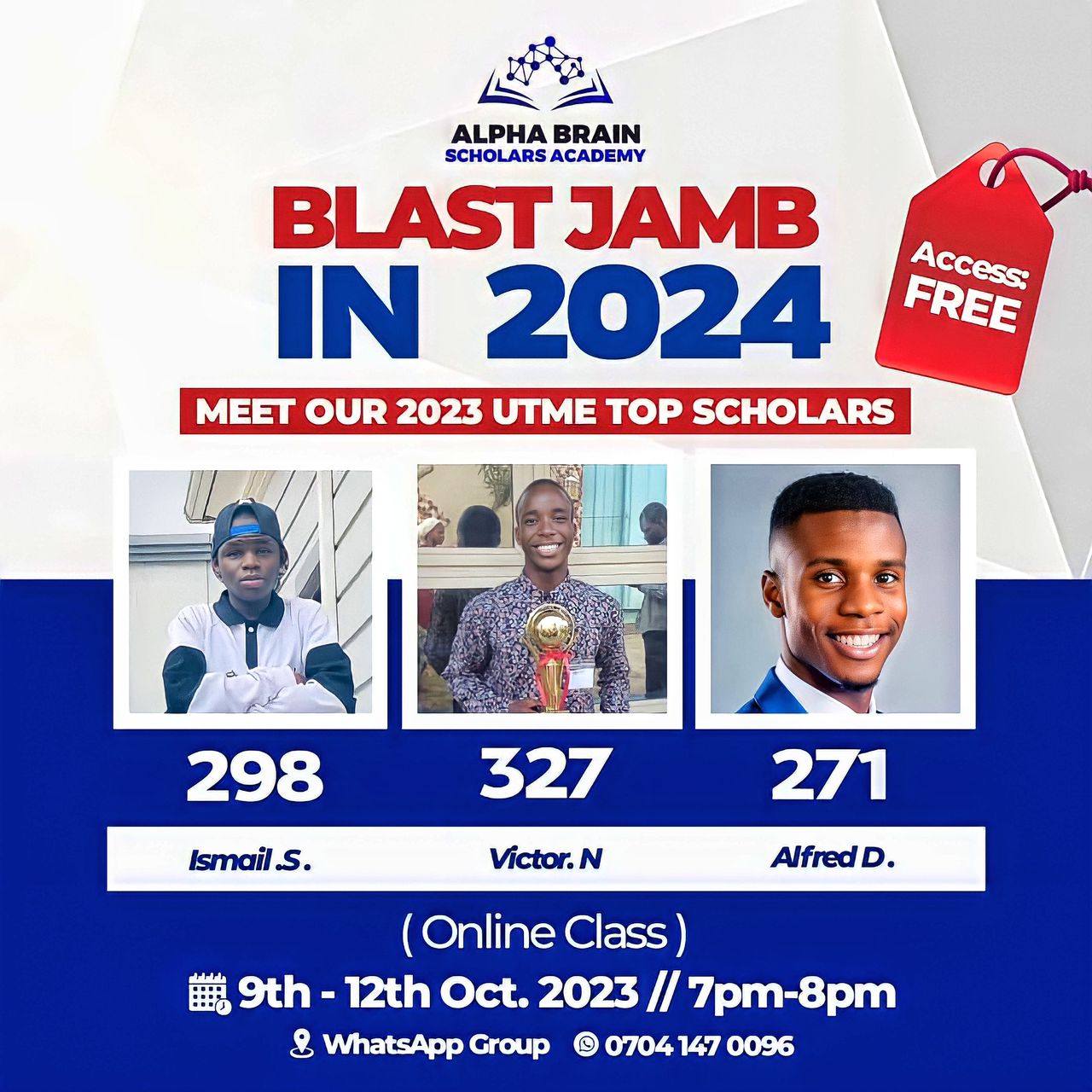 JAMB Change Of Course: Can I Change my JAMB Course?, How many times can JAMB Change of Course be done?, Can I do JAMB Change of Course by myself?, When Will JAMB change of Course Begin?
Hey SAVANTS! welcome to today's episode of my "JAMB Doctor Series", here you will learn how to apply for JAMB change of course, when the form will be out and the closing date or deadline for application, you will also learn where and how you can do your JAMB change of Course, Cool right?, STAY TUNED!.
| | |
| --- | --- |
| Correction Type: | Change Of Course |
| Cost: | ₦2,500 |
| Portal: | JAMB CAPS Portal |
| Time For Change To Effect: | 2 to 3 days |
| Deadline: | Not announced |
Whatever your reasons may be for wanting to change the course you initially choose in JAMB as first or second choice to another course, this post will guide you through the right process.?
I was contacted by a student who registered for JAMB with the subject combination for a course but later had intentions to study another course and wanted to know if the sales of form for JAMB change of course is out and how he can process it…
Read Also: JAMB CAPS Login Portal 2023/2024 | Login & Check Admission Status
ARE YOU ON TELEGRAM? Subscribe To My Telegram Channel For Frequent Updates & Guide by clicking the "SUBSCRIBE NOW" button below.
---
…that was what prompt me to prepare this piece so everyone who may have the intention of changing their JAMB Course either to a less competitive or more competitive one can easily do so following this guide.
All you have to do now is take a glass of water, sit back and read through diligently as I fortify you with the necessary information on this topic… ENJOY!
FLOW OF WRITE-UP: I will explain what JAMB Change of course entails, Cost of the form and then how you apply for JAMB change of course, finally I will answer some frequently asked questions on this topic. If at the end of this write-up you still have a question, feel free to drop them using the comment section just below this post.
P.S, yet to link your Email to your JAMB profile, do that now by clicking me!
What Is JAMB Change Of Course?
JAMB Change of course as the name implies, is a service offered by the Joint Admission and Matriculation Board (JAMB) to students who have interest in changing the Courses they chose as either first or second choice in JAMB after registration.
Students apply for JAMB change of course either because, they no longer have interest in studying what they first applied in JAMB, or made a mistake in their JAMB Subject combination with the hope of changing the course to remedy the situation.
Whatever your reasons may be, the process for JAMB change of course is all the same.
Read Also: Meaning of Admission In Progress & Not Admitted On JAMB CAPS
MORE FROM "POST UTME TOOLKIT SERIES" 

A. Required Subjects To Write In Post UTME

B. Universities That Do Not Write Post UTME 2023/2024

C. Difference Between JAMB And Post UTME

D. How Schools Conduct Post UTME For admission

E. How To Answer Post UTME Aptitude Test Questions

F. How To Gain Admission With Low JAMB Score (120 to 170)

G. JAMB Caps Login: How To Login & Check Admission Status

H. WAEC Result Checker: How To Check Waec Result Online

I. How To Change JAMB Email Address For JAMB Profile

J. JAMB Subject Combination For All Courses
Is JAMB Change of Course form Out?
YES, JAMB change of Course form for 2023 is currently ongoing
This means if you registered for 2023 JAMB and want to change your course to something else, you will be able to do that now because the Portal is currently open to students.
Change of Course form for 2022/2023 JAMB Student Downward is still out, if for any reason you want to change the Course you selected in JAMB as first and Second choice, you can now do this.
This now leads us to the next big question, when will Change of Institution for 2023 JAMB candidates be out??
When will JAMB change of Course form Be Out?
JAMB 2023 students will only be able to apply for Change of Course in JAMB immediately after the release of the results.
This means, as from 2nd of May, you will be able to change your old course to a new one on JAMB Portal.
How Much Is JAMB Change of Course?
Cost for JAMB change of Course is NGN2,500.
This may come with some extra charges from whatever payment gateway you choose to use when paying yourself, but if you go to a CBT Center or cyber CAFE to get it done, you will pay a service fee of NGN1,000
Making the total cost NGN3,500.
Requirements To Apply For JAMB change of Course
If you wish to apply for JAMB Change of course, then you must have the following…
| S/N | REQUIREMENTS |
| --- | --- |
| 1. | JAMB Profile Login Details (Email address and Password) |
| 2. | Three thousand Naira fee (NGN3,000), the actual fee is NGN2,500 but because of remita charges the amount is a bit higher |
| 3. | ATM Card for payment |
| 4. | Important information such as; Year of Exam and JAMB Registration Number |
| 5. | Biometric |
Requirements to apply for JAMB Change of course
If you have these requirements ready, you can follow the guide below to kick start your change of course process…
How To Apply for JAMB Change of Course
To Change your course, you can follow the step by step guide shown to you here or visit any JAMB Registration Centers near you to get it done.
To get started with changing your Course to a new one in JAMB, follow this step by step guide.
This process will take an estimated time of 10 minutes
Login To Your JAMB Profile

Visit Jamb Student Portal @https://portal.jamb.gov.ng/efacility_, fill the required box with your correct Email address and Password and click on the Login button

Click On "Application For Correction of Data"

Once logged in, you will be taken to the landing page where you will see all available services. Select "Correction of Data". This is available on the side bar or on the Home page

Select the Course/Institution Option on the Drop down Menu

When you click on "Application for correction of data" you will see a drop down, Select from the menu item what you wish to correct (which in this case is Course/Institution)

Select Exam Year and Enter Registration Number

When you click on Course/Institution, You will be taken to a page where you will be asked to fill in Your Exam year and JAMB registration number, fill in this information appropriately and click on Search Details.

You will be taken to a "Payment Choice dashboard" where you will choose your preferred payment method (I would recommend you use remita)

Click On "Pay With Remita"

On the next page, Select the "Pay with Remita" button

Preview the Information and Confirm

Preview this information, and make sure it correspond with the intended change you wish to make.

Click on "Confirm this Information"

Hit the "Pay Now Button"

After clicking on the "confirm this information" button you will be taken to the "pay now" page which is shown below, click on the pay now button.

You will be taken to the remita page, where you can now complete your payment. The status of your payment will be displayed on the "My Payment Section"

An SMS and email containing your unique Transaction Identification and payment status will be sent to you after payment. Click on the Continue button.
Once payment is completed, you will be asked to provide the following:
a. Year of Exam and
b. JAMB Registration Number
After entering the information correctly, new options for Preferred course/Institution and second choices will appear. Options available will be based on availability.
Click Submit to complete your application.
JAMB will now process your application. If Approved, your details will be changed as requested.
What To Note While paying To Change JAMB Course
There are some things you must put in mind while working on how to correct mistakes you made in JAMB, they include…
You must pay with your JAMB account created on this platform, paying via another account will make the required service tied to the payment account, this implies that you cannot pay with another's JAMB profile account
Make sure you confirm your information before proceed with payment
Make sure you take note of your TRANSACTION ID, you may have need to use it later on.
Deadline To Apply for JAMB change of Course
There is not deadline to apply for JAMB change of Course, provided you have the requirements listed here you can proceed with your JAMB change of Course application.
Frequently Asked Questions
How do I know if my JAMB change of course was successful?
How long does it take JAMB change of course to reflect?
There is no fixed time for this, it can take 24 hours or sometimes a couple of days, but be rest assured that, if you followed the procedure explained here, your course will be changed by JAMB once approved.
Is JAMB change of course still available?
YES, JAMB change of course form is available and can be done at any accredited CBT center.
Why is my change of course not reflecting on my school portal?
There are a number of reasons why your changed course may not be reflecting on your School portal, but the most likely reason is that, JAMB is yet to send your Updated information to your School.
If you entered your information correctly when carrying out this process, and it now reflect on your JAMB profile, be rest assured that it will later on reflect on your School's Portal.
How many times can I do change of course 2022?
The maximum number of times you can apply for JAMB Change of course is two (2) times, after applying twice, you can no longer change your course on JAMB portal.
Can I do change of Course after accepting admission?
Can I change second choice to first choice?
YES, you can change your Second choice course to first Choice and vice versa, but only by applying for JAMB Change of course.
Can I change course after first year?
YES, you can still change your course after first year in most Universities, either through Relocation or through Application for Transfer but definitely not through JAMB.
Can JAMB Change Of Course Be Done Twice?
YES, you can apply for Change of course two times, but after the second time you will not be able to.
Can I do Change Of Course After Post UTME?
YES, you can still apply for Change of course in JAMB even after post UTME if you did not meet the cut off mark for admission in the course you earlier applied to.
Can I do change of Course Myself on my phone
YES, you can process change of Course in JAMB yourself using your Phone or personal computer.
Can I do JAMB Change Of Course Without Visiting The CBT center
YES, the board has continued self-service for JAMB change of Course.
In Conclusion
JAMB change of Course is currently on for students 2023 students downward, follow the guide here to kick start the process.
This is the lot I can take on this write-up, if you have any question or help, feel free to drop them using the comment box below.
Ensure to share this with friends on Facebook, Whatsapp, or any other social media network you can connect them with…
Related Searches...  

a. jamb change of course form 2022

b. jamb change of course 2023

c. jamb change of course 2023 closing date

d. jamb change of course 2023 closing date

e. can i do change of institution on my phone