WAEC Withheld Results Release Date: How can I check my withheld May/June WAEC result?, if when I check my WAEC result it shows me held, what should I do?, what is the difference between held and withheld WAEC results?, how to check withheld results?.
Hey SAVANT! Welcome to today's episode of my "ADMISSION GUIDE SERIES". Here, I will answer the question 'When Withheld 2022/2023 May/June WAEC results will be out", I will also give tips on what you should do while the results are been reviewed… STAY TUNED!✌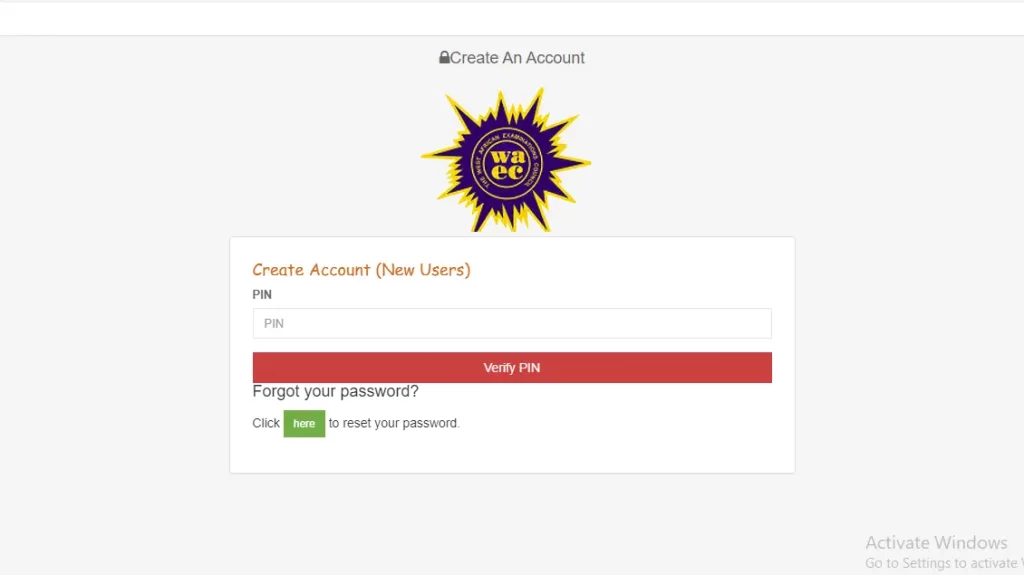 Out of over 1,437,629 students that sat for the 2022 WAEC May/June Exam, 365,564 candidates (about 22.83% of the total number of candidates that sat the examination), are being withheld.
Students affected by this have been wanting to know if there is a possibility of the results been released, and if yes, when is the release date.
Read Also: JAMB Deadline To Upload WAEC Result To JAMB CAPS Portal 2022/2023
ARE YOU ON TELEGRAM? Why Not Subscribe To My Telegram "JAMB Doctor Channel" For Frequent Updates by clicking the "SUBSCRIBE NOW" button below.
Without wasting mush time, lets head straight to the topic proper… ENJOY!?
Is Withheld WAEC Results Out?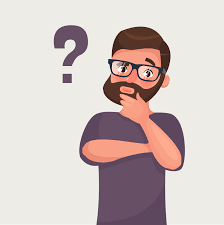 NO, WAEC Withhled Results for 2022/2023 May/June Exams have not been released yet.
So, if your results were held or shows outstanding, you will not be able to confirm whether or not you were exonerated, at least not yet.
Will WAEC Release Withheld Result?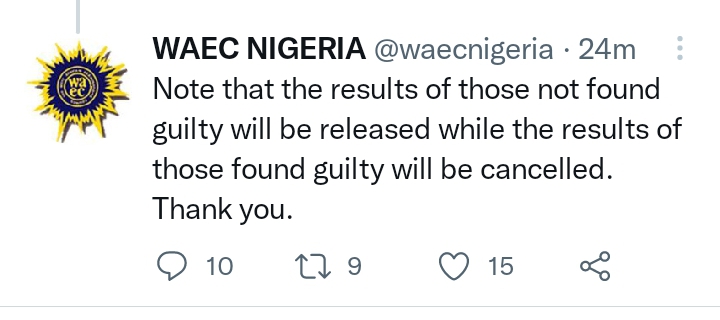 YES, WAEC results that were withheld will be released, but unfortunately not for all students. There are conditions for which a Student's result will be released and those conditions are not met, the results will not be released.
The condition for which a Student's withheld WAEC result will be released is on the ground that, the student's was exonerated…
…that is, after proper investigations, the students was not found guilty by the Board to have participated in Examination malpractice.
Okay then, since there is a chance that my result will be released, what date can I expect the withheld WAEC results to be released??‍♀️
WAEC Withheld Results Release Date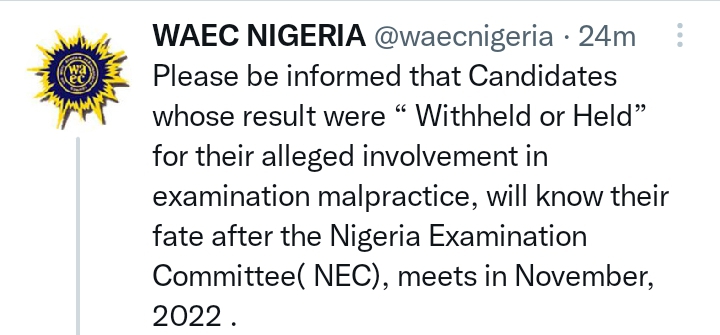 The West Africa Examination Council (WAEC) has announced NOVEMBER 2022 as when Withheld or Held WAEC results will be released.
The official statement was in a tweet as quoted below…
Please be informed that candidates whose result were "Withheld or Held" for their alleged involvement in examination malpractice, will know their fate after the Nigeria Examination Committee (NEC), meets in November, 2022

WAEC Official Twitter handle
But like I mentioned earlier, only results of students not found guilty will be released, while the results of those found guilty will be cancelled.
What To Do As WAEC Results Are Withheld
For now, there is only one thing you can do, which is to wait for the National Examination council (NEC) to review the results that were withheld by November and decide on the fate of the Students.
How To Check Withheld WAEC Result?
WAEC withheld results are checked in the same way you checked your other results…
Visit www.waecdirect.org.
Enter your Examination Number
Specify your Examination Type (May/June)
Select Examination Year (2022)
Enter your Pin And Serial Number in the required field
Click on Check Result.
You can also try other Cost effective ways of Checking your WAEC Result.
And that is it for this topic, below I will answer some frequently asked questions on this topic…
Frequently Asked Questions
How Long Will It Take WAEC To Release Withheld Result?
It takes Four (4) Months for WAEC to review and release withheld results of students taught to have participated in Exam Malpractice.
Does Result Withheld Means The Student Failed?
NO, WAEC Withholding result do not translate to automatic fail, although this could be the case if the student is found guilty of Malpractice, but till then, there is a 50% Chance that the student could still be exonerated.
Why WAEC Withheld Results Of Students?
WAEC results are held only when the students is suspected to have participated in Examination Malpractice.
What is the meaning of "ABS" in WAEC result?
ABS in WAEC result means ABSENT, which means the student did not sit for the exam of the specified subject.
In Conclusion
WAEC Withheld Results of students not found guilty of exam malpractice will be out in November 2022, while the results of students found guilty will be cancelled.
Read Also: How To Get Jamb Password To Login CAPS Profile (Reset Through SMS)
This will be all for now, I understand you may have a question or two to ask, feel free to drop them using the comment box below!
Ensure to share this with friends on Facebook, Whatsapp, or any other social media network you can connect them with…
Related Searches...

a. how to check Waec withheld results

b. difference between held and withheld waec result

c. waec withheld result 2022

d. latest news on waec results

e. list of schools that waec cancelled their result 2022